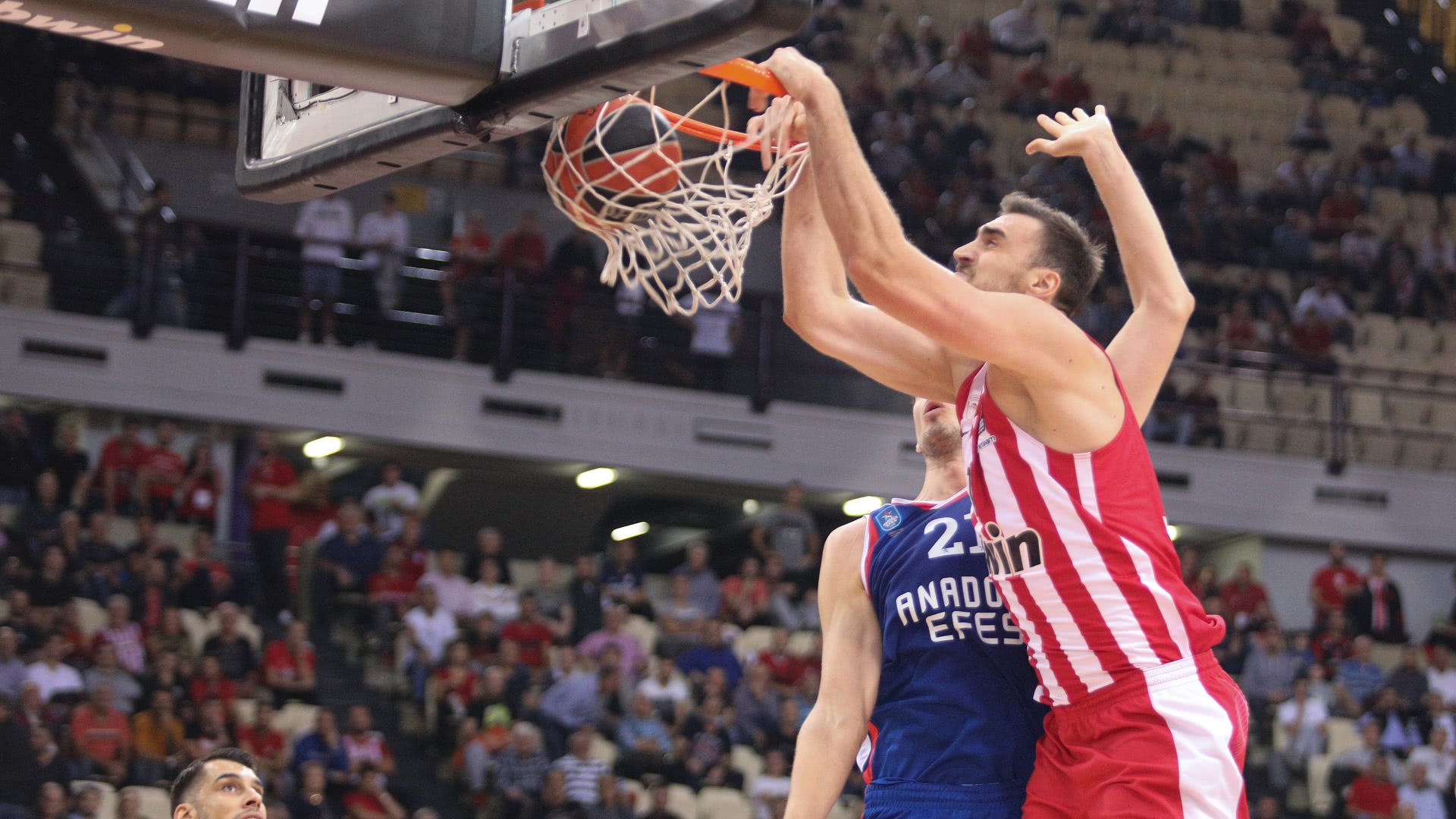 A loss to Efes at the SEF
Olympiacos lost to Anadolu Efes at the SEF 67-86, for the 7th day of the Euroleague.
The 'reds' made a strong beginning and got ahead 7-2. Lead by the Vasilje Micic who had excellent percentages from the three point line, the guests balanced the game (12-13), however, Olympiacos relying to his superiority in rebounding and offensive pluralism, closed the first quarter at +3 (24-21). Nothing went as it should for our team in the second quarter though. Bad choices, consecutive turnovers (a total of 11 in the first half for 4 of the Turkish team) and gaps in the defense allowed Larkin and Dunston turn the tables and 'build' a difference of +18 for Efes (35-52 at 20').
In the second half, Kemzura's players tried to get back into the game (45-56 at 24'), but the Turkish team relying on good perimeter percentages maintained a two digit margin (14p., 53-67 at 29'). With good defense and Brandon Paul stepping up, Olympiacos run a partial score of 8-0 and closed in at 6p. (61-67 at 31'), but Micic once again got to 'work' from the perimeter and broadened the margin to +13 (63-76 at 35'). The 'reds' tried to shrink the difference once again, but they were shooting really poorly and suffered yet another home loss.
* The injured Kostas Papanikolaou and Wade Baldwin did not make the 12 men cut.
The quarters: 24-21, 35-53, 58-67, 67-86.
Οlympiacos (Κemzura): Punter 8 (1), Rochestie 4 (1), Paul 15 (4), Κoniaris 5 (1), Spanoulis 4, Cherry 2, Μilutinov 10 (13 reb.), Vezenkov, Printezis 14 (1), Rubit 2, Reed 3
Αnadolu Efes (Αtaman): Larkin 24 (3), Beaubois 10 (1), Singleton 7 (2), Balbay, Pleis, Μicic 27 (5), Anderson 3, Peters 3 (1), Dunston 10, Simon 2
"We should hold our heads high"
Olympiacos' coach, Kestutis Kemzura, stated: "Congratulations to Efes, they played good basketball. They played really hard and did not allow us to move the ball freely and get open passes. They did not allow us to follow our plan. The problem was mainly in the second and fourth quarter, especially the second one. We turned the ball 11 times in the first half and if I'm not mistaken they scored 20 points with layups. We did not fight hard enough, we did not exploit fouls as we should have, we did not 'move' our feet, we did not do what we had said we'd do before the game. The positive thing is that we came out and fought in the second half. We fought the way we had said we should, we closed in at 6 points, but again one small mistake in our defense allowed them to score a three and broaden the margin. Efes has talent. They have two very good players, Micic and Larking, who not only score the most point, but also facilitate ones. We did not find a way to stop them. The positive thing is that we won two quarter, but that was not enough to beat Anadolu Efes ".
Asked if he believes that Olympiacos can improve his image and when he thinks this is going to happen, he replied: "New players still need time, first of all physically, as well as to completely adjust. For instance, tonight the layups hadn't been easy. Rochestie is a good offensive player and we know that, however, it's not going to be easy for him. On the other hand, the same team, the same players, the same coach played the first and third quarters. And it was the same team, the same names that played the second one, where we actually lost the game. That means, the problem is not who's playing, but rather how we play. We all want the results to come right away, but there's not magic way to do that. We need to put in a lot of effort. Believe me, all of that is creating pressure on all of us, however, we need to hold our heads high. Tonight, we got to see some positive elements that were missing in the game against Maccabi, more toughness and that's something we need to work on and be consistent about. Expand our good periods in the game and minimize the bad ones".
When he was told that the last time Olympiacos had lost three back to back home game had probably been before the Angelopoulos brothers had taken over the team and was then asked to explain what the 'reds' goal for this season is, the said: "We want to make the playoffs. That's the goal. We are very well aware of the situation. You told me that the team hadn't lost three games in a row for more than 11 years now… I can't be comparing times. What I can tell you is that when we sat down to talk with the administration, the goal we set had been the playoffs. No one promised anything, nor did anyone say it was going to be easy. Defeats make it harder, we understand that".