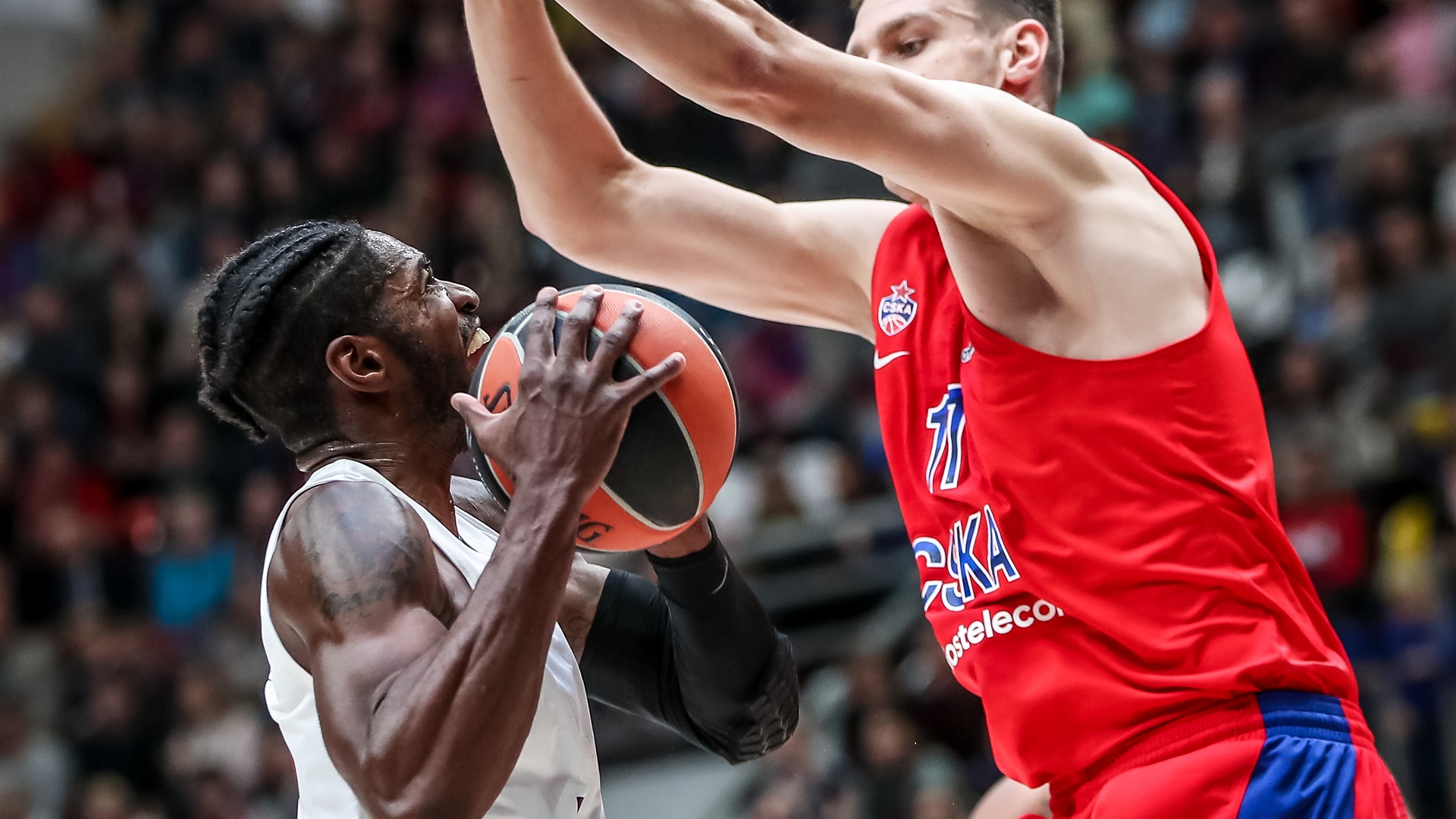 A huge win in Moscow!
Olympiacos bested the European Champion CSKA in Moscow (84-79) forcing her first defeat of the season! The 'reds' nevertheless, have not time to celebrate, since the game against Maccabi Tel Aviv follows in 48 hours at the SEF (01/11, 20.30 CET).
The 'reds' showed willing to fight hard from the start (10-11, at 5'), but two fouls made by Milutinov during the same time, together with the injury suffered by Kostas Papanikolaou only minutes later, seemed to be able to slow them down. CSKA moved the ball better, found solution with Mike James and got a +11 difference (29-18 at 12'). However, Kemzura's players did not give up the fight… They put pressure in the defense, led the Russians to turnovers and poor offensive choices, when at the same time, with Cherry as the organizer and Paul 'executing' they succeeded in turning the tables and close the first half at +4 (39-43).
With a three by Cherry, Olympiacos got to lead with +7 for the first time (39-46), however, the 3rd foul by Milutinov - that actually benched him -, allowed room for HInes, who made the score 49-51. Our team did was not deterred though facing the counter attack of the hosts… It was scoring with consistency (mainly with Punter and Paul) and never lost the lead (60-64 at 30'). The Russians once again made a two point game (66-68 at 35'), however, good defensive plays and a 5-0 run with Paul and Printezis at the point, allowed Olympiacos to broaden the margin to +7 (66-73 at 38') and not only the team succeeded in maintaining the distance but also increased it (74-83, 23'' before the buzzer). All the more, the final difference could have been greater than 5p., if Punter had not fouled James while he was attempting a three point shot (totally unnecessary foul as the game was expiring) giving his opponent the chance to write the final 79-84 making all three of his earned free throws.
The quarters: 24-18, 39-43, 60-64, 79-84.
CSKA (Ιtoudis): Bolomboy 2, James 22 (3), Αntonov, Strelnieks, Voigtman 2, Voronchevits 5 (1), Hackett 2, Hilliard 17 (2), Κourbanov 7 (1), Hines 19, Baker 3 (1)
Οlympiacos (Kemzura): Punter 16 (1 3p., 4 reb., 1 as., 1 st.), Paul 20 (2 3p., 6 reb., 3 as.), Koniaris, Spanoulis 8 (2), Cherry 9 (1), Μilutinov 2 (8 reb.), Vezenkov 2, Printezis 11 (5 reb.), Papanikolaou, Κuzminskas 8 (1), Rubit 8 (7 reb.)
*Κostas Papanikolaou will undergo a knee MRI tomorrow (31/10) to determine the scale of his injury.
"Happy for the reaction and the energy"
The coach of Olympiacos, Kestutis Kemzura, stated: "Congratulations to my players and all my staff. My players have been working hard every day at practice and the feeling is very nice. We hadn't been in a good situation, we lost some games, so today I'm really very happy for the win, but mainly for the way we reacted and the energy we brought on the floor. For the way we played as a team and how we communicated, how focused we were… All of that make me happy. I don't need to say a lot about CSKA's quality. The only thing I would like to talk about is about two statistical numbers. Up to the game between us, CSKA was the top Euroleague team with a percentage of 65% in terms of threes made. Tonight they shot 26%. That means we did a really good job. Also, they were fist in offensive rebounding, which allows them secondary offenses. Tonight they finished the game with 8 offensive rebounds. I think these are excellent numbers for us. CSKA has great players. They are a great team; however, we did not give them easy scoring tonight. We had been constantly fighting and through our defense, we found opportunities to run the fast break. Cherry did an amazing job, especially in defense; Paul also gave a spark on both ends of the floor. But also others did a good job. Even Vezenkov, that only played a little, offered something. I can say something positive about everyone who played. They definitely all had energy. However, we need to forget this victory asap and focus on the Friday game ".
Asked where the 'reds' found that kind of energy following the losses to Zenit and Baskonia, he replied: "Energy came through hard work. Just like I said before, we have been working very hard at practice and try to correct our mistakes. This does not happen by itself, the players have been putting in a lot of work. When you do that, results are to follow soon".

On whether it's special to be playing against CSKA, he said: "For us, all the games are special, not only this one against CSKA. We have to be 100% focused in all the games and against all opponents. If we don't do that, then our chances to win are very limited. But if the players remain focused, then that's a sample of a great team".

Finally, on whether Brandon Paul is the leader of Olympiacos, he explained: "He's one of the leaders and we expect a lot from him. He took us a little by surprise with dunking, because we mostly know him to be a shooter. It was a big surprise! But in general, we expect a lot from him because he's an experienced players and that's why he's here. To give energy and play the way we played tonight".
Κevin Punter: "The coach had a right plan and we made it. I had said at the beginning of the season that you shouldn't write us off. And I meant that. I have nothing to say, we simply need to stay focused and continue doing what we want in the best way possible. No, this wasn't the biggest victory of my career. It was simply a regular season game. Our goal I to continue working and do the best we can in what comes next ".