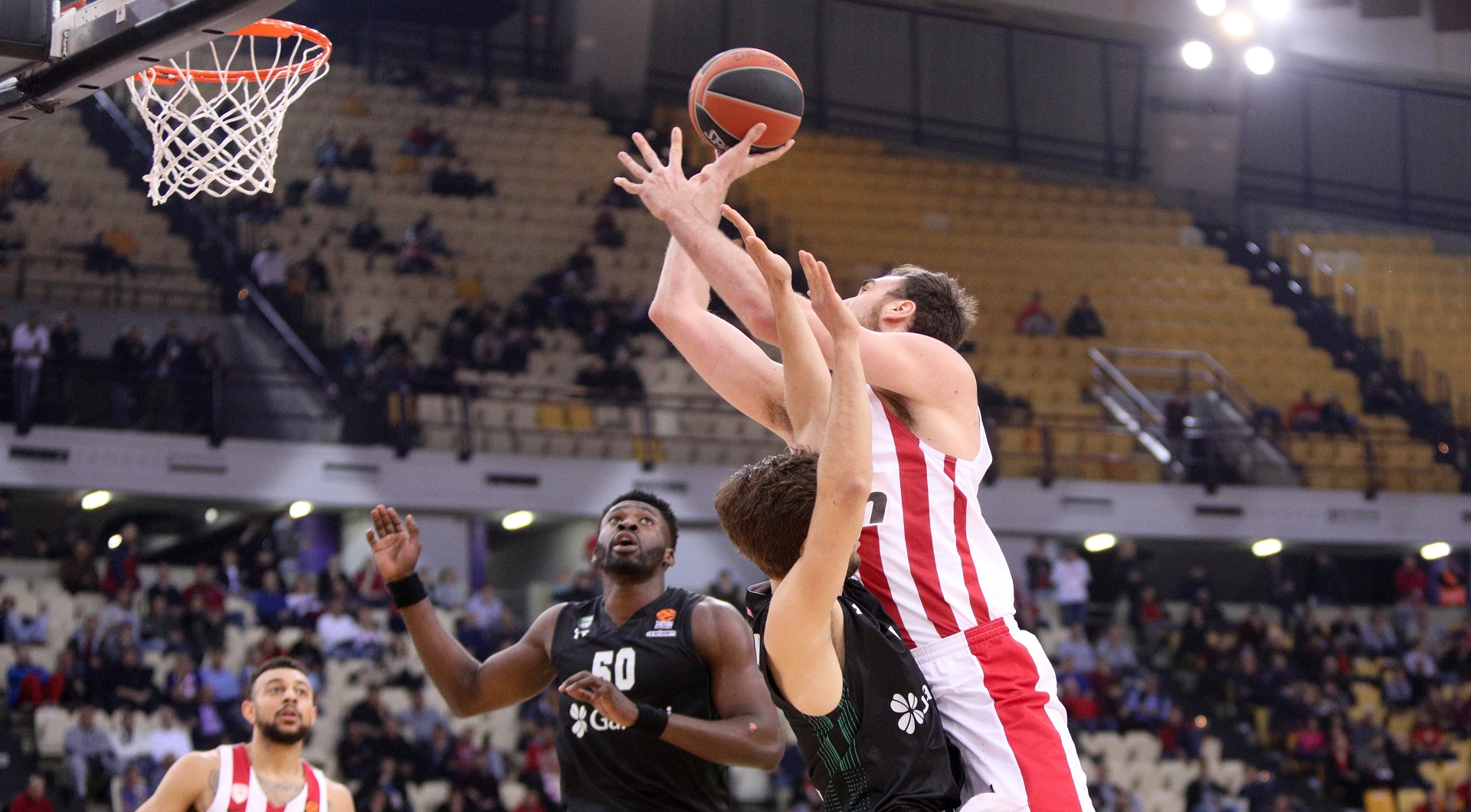 End with a victory
Olympiacos completed this season's Euroleague games with a win. The 'reds' beat Darusafaka at the SEF 99-74.
The Turkish team took advantage of the 'numb' beginning of the 'reds' and relying on good perimeter percentages, as well as dominating the rebounds (12 for 5 of our team in the first quarter), got to impose the rhythm and gained a +11 lead (24-35 at 13').
Olympiacos however succeeded to react… With pressing defense, Nikola Milutinov winning all one on one battles in the post on both ends of the floor and Zack LeDay making good with all his free throws (he ended the first half with 12 points and 8/8 free throws), David Blatt's players succeeded with a layup by Axel Toupane to take the lead (45-44) at the end of the first half.
Olympiacos used its good defense to significantly contain Darusafaka when attacking, found scoring from the perimeter and with a partial 30-12 closed the 3rd quarter at +19 (75-56). Despite the ample margin, the 'reds' did not relax… They continued being effective on both ends of the floor, turning the game to a one man show (+29, 94-65 at 35'). David Blatt also used the teen Aleksej Pokusevski in the last four minutes of the game.
The quarters: 20-28, 45-44, 75-56, 99-74
Οlympiacos (Blatt): Weber 13, Williams-Goss 18 (2 3p., 6 as), Τoupane 4, Μilutinov 16 (6 reb., 3 as., 3 st, 1 bl), Vezenkov 4, Printezis 11(1), Papanikolaou 11 (1 3p., 3 as.), Μantzaris 3, Pokusevski, Αgravanis 3, Bogris, LeDay 16 (6 reb.)
Darusafaka (Εrnak): Ozmizrak 8 (1), Baygul 9 (3), Kosut 4, Demir 12 (1), Kidd 10 (2), Ozdemiroglu, Savas 5, Douglas 6, Diebler, Evans 11 (1), Eric 9
«I told them to play for the pride of the team»
David Blatt stressed: "First of all, I would like to thank the fans that came here tonight to support us, as well as all the Olympiacos fans that supported us throughout the season. We are all disappointed and sad with the outcome. We hope that this experience is going to make us better in the future. It's not easy for anyone in the team to be in this position, but we need to know how to react, how to behave and move on to a better future. My players fought hard for their pride and the pride of the team. They played a very good game. That's the right way. We are looking forward to better days».
When asked to comment on the extended applause by the fans at the end of the game, as well as to how the defeat to Darusafaka in the first round cost the team, he replied: "I personally think that the way our fans stood by our side in that difficult moment was very moving. In regard to the game, you are correct to single out that particular one, however, there have been more than one game that we could have won, but we didn't finish the job. We had the last shot here against Fenerbahce and we did not make it. We were one play away from winning in Moscow, but we didn't make it. Last week's game against Zalgiris was a matter of one or two possessions, but we didn't make it. And I could be thinking of another two or three game where should we have made a few more plays, we wouldn't be talking about this right now. But we didn't make them and that's why we are at this position right now. It's disappointing for us, it's disappointing for our fans and I really appreciate the way they supported us tonight".
Asked about how he managed to motivate his players, given they knew they had no chances of qualifying, he stressed: "What I told them in the morning, was that they should be playing for their pride and for the pride of the team, that really takes good care of them. And that they shouldn't be any different than usual. I always say that the team should be the same regardless of the circumstances. Not to show different faces. It should be consistent and professional. It seemed we were in the dark in the first quarter, but the guys 'woke up' and played three really good quarters after that. I have seen Darusafaka play very good games this season. They many not have such a good record; however, I have seen him play very hard against very good teams. You have to come out and play and we have not been in the best possible mental condition, but we found the way to play good and hard. No one is going to take pity on you and I'm not expecting anything like that. However, we need to remember that we have been playing without two key players. That hurt us. Unfortunately, we did not find a way to overcome this and it's very frustrating".
On the team's motivation and goals from now on, he commented that… "For almost every team, the Euroleague ends at some point. For some this comes earlier, for others a little later. So, it's not an issue to find motivation to continue. We approach the Greek League with the mentality that whatever will be will be. But we are still going to come out and play and give our best in every game".
Asked on whether Olympiacos played the kind of basketball he had envisioned, he replied: "No. We did not play what I had hoped we would be playing after midseason. And that's on me".
About the fact that he did not have an athletic center for the first time in one of his teams, he commented: "I think that we have a very good center. A very, very good center, one of the best in the Euroleague. You might not call him an athletic one, but he's great, there's no doubt about it. If you mean that I should be having one more center, that's something we should have in mind".
When presented with the possibility that Olympiacos - even if winning all his games - might not be able to go after the Greek League title, he said: "Right now, I'm waiting to see what exactly is going to happen. The administration is very clear on how they see things. I work for this team, I love it and I'm going to do whatever is asked from me, fighting with my players for the best possible outcome till the last moment".