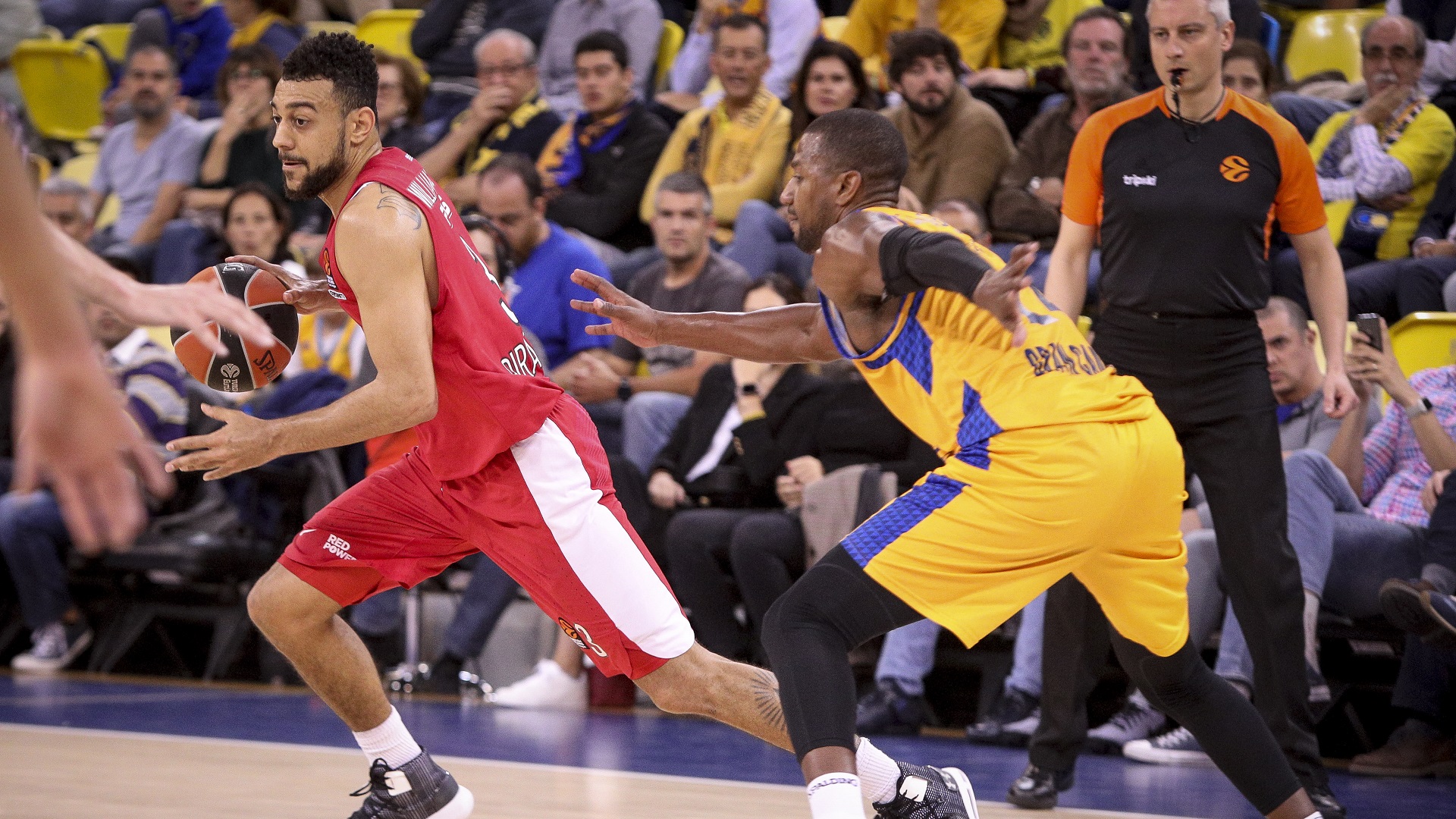 A terrible performance and a heavy loss to Gran Canaria
Olympiacos was very far removed from his potential and lost in Spain to the indifferent in terms of ranking Gran Canaria 67-90.
The Spanish team began with 3/3 threes and led 9-0 at the very start. The 'reds' put pressure in the defense, scored with Printezis and Weber and closed in at 3p. (11-8), however, Gran Canaria maintained a steady lead (19-16, at 10'). All the more, they got to put pressure trapping our team where it's more vulnerable - due the absence of both Vassilis Spanoulis and Janis Strelnieks - through David Blatt's players off balance in the offense (who, apart all else, were already shooting with terrible percentages) and sent the difference to +14 (40-26 at 19'). Finally, a mini 4-0 streak with Printezis and Milutinov, allowed Olympiacos to close in at 10 (40-30) at the end of the first quarter.
The beginning of the game though was repeated in the 3rd quarter… 3/3 threes for the hosts and a 9-0 streak, sent the difference sky high, at +19 (49-30 at 22'). Axel Toupane offered solutions from the perimeter (54-39 at 25'), however, terrible offensive choices and sub par defense, allowed Gran Canaria to turn the game to one team show (+23, 69-46). With almost every battle lost (rebounds, assists, defense, percentages) and with Gran Canaria "shooting" uncontrollably from the 6.75m., the difference went to +28 (90-62 at 39'). The final 90-67 score was written by Sasha Vezenkov with a three.
The quarters: 19-16, 40-30, 69-46, 90-67
Gran Canaria (Μartinez): Wiley 10, Balcerowski, Oliver, Hannah 7, Eriksson 24 (6), Vene 14 (3), Balvin 4, Pauli 6, Rabaseda 6 (1), Strawberry 13 (2), Radisevic 4, Tillie 2.
Οlympiacos (Blatt): Weber 13, Williams-Goss 9 (1), Τoupane 12 (2), Μilutinov 8, Vezenkov 3 (1), Printezis 9, Papanikolaou 4, Μantzaris, Bogris 1, LeDay 8.
"We need to absolutely win the next two games"
Olympiacos' coach, David Blatt, stated: "Congratulations to Gran Canaria. They played very well. It was the wrong week for us to travel to the Canary Islands that is during the two games week. It was a very difficult trip and we did not face up to the challenge. However, that's our mistake, there are no excuses. There are many things we did not do right; however, what we need to do now is to look ahead immediately. We have two more games at home and we definitely need to win them if we want to advance to the playoffs".
When asked to make a comment for the road losses Olympiacos has suffered, he replied: "Obviously, I could mention the games we have won against bigger teams or that we have lost due to a couple of plays. We could have certainly done better. We have been playing without our two main point guards. Take out of any team their two main point guards, and see what they can do. And it's not the first time. However, we need to find a way to cover for them".