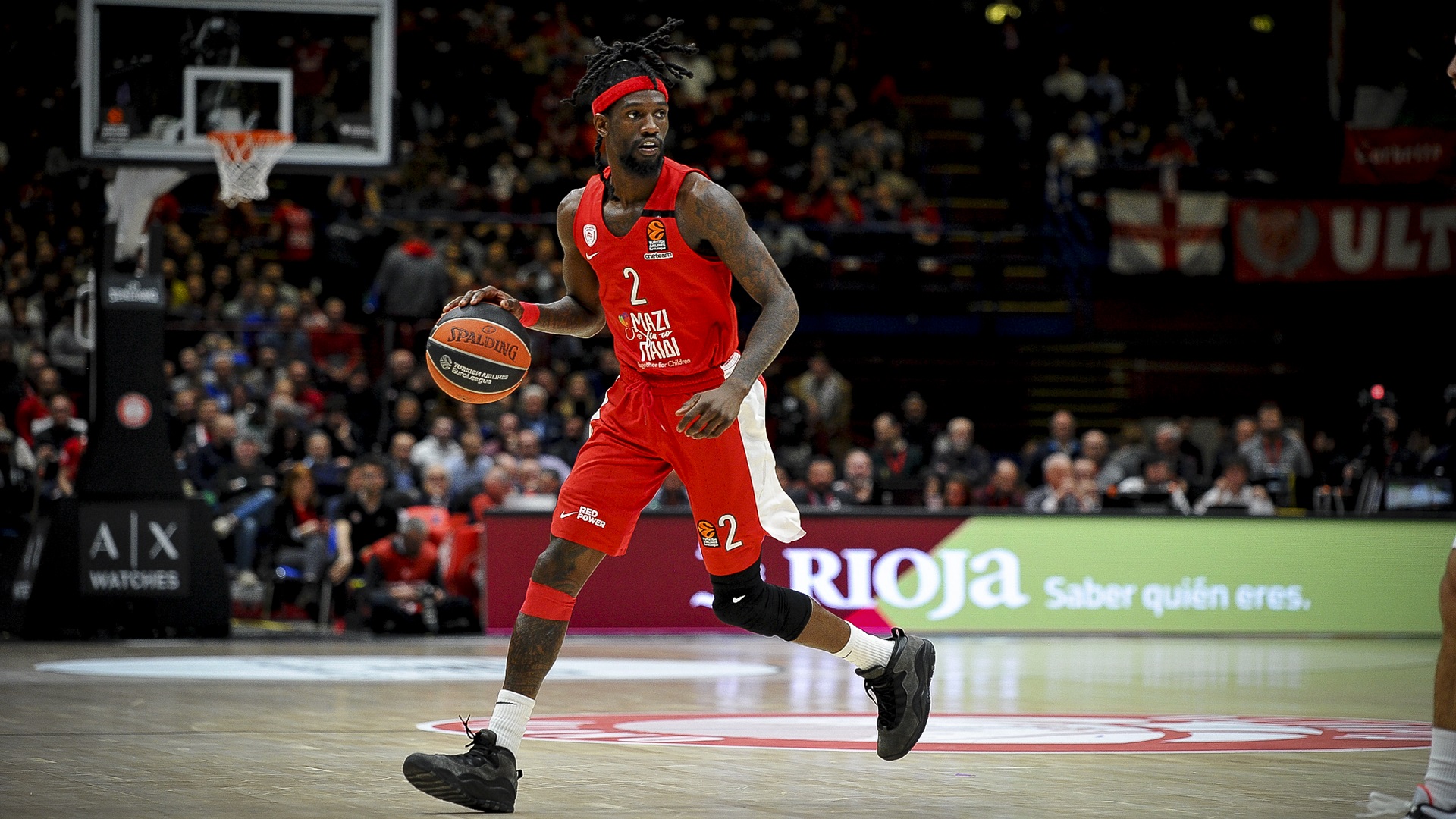 A defeat in Milan
Olympiacos did not measure up to the expectations and was defeated in Milan to Armani 57-66, for the Euroleague 26th round.
The 'reds' were trailing by 11 (13-2 at 4') from the very beginning of the game. When Vassilis Spanoulis came on the floor, Olympiacos found rhythm in the offense, got scoring from Nikola Milutinov and Sasha Vezenkov and closed in at 5 (15-10). The Italians, however, took advantage of their dominating rebounds and with Mike James leading their offense, closed the first quarter leading 19-10.
Later on and despite the absence of Spanoulis – who sprained his right foot and was 'knocked out' halfway into the second quarter – the situation changed dramatically. Relying on a solid defensive game (thanks to which Armani only scored 4 points in the second quarter) and dominating rebounds (13-6 for the hosts in the first quarter, 6-20 for the 'reds' in the second one), Olympiacos slowly but consistently (given the fact that the team was not shooting efficiently) succeeded in balancing the game (23-23 at 20').
However, what was painstakingly built during the first half, was brought down in the second one. The Italians regained contact with scoring, took advantage of the terrible offensive choices our team was making and regained control of the game (49-39, at 30'). Nevertheless, the scales tipped for Armani in a definitive way at the beginning of the 4th quarter, when Micov and James opened fire from behind the 6.75m., skyrocketing the difference to +16 (59-43, at 33').
The 'reds' fought to turn the game and ran a partial 10-3 that closed the difference to 9 points (62-53, at 36'). However, despite a good defensive game, they did not make it, since they were obviously subpar in offense…
The quarters: 19-10, 23-23, 49-39, 66-57.
Αrmani Μ. (Pianigiani): James 27 (4), Μicov 13 (1),Tarczewski 6, Νedoivic 7 (1), Κuzminskas, Νunnally 6, Brooks 5 (1), Jerrells, Omic 2
Οlympiacos (Blatt): Weber 8, Williams-Goss 11 (1), Τoupane, Spanoulis 2 (4 as), Μilutinov 13 (9 reb), Vezenkov 10, Printezis 4, Papanikolaou 5 (1), Μantzaris, LeDay 4.
«I stand by the board's decision»
Asked about the announcement made by Olympiacos BC a few hours before the jump-ball against Armani, which made known that there are going to be no tickets issued for the game against Panathinaikos, as well as whether he thinks that only foreign refs should be officiating the games between the two teams, he replied: "I don't know about the announcement. If that's the board's decision, then I completely stand behind it. In regard to the petition for foreign refs, this is not unusual in European basketball. Actually, there are Leagues where this is the norm and not the exception. It's normal. And there is a reason for it. There have serious trust issues in Greece for many years now and that's why the Olympiacos decision has made this decision".
«Congrats to Armani. We had a plan about how we wanted to play and I think that for the most part, with the exception of some minutes into the second half, we succeeded in sticking by it. Armani is an explosive team, with a lot of talent, with a deep roster, especially offensive wise. And we kept them 23 points below their average. The problem was that we didn't score. So, that's why this result came. It's simple. We need to look ahead. We have a very important week ahead of us and I think that these games are going to decide our presence in the playoffs. We need to be ready. About the offensive part of the game, it's very difficult for us to play both without Spanoulis and Strelnieks. They are two very important guards and in such an important game players of that caliber play a very important role, just like Mike James for example. Maybe that's the reason we did not get to score as much as we would have wanted in a game that we did so well defense wise. We moved the ball, but shot with bad percentages. We tried to play a more disciplined game and went to a slower tempo when attacking so as to stop them from having the chance to make their game».
On the situation with Spanoulis' injury, he said: "I don't know much yet. I know that the doctor told him to not play the rest of the game. For a player of Spanoulis' status, who was excellent while he played and we missed him terribly, to stay out of the game means that something is really on. Because, if he was able, we would be definitely playing. I think that it's not a minor thing, but neither a very serious one. I hope it's a matter of days".
On his part, Sasha Vezenkov stressed: "We didn't play basketball… We only scored 57 points, we did not have good distancing, we only shot 12% at threes. With such percentages, you can't really expect much. Also, we didn't play defense in the third quarter. Almost nothing worked correctly. When you have contained Armani at 23 points in the first half and you have never succeeded to gain a good margin, it's certain that we were going to have a problem because at some point the opponent is going to make their shots. Unfortunately, we lost a very important game. If we continue to play like that we are going to have problems, regardless of the opponent. It's not a matter of who we play, but rather of how we are going to get better. We don't play well. What we need to do is focus on the next game. Bayern is a good team, they fight for the playoffs, but we need to win no matter what".