What's trending with Kevin Punter
Let's meet the Olympaicos players off court. What they eat, what kind of music they listen to, the places they frequent when they go out…
YOUR FAVORITE TV SHOW AT THE TIME
«The Fresh Prince of Bel-Air».
NETFLIX or AMAZON?
«I'll choose NETFLIX».
WHICH MOVIE YOU WATCHED RECENTLY THAT YOU LIKED?
«It's been a long time since I watched a movie. My favorite is 'Βoyz n the hood'".
DO YOU FOLLOW FASHION? WHICH CURRENTLY FASHIONABLE ITEM YOU LIKE?
«Not that much. In reality, I only buy what I like».
WHAT DO YOU LOVE TO WEAR?
«I love sweat pants. They are extremely comfortable. Long pants and shorts».
IF YOU WERE ABLE, WHAT KIND OF SHOES WOULD YOU ALWAYS WEAR? WHICH ONES MAKE YOU FEEL COMFORTABLE?
«Sneakers. For sure NIKE! I always wear them. For me, they are the most comfortable shoes».
HOW DO YOU USUALLY MATCH THEM?
«Tracksuits and jeans».
DO YOU WEAR ANY EXTRAS?
«My favorite accessories are earrings. I have some bracelets also, but I always wear my earrings".
WHICH ONE OF YOUR TEAM MATES IS THE BEST DRESSER?
«Vassilis. He's one of the best dressed. He doesn't dress better than I do, but he's got a lot of swag pieces».
WHICH SOCIAL MEDIA PLATFORMS DO YOU USE?
«Twitter and Instagram».
WHAT KIND OF MUSIC DO YOU LISTEN TO?
«I listen to all genres. Rap, R&B, Soul… everything! It depends on how I feel at the moment».
WHAT KIND OF MUSIC THE MAJORITY OF YOUR TEAM MATES LISTEN TO?
«I listen to a lot of Greek music; it's not that bad, but mostly rap ».
WHEN YOU GO OUT, WHERE DO YOU USUALLY HANG OUT?
«I don't go out! But if I do, then some chill places, nothing crazy ».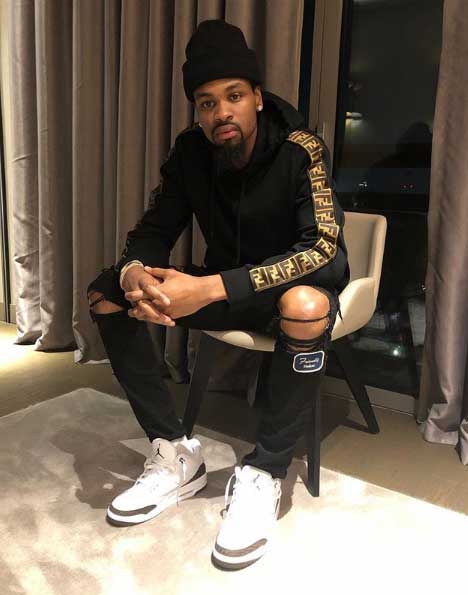 WHICH ONE OF YOUR TEAM MATES HAS THE BEST DANCE MOVES?
«To be honest, no one on the team dances. I probably am the best dance, with the best moves!».
WHICH VIDEO GAME YOU PLAY THE MOST?
«I don't like video games. If I play some, it's going to be 2Κ, but I generally don't like them ».
FIFA or PRO EVOLUTION SOCCER?
«Neither».
WHO'S THE BEST AT FIFA/PES AND WHO'S THE WORST?
«I really don't have a clue about these games and I don't know who's good and who's bad ».
WHO PLAYS THE MOST VIDEO GAMES ON THE TEAM?
«Wade (Baldwin). I think he constantly plays fortnite».
WHAT'S YOUR SIGNATURE EXPRESSION?
«What's up fool? I say that and Kostas (Papanikolaou) says that also. We basically say that to one another all the time».
WHICH FOOD YOU EAT NOW THAT YOU COULDN'T STAND A FEW YEARS AGO?
«Whatever I used to eat before, I eat now. I haven't changes by habits».
ARE YOU CONTENT WITH YOUR HAIR STYLE AT THE MOMENT?
«Yes. I think this cut becomes me and I think of keeping it».
IS THERE ANYONE THAT ADVISES YOU ON YOUR HAIR STYLE?
«No, never, I think I'm doing a pretty good job with that».