The photo story of the 'red' Legend! (part 1)
Year 2000 and Giorgos Printezis, in the first interview of his career for the official Olympiacos' magazine, asked how he imagines his life to be in ten years, he replies: "Having worked hard, I will try to cope as best as I can with my duties to the team, which I hope will still be Olympiacos, but also to have a good standing with the National team". Twenty two years later, Giorgos Printezis is retiring as the captain of the team of his beloved team, having walked an insurmountable course with the 'reds!
2000-01
His official presentation by Olympiacos BC in a central Athens hotel, together with David Rivers, Patrick Femerling and Nikos Boudouris. "I was over my head. I can't remember anything from that day. The only thing I remember is that thankfully reporters did not ask me a thing!"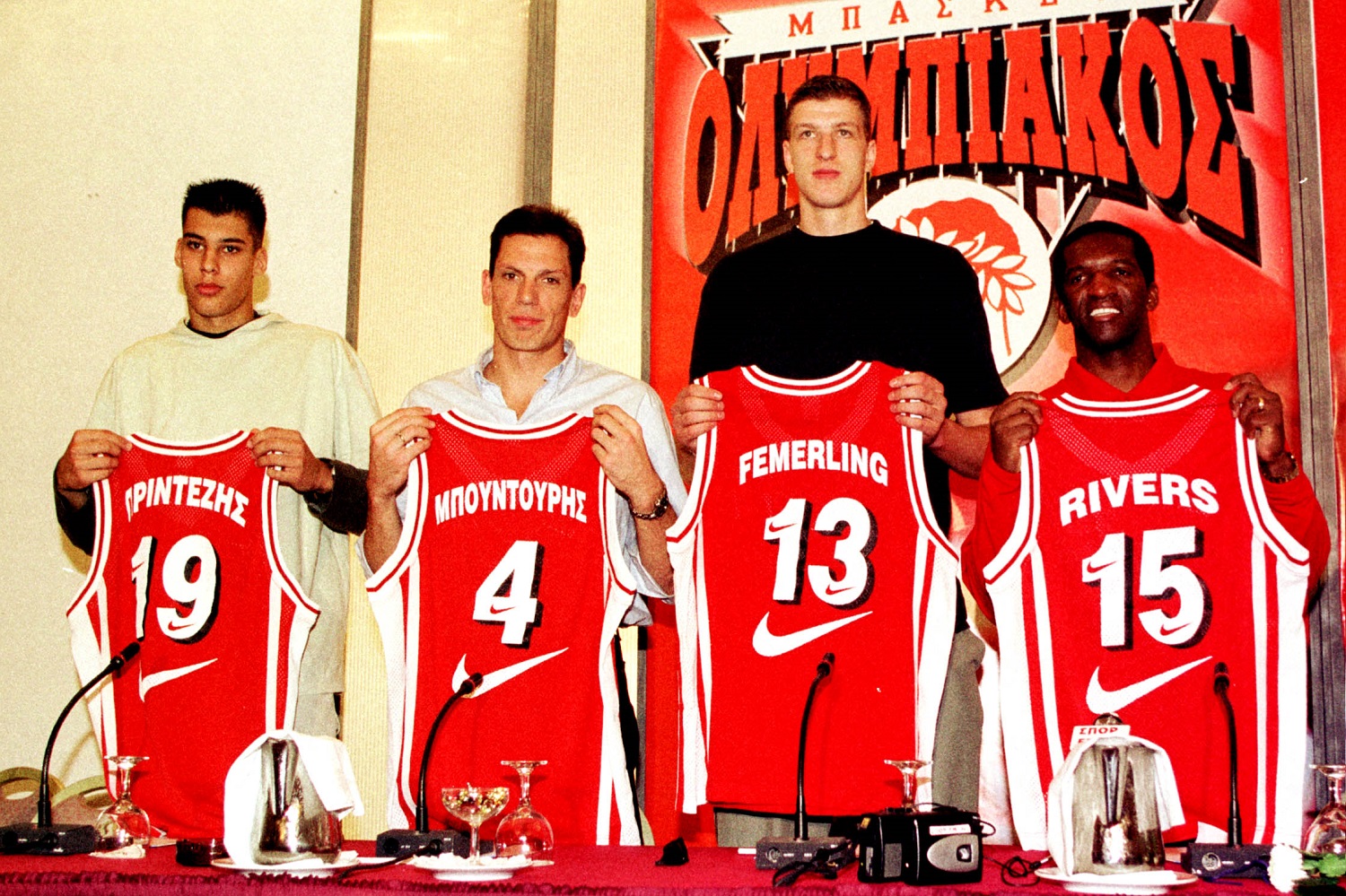 The youth years…
Photos with the junior team of Olympiacos!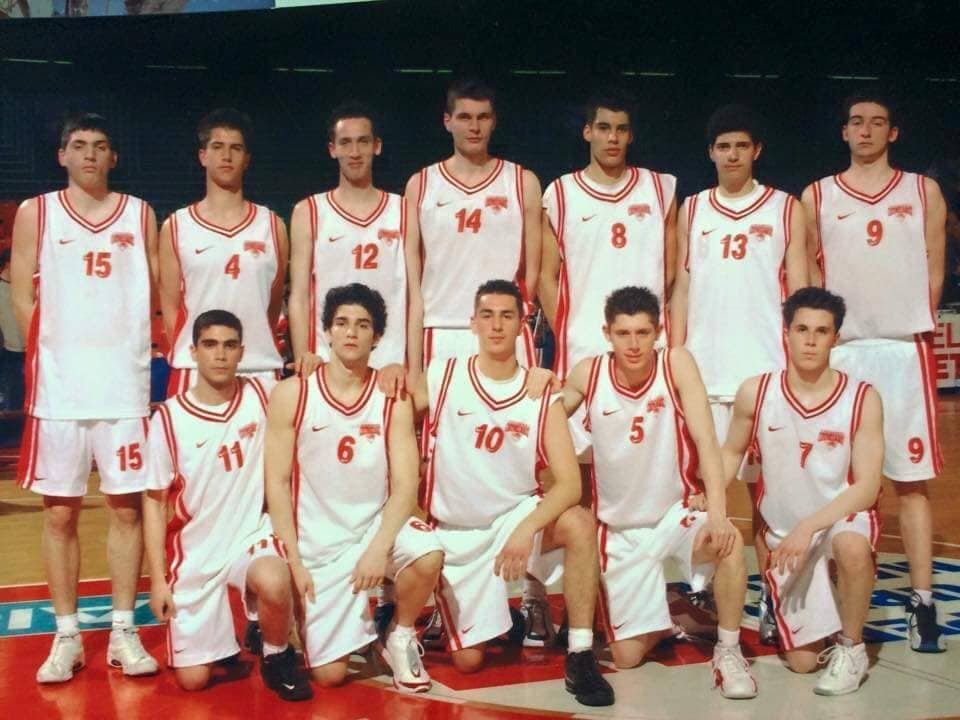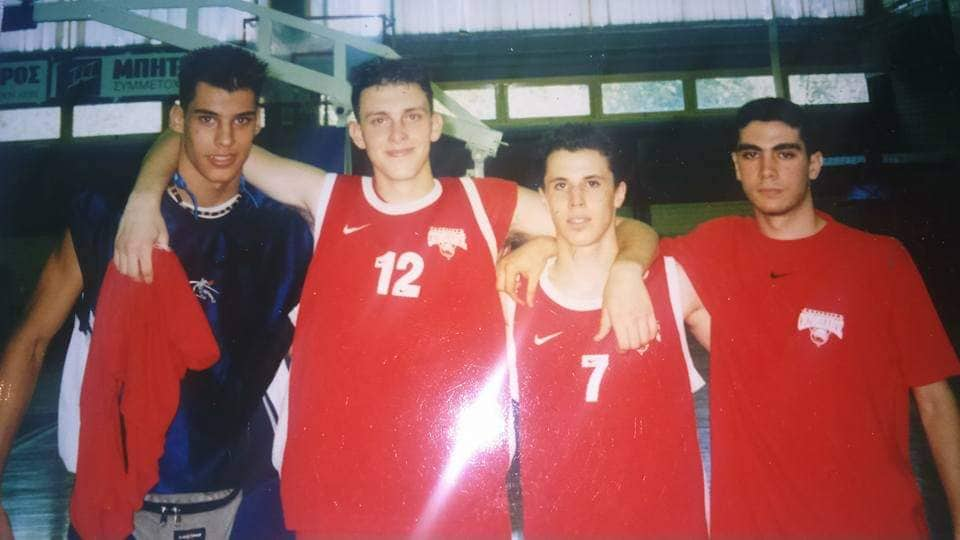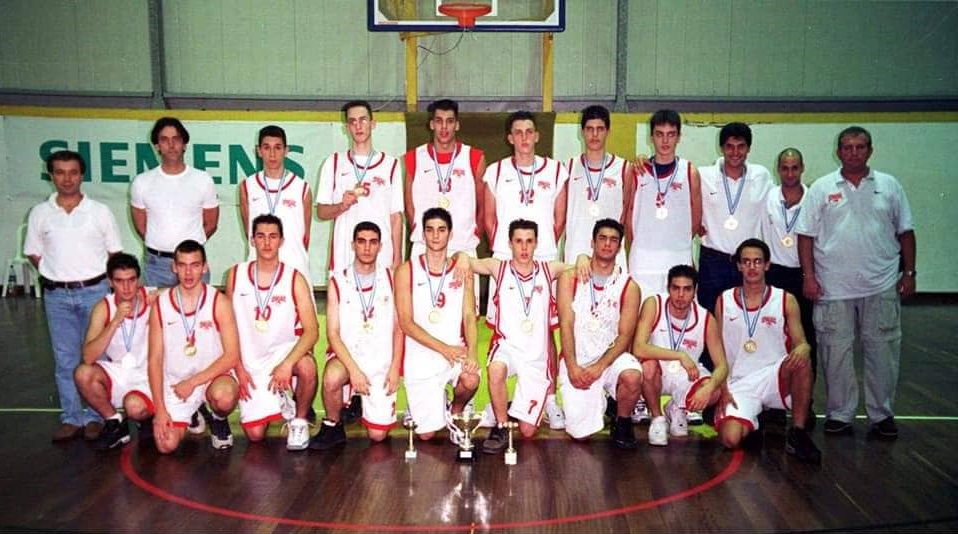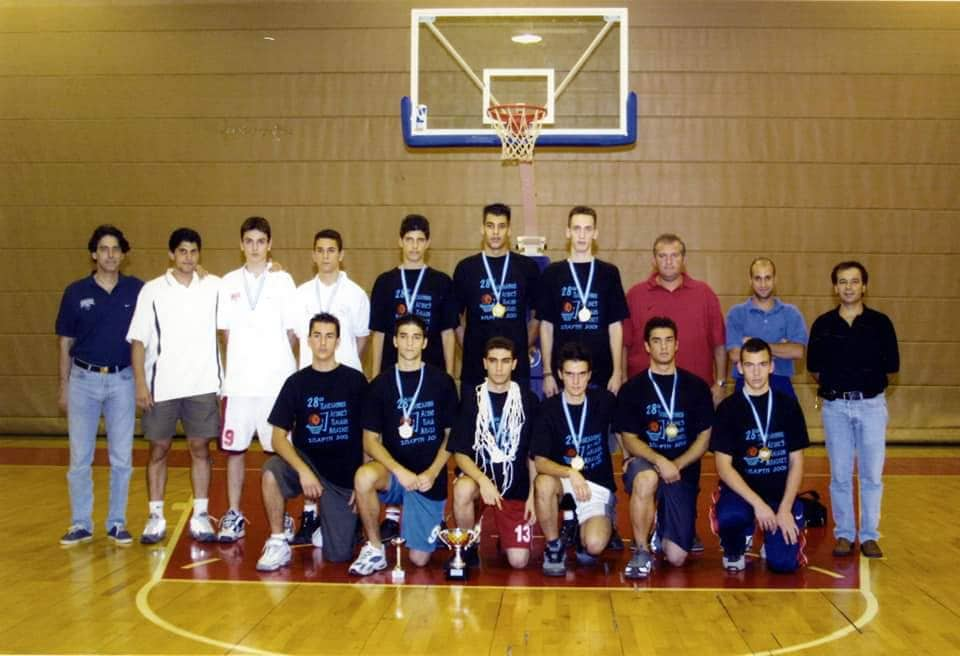 2002-2003
It was the season when he debuted with the men's team. More specifically, he played his first game against Iraklis, when in 4:47 he scored 2p. (1/2 twos) and won a foul. He played in a total of 11 games during that season, with the most productive being the one against Near East (photo). In 15:52 playing time, he scored 8p. (2/2 free throws, 3/5 twos, 5 rebounds, 1 steal and 4 fouls won). His first European game had been against Slask on October 9, 2022 (in 2' minutes he did not score, 72-91).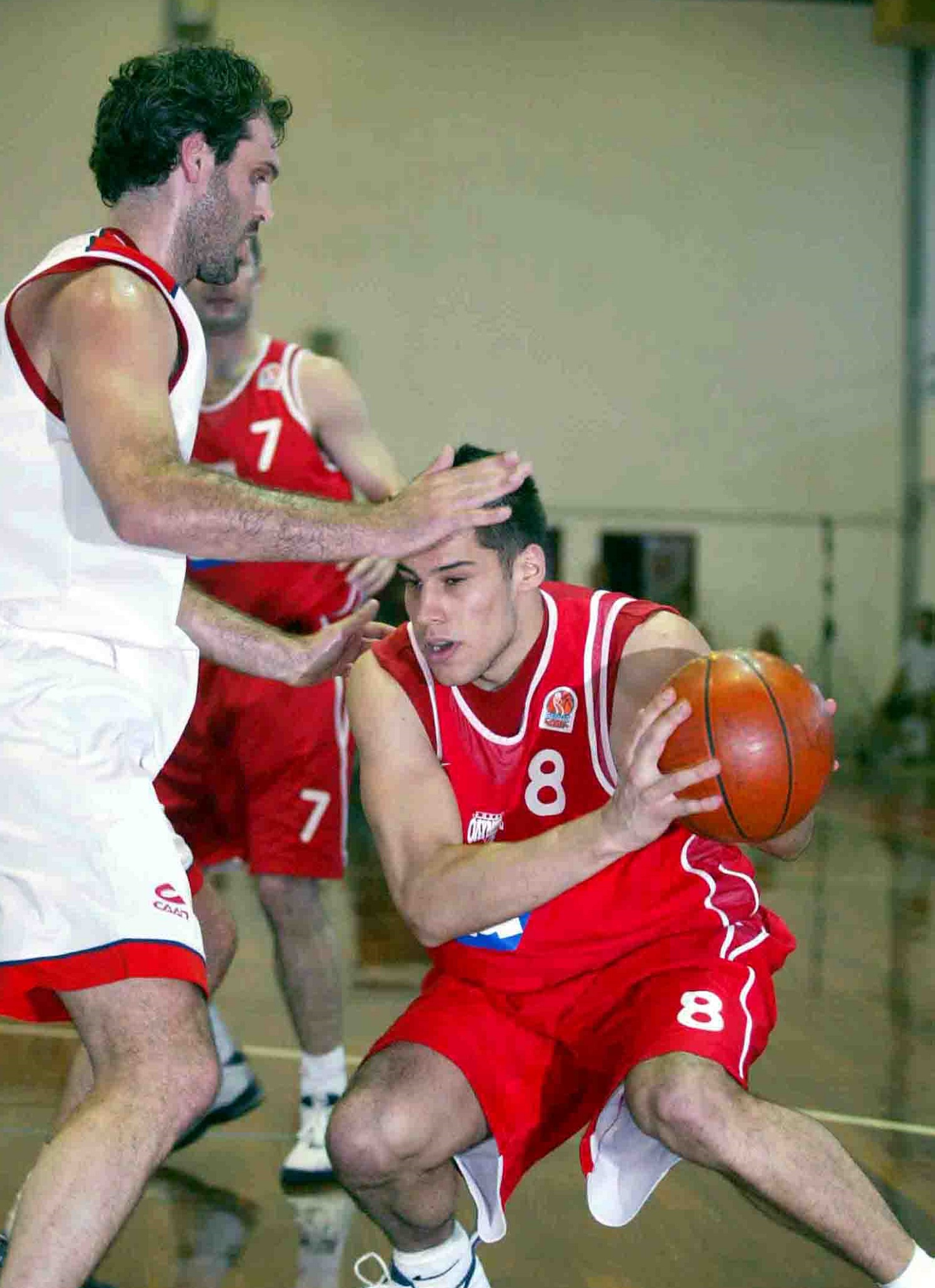 2003-04
Lefteris Subotic remained in the team bench, however, he put less trust in him than during his rookie season, barely utilizing him in 4 games for the Greek League and three Euroleague ones.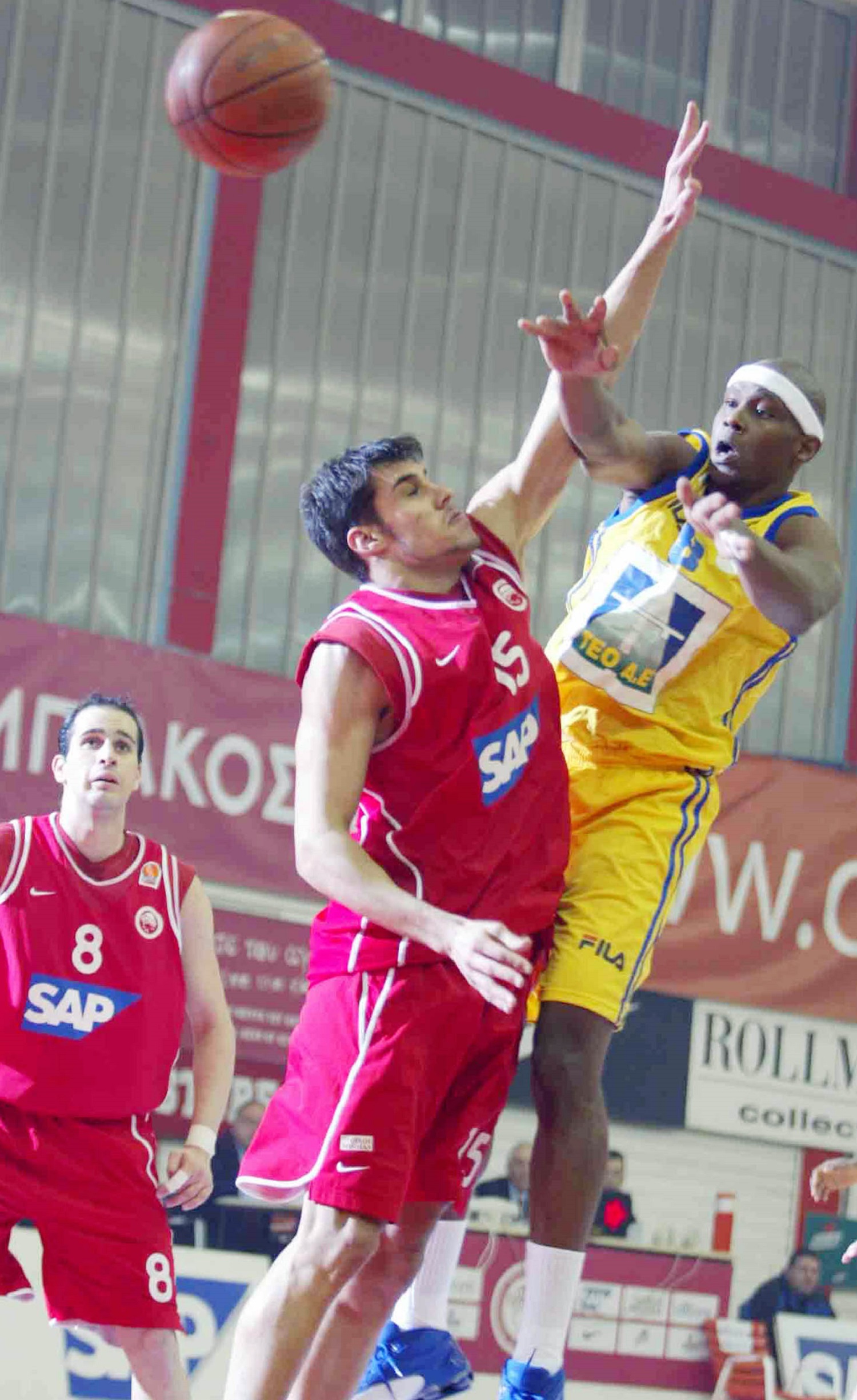 2004-05
His then coach, Jonas Kazlauskas, not only did not give him any chance (he got on the floor on a mere 4 Greek Championship games), but would persistently ask him to stop 'doing that thing that maybe resembles a shot'… That is his now signature shot, which gave Olympiacos the Euroleague in 2012. Tragic irony or Carma? The Lithuanian coach would be sitting in the bench of CSKA, against which Olympiacos fought in 2012 for the Euroleague trophy! The photo from the game against Apollon was the only one when Giorgos Printezis got to step on the floor during the whole season!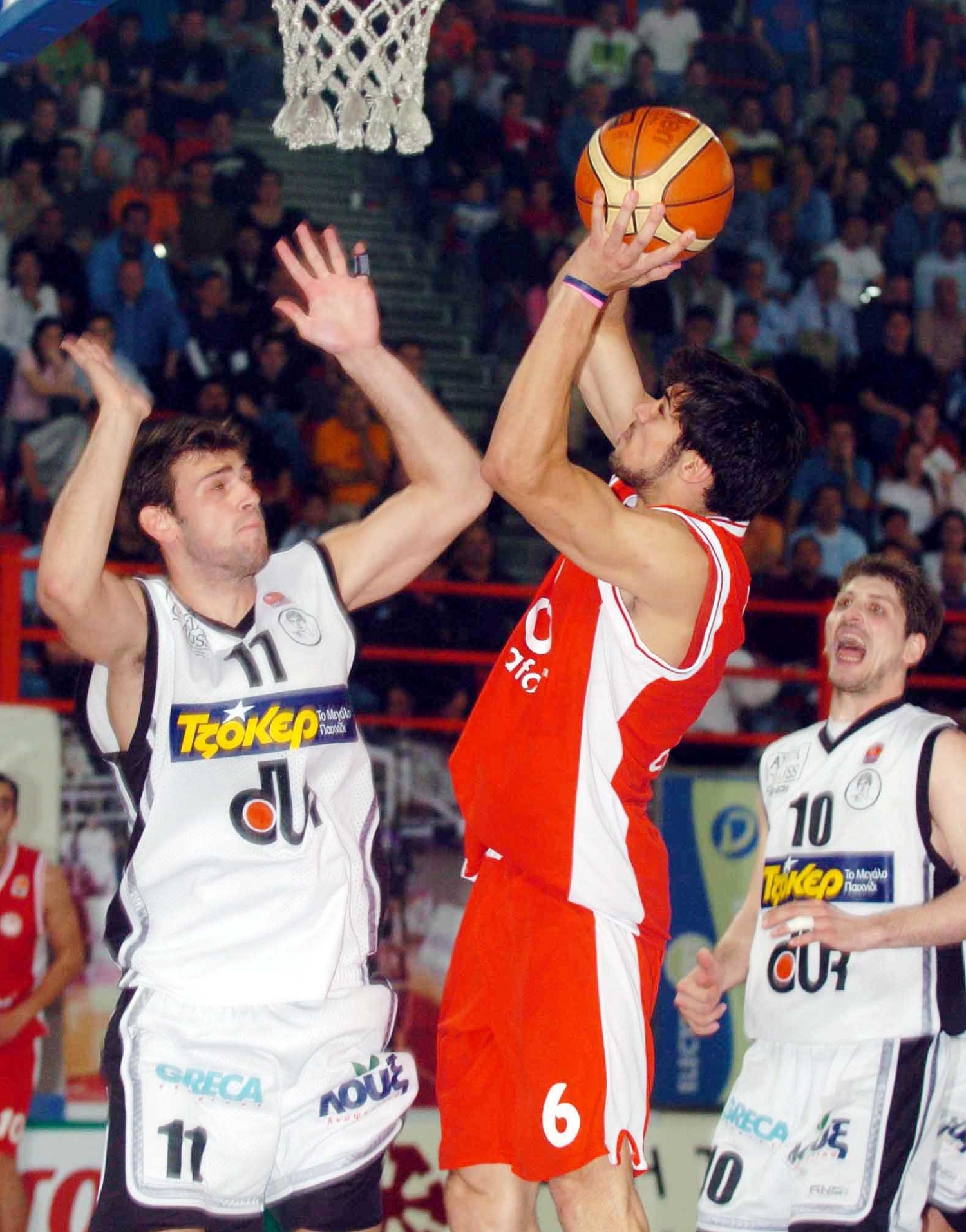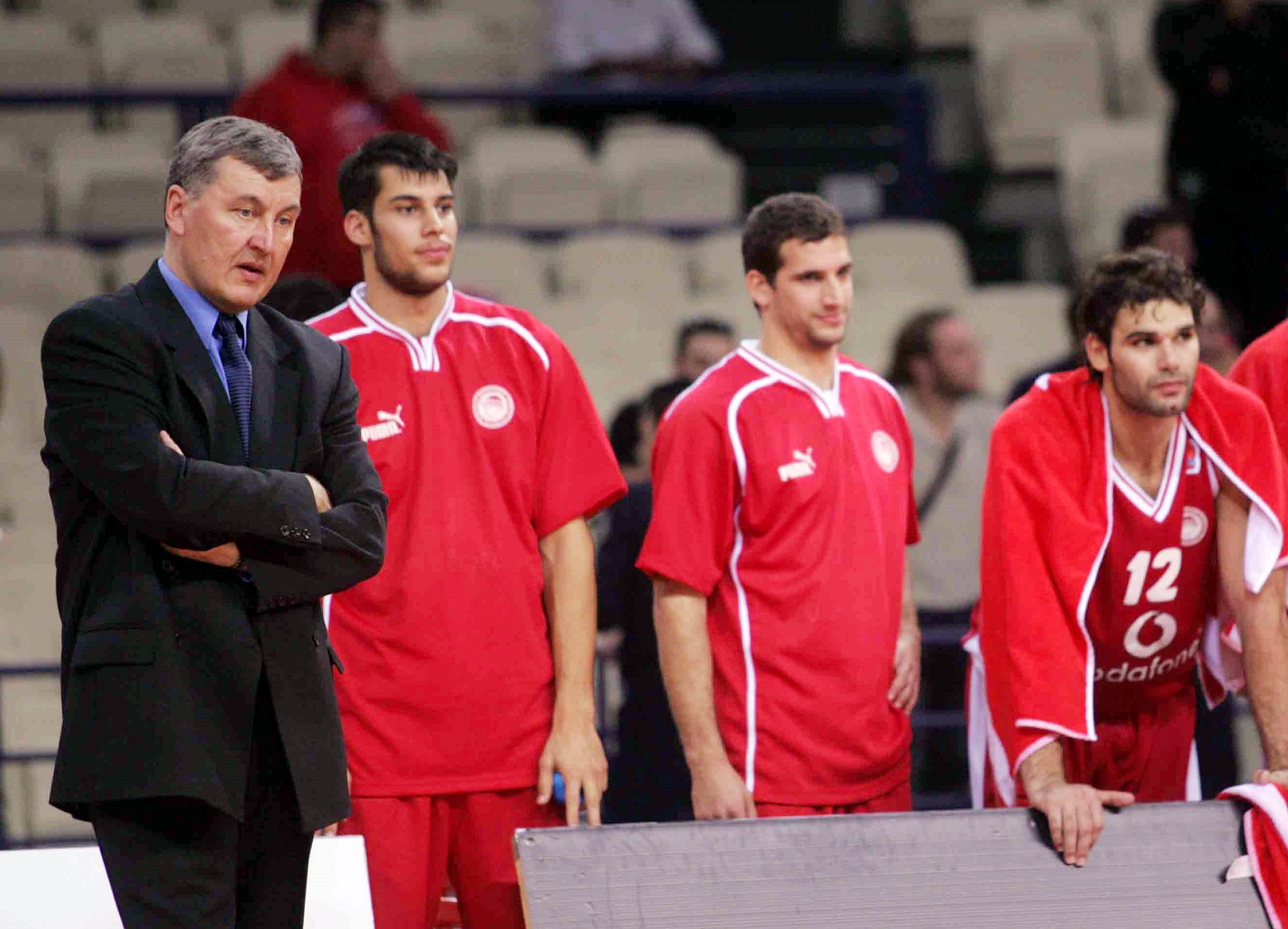 2005-06
Hard working 'Pri" got to win over Jonas Kazlauskas and showed an initial glimpse of his talent… He played a total of 23 games for the Greek League and another 8 in Europe. Against AEK (photo) he made a career record with 18p. in 19:10 playing time (4/5 free throws, 7/8 2p., 0/1 3p.), 4 rebounds, 1 assist and 1 block.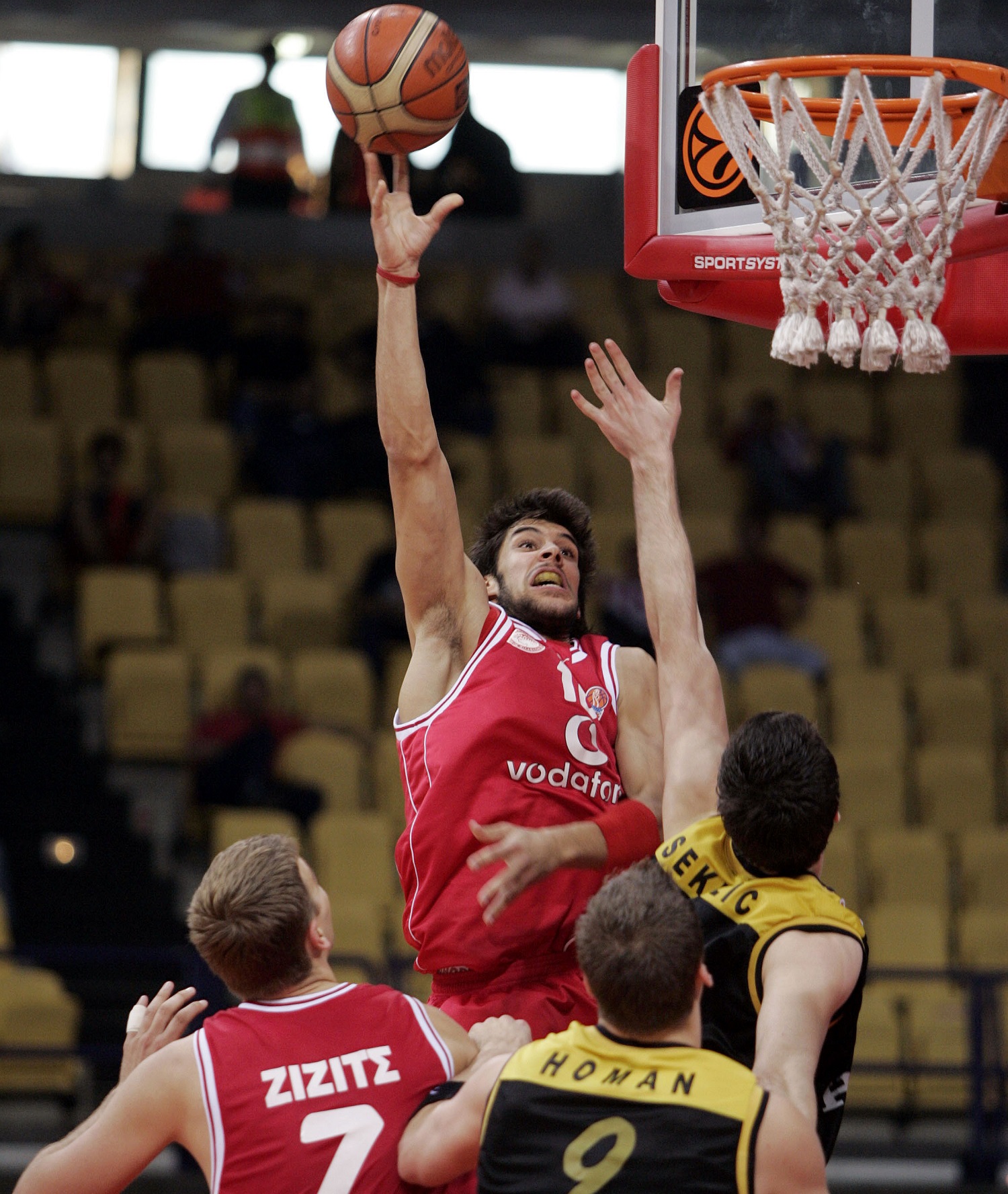 2006-07
Jonas Kazlauskas is leaving, Pini Gerson is coming, but Printezis is not staying! He is given on loan to Olympia Larissa (with Giorgos Bartzokas in its bench) and sees his career exploding! What Printezis himself has told to WeAreOlympiacos is of extreme interest. "When I were in Larissa, Gerson has said about me, 'I like this player'. And the team told him, 'but you were the one to give him on loan!'. He didn't even know about it. He simply had wanted then to work with more experienced players and its only understandable. So, when he saw me in Larissa and I made an impression on him, they explained him how things are and said: 'Good, we're gonna have him next season".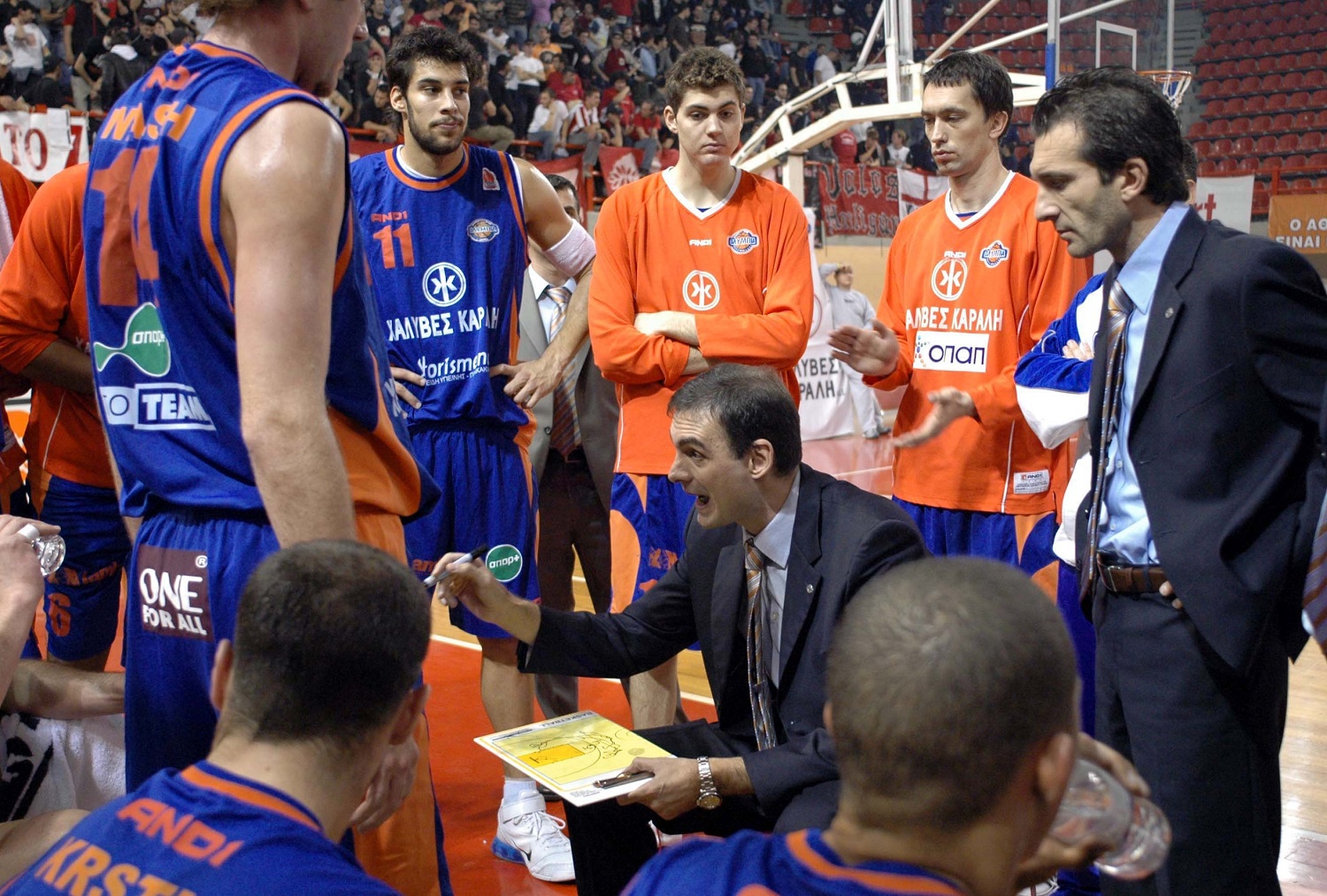 2007-08
That's how it happened! Printezis paid his dues, returned to Piraeus and Pini Gerson gave him the chance to take the next big step in his career, giving him a substantial role with the team.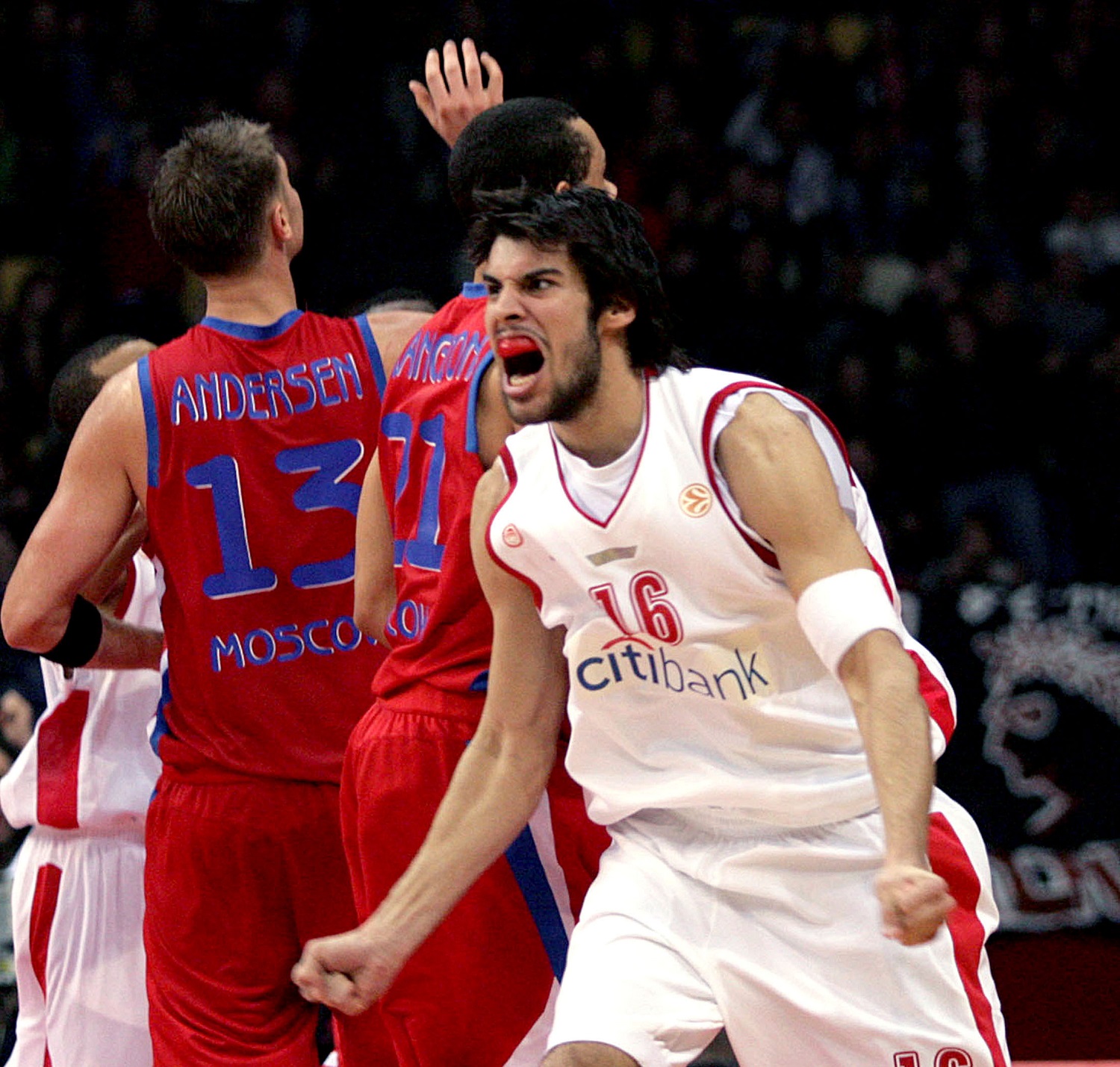 2008-09
Olympiacos is changing… Coach Panagiotis Giannakis takes over, big stars (like Childress) re-enforce the roster, however, Printezis maintains his spot (30 Greek League games and 15 Euroleague ones). The 'reds' make it to the Euroleague Final four, however, they succumb in the semis against Panathinaikos. The fates had it, that in the first F4 of his career, 'Pri' was guarding his later Dioscuri in Olympiacos, Vassilis Spanoulis.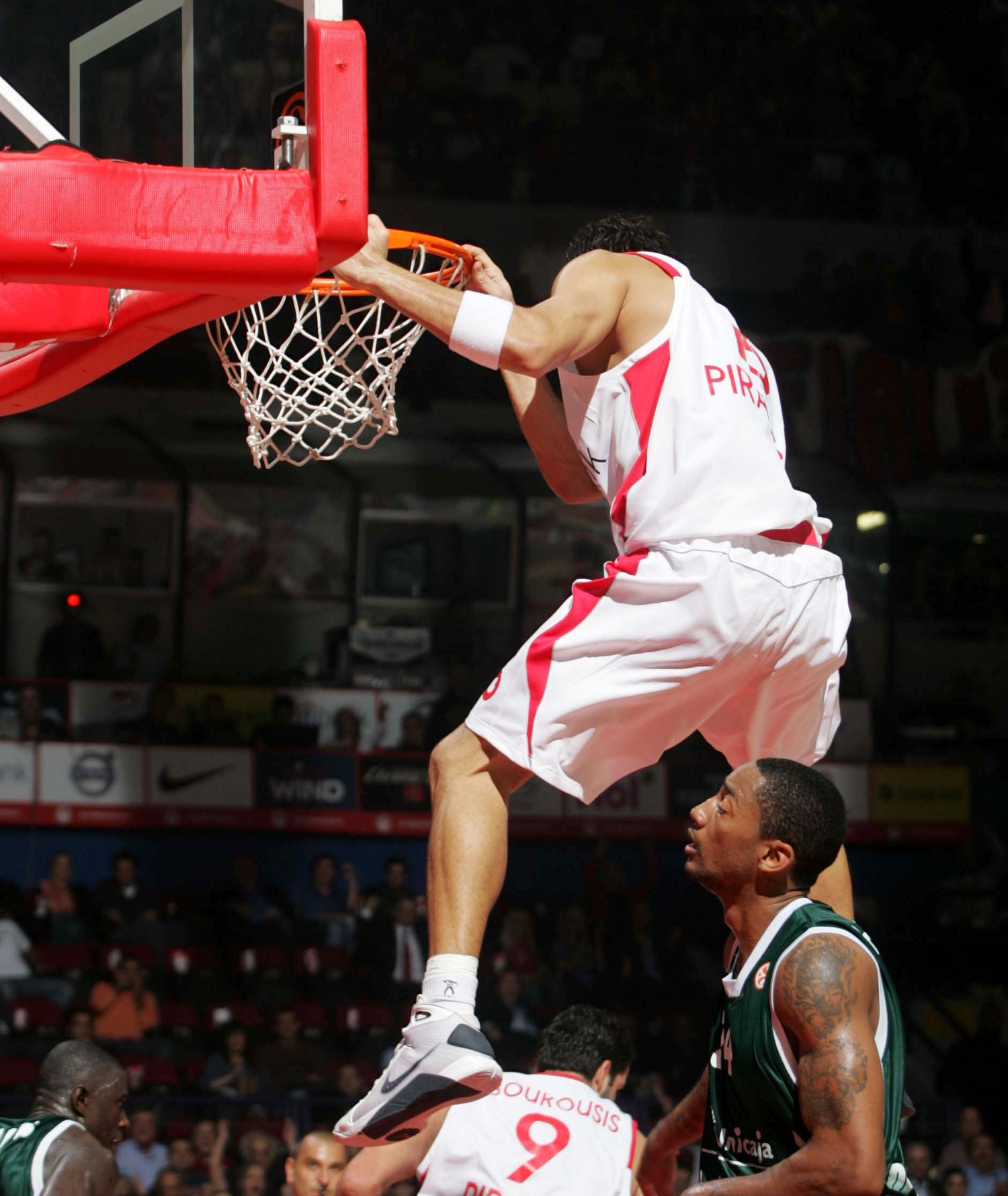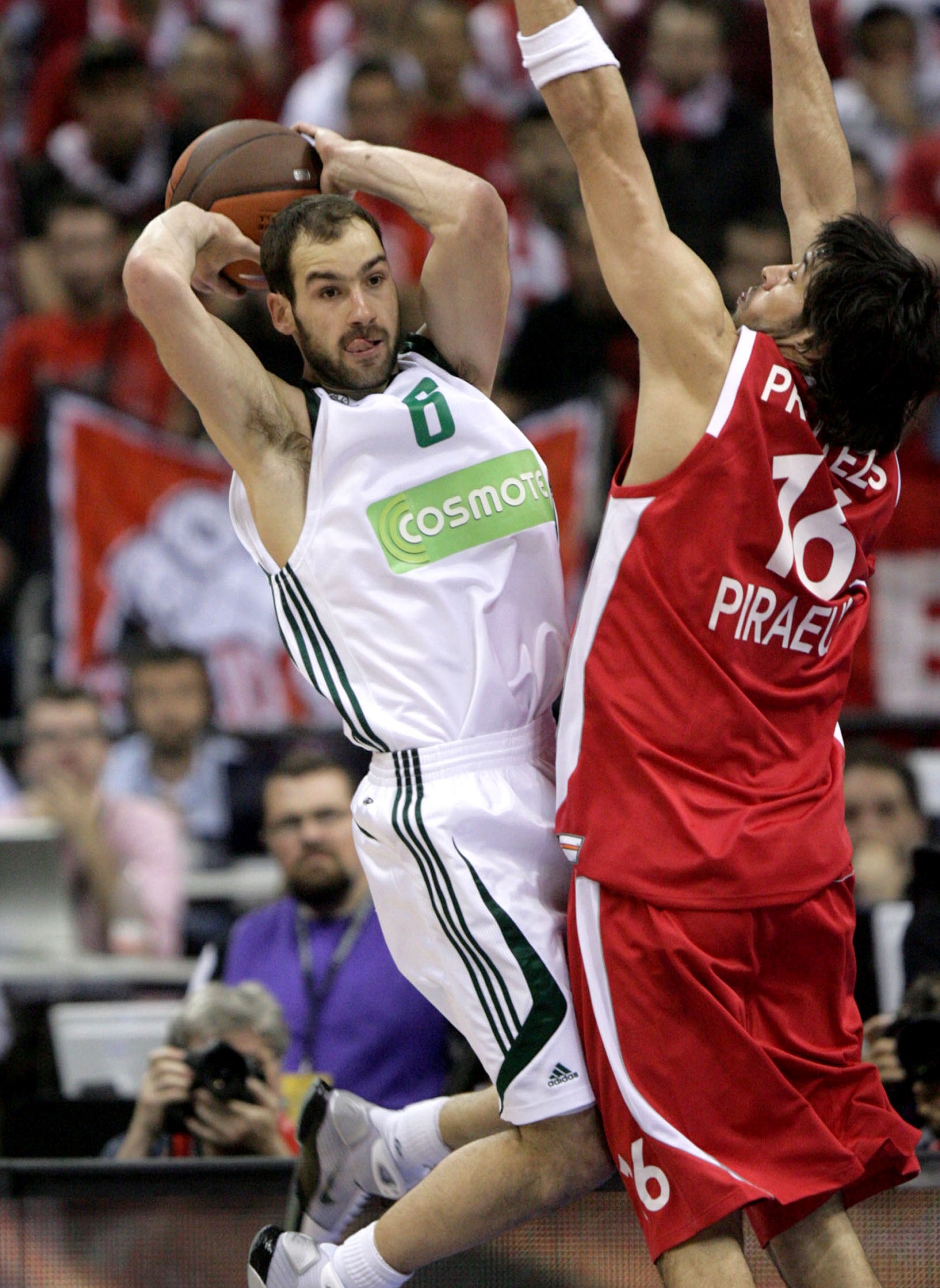 Summer of 2009
Following negotiations with Olympiacos, Giorgos Printezis decides to leave heading to Malaga. "I want to thank Olympiacos for the nine years we spent together. It has been and still the team I love, but unfortunately our roads will be separating and I believe that based on the choices I had in my hands and thinking behind each offer, anyone else in my position would be doing the same. I'm going to Spain to get better and I hope that at some point our roads will meet again, when and if I'm really wanted. I want to thank Mr. Giannakis and the whole technical staff of Olympiacos, as well as those whole helped me all these years and have had a part in my evolvement. Also, a big thanks to the fans of the team with whom I bonded and I definitely never expected that the time to say goodbye would be coming. I also want to wish good luck to the Presidents of the team, the Angelopoulos brothers in their effort to bring Olympiacos to the top once again and it is going to be a great joy when this happens. Sincerely, G. Printezis", read the statement he issued (photo from the day of his departure to Spain).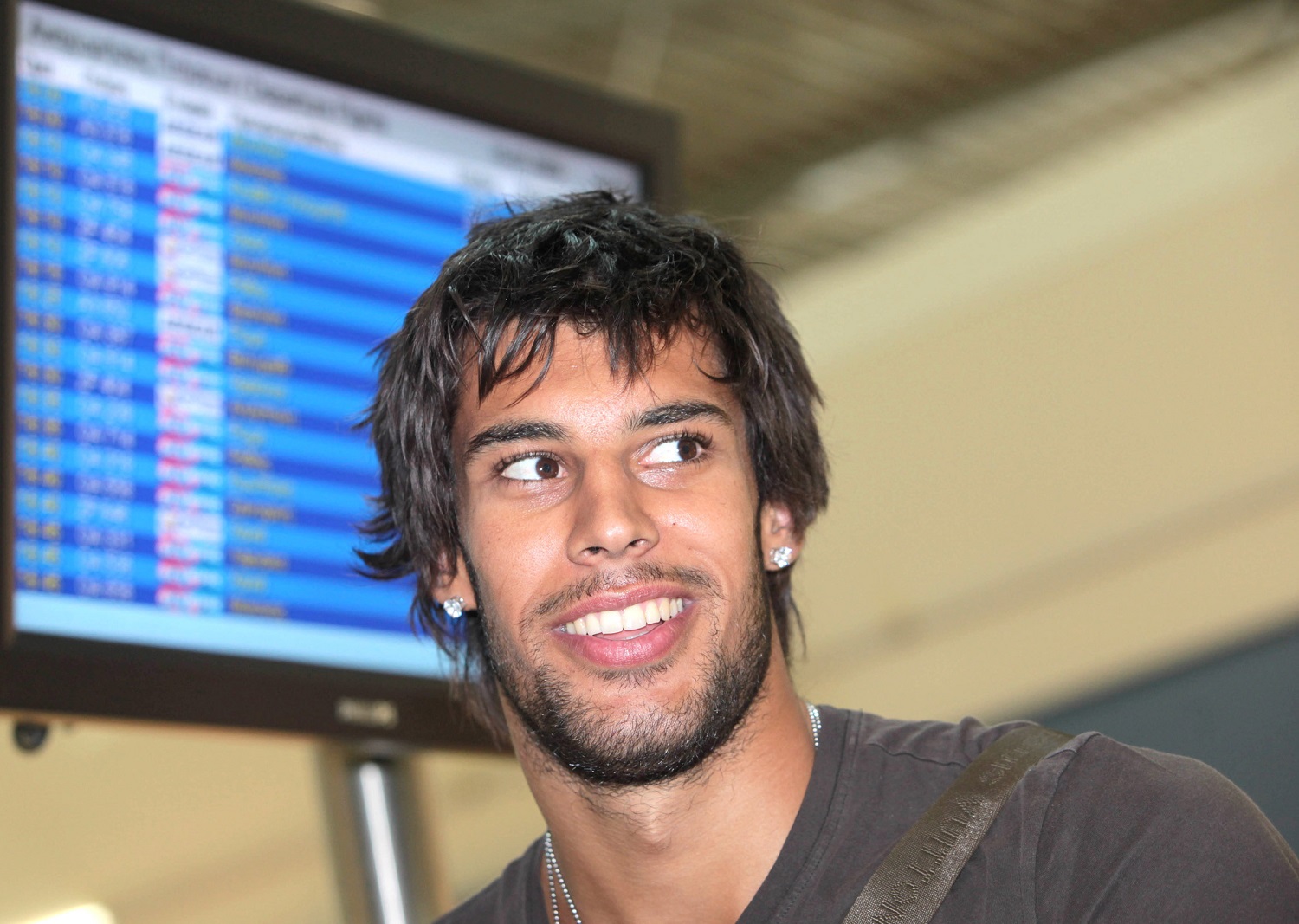 «There are not goodbyes in our paths, only some moments of separation…»
Regardless of the bitterness each party was left with following that separation, Olympiacos' doors remained open for the captain, who on April 28, 2011, got to once again wear the jersey of the team he loved! "I'm coming back to Piraeus at the most critical time in the season and the only thing I have in my mind is to help the team and celebrate a Championship. I wish to thank the Angelopoulos brothers and Mr. Skindilias that showed me how much they wanted me which is extremely important to me. I also wish to thank Mr. Ivkovic and Mr. Angelou for their faith in me and I promise to give 100% in every game and every practice. As for the fans that haven't forgotten about me, even during the time I was gone, I hope that I soon get to return their love the way they really deserve it". And the title came… It was the Greek Cup. But that was only the beginning…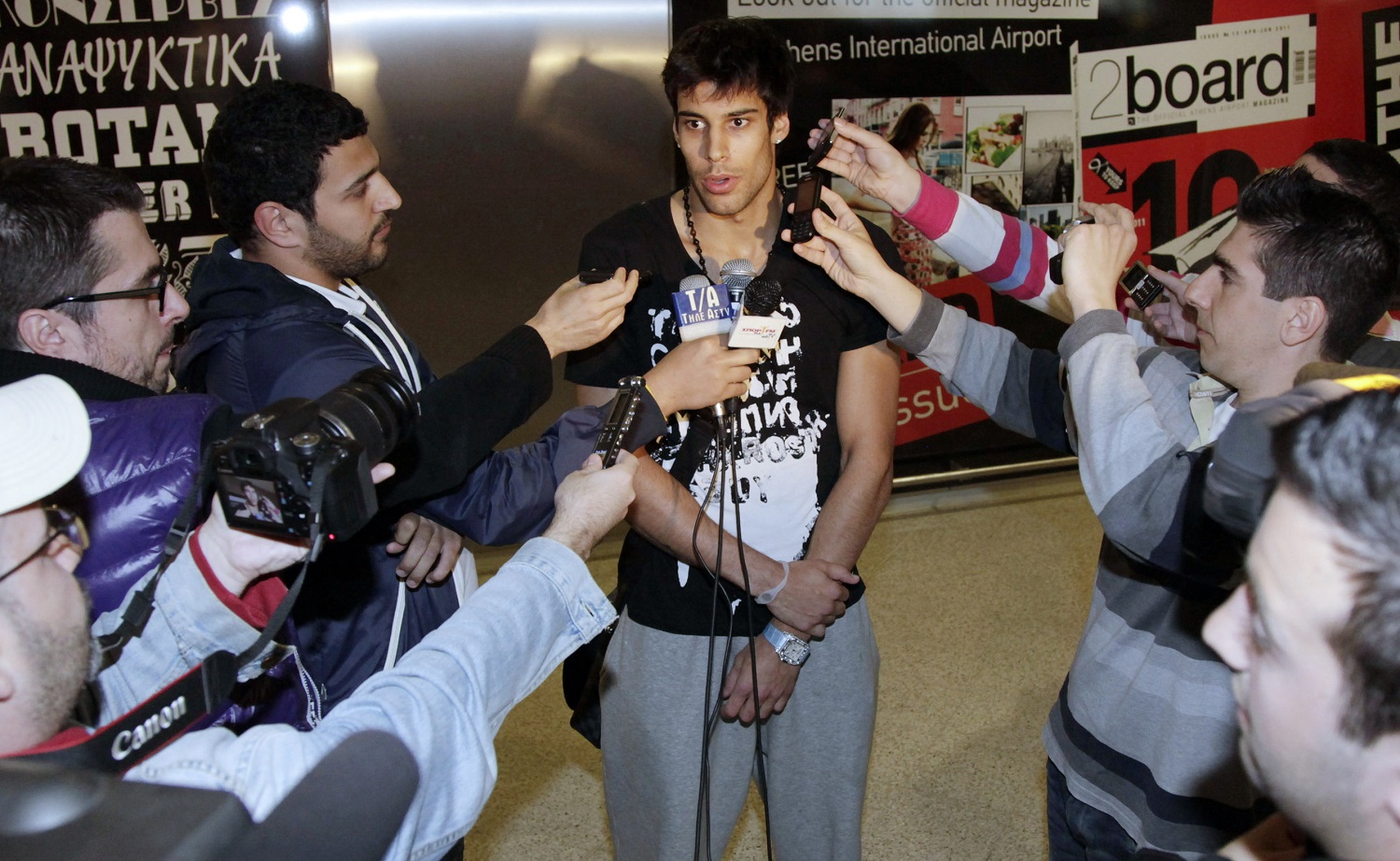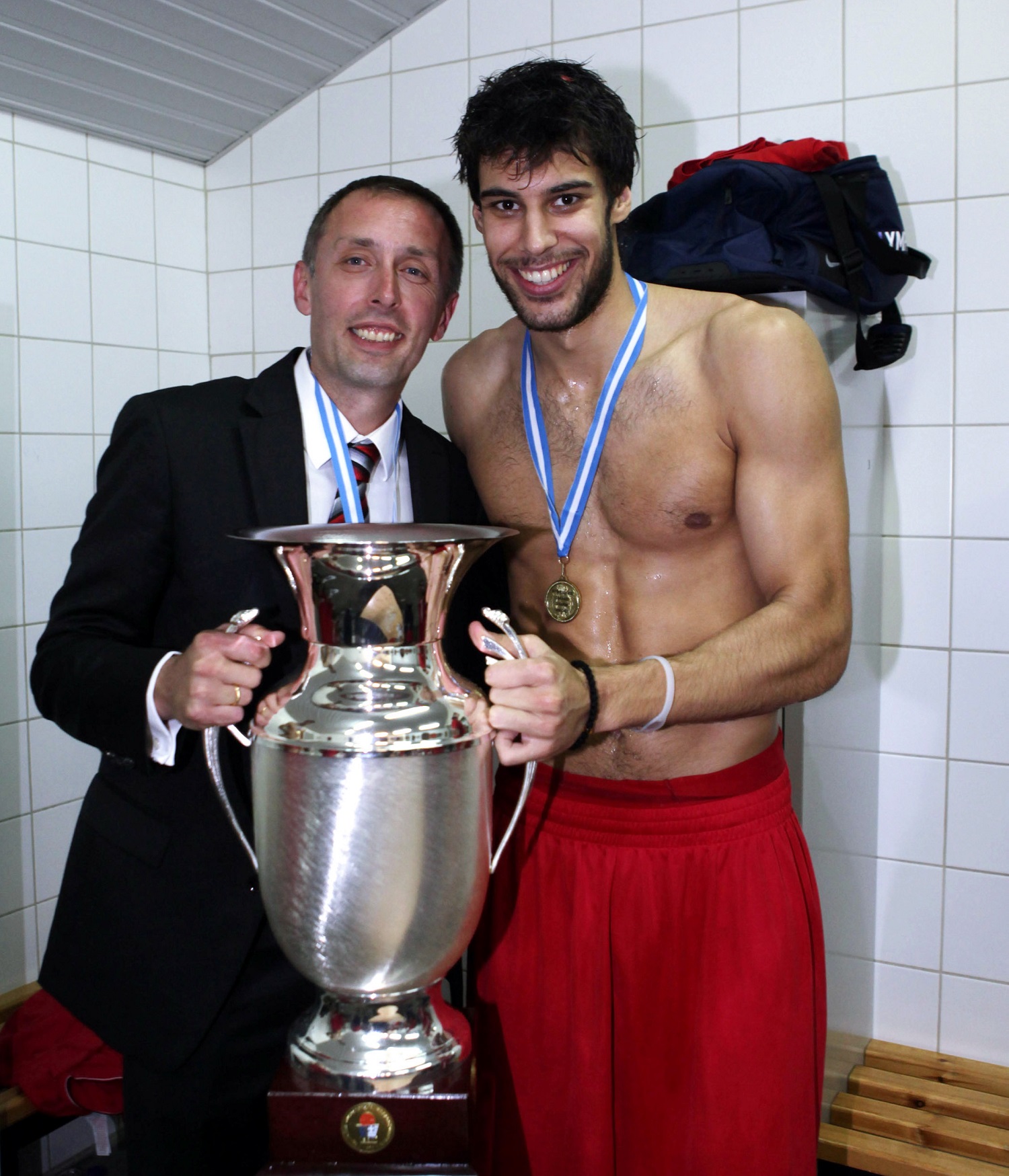 2011-2012
With his signature shot at the buzzer, Olympiacos became the European Champion in Istanbul, while only weeks later, got to celebrate the double, also winning the Greek Championship! And what had more sense, than on July 11, 2012, the two parties extending their collaboration for three more season! "I hope and wish that for as long as my legs can support me to be a member of this team" he had said as a prophecy!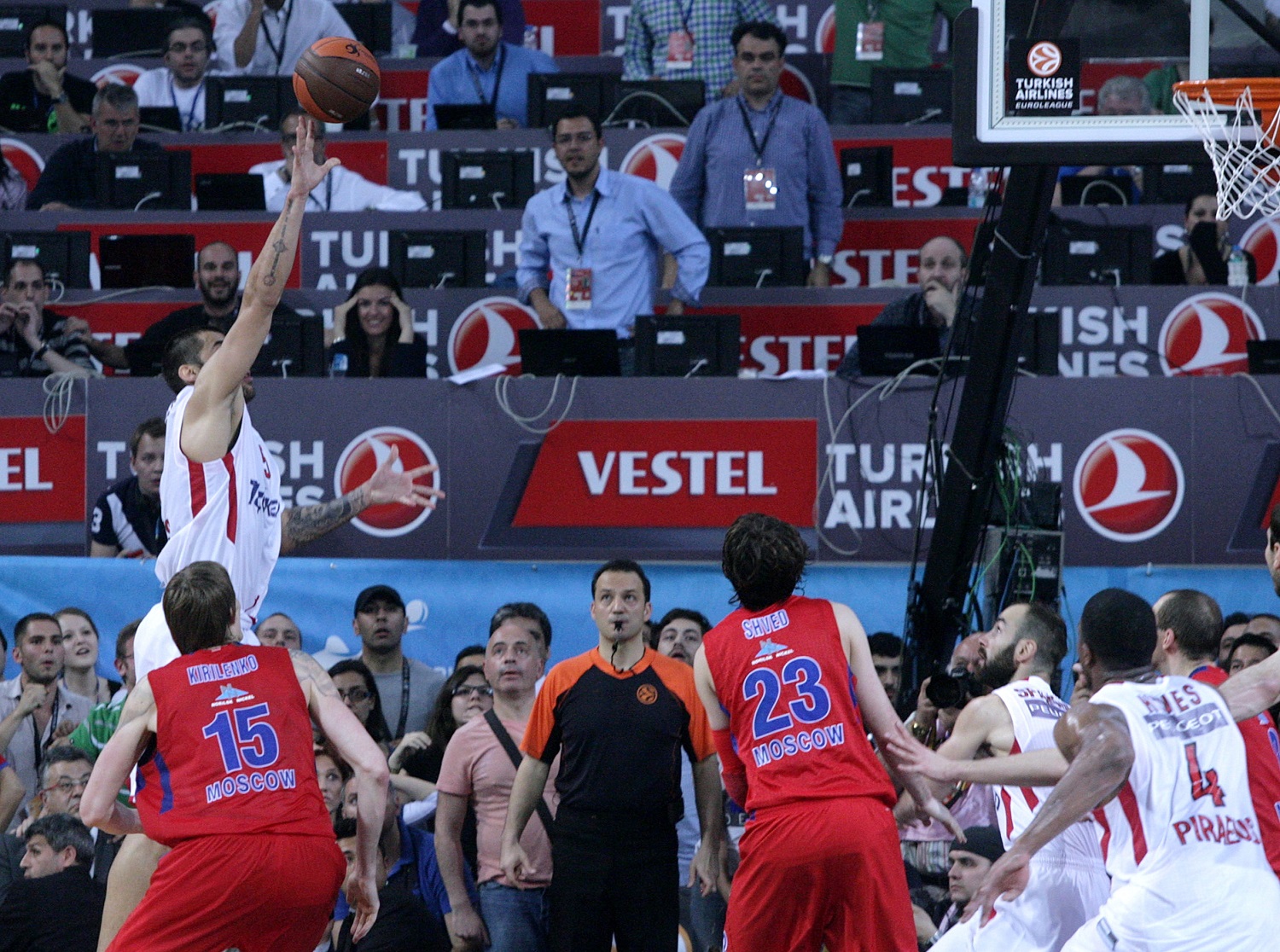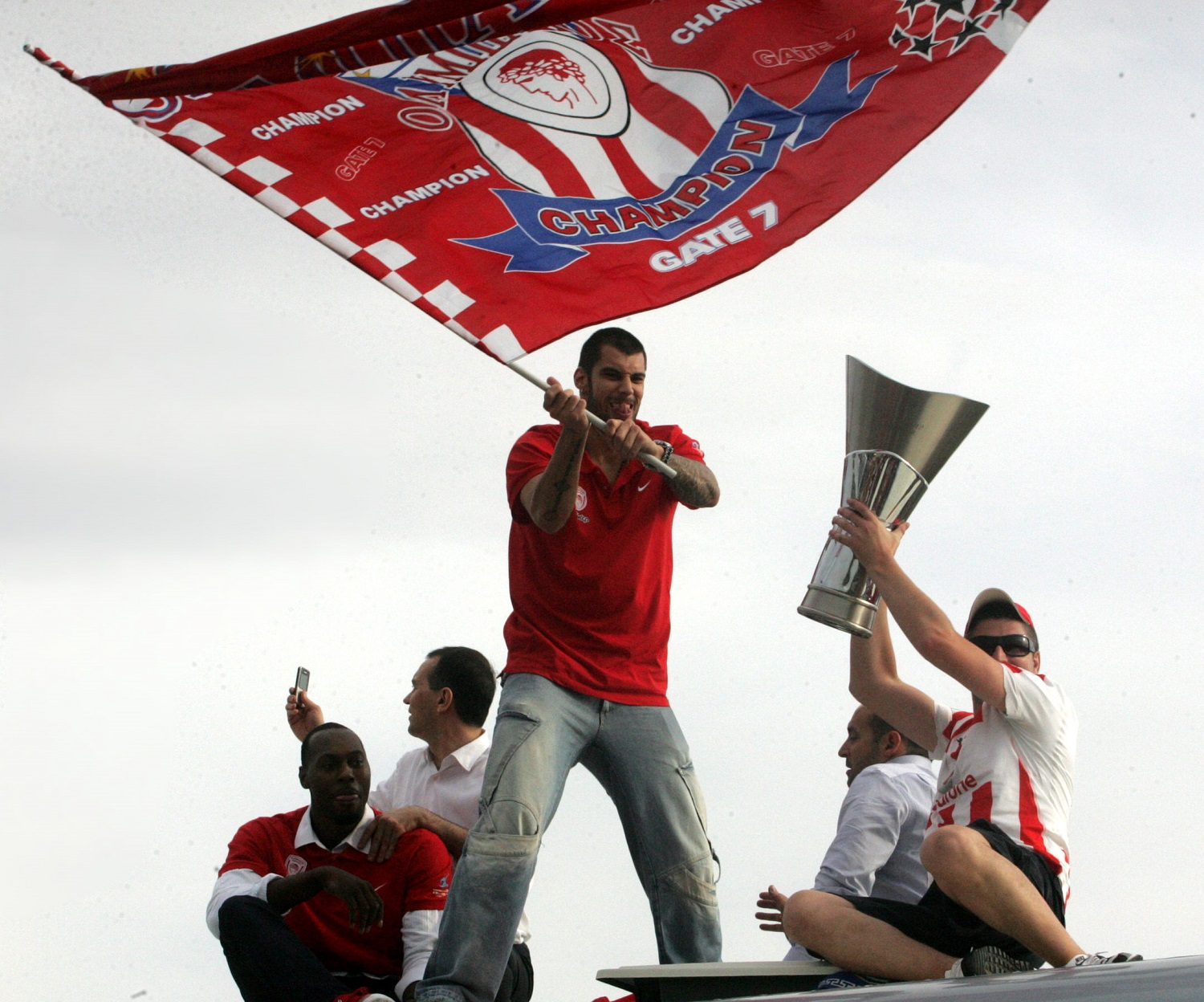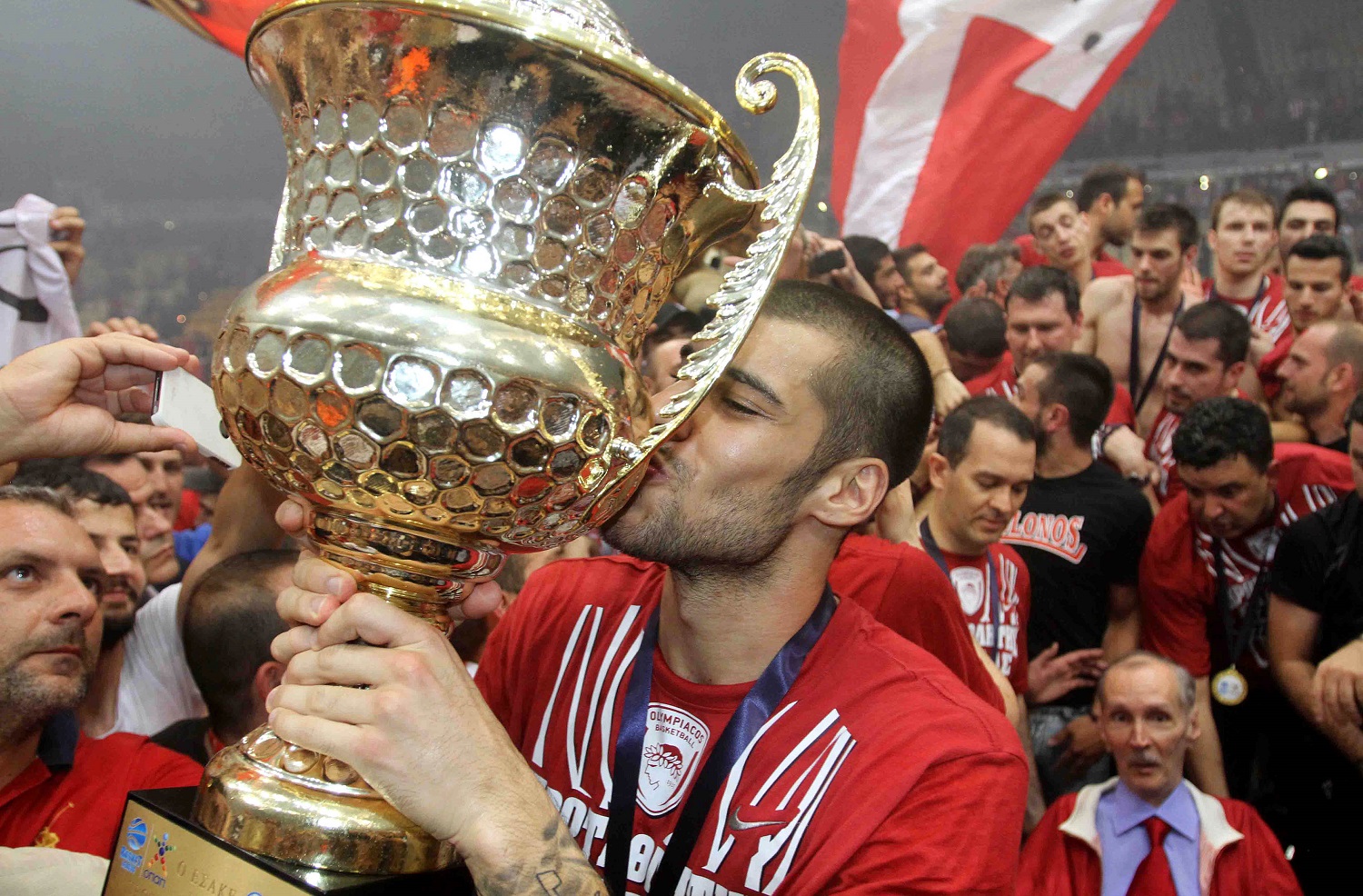 2012-13
Back to Back European Champion, while one more trophy was added to our collection: The Intercontinental Cup! "For second year in a row, we even had not expected that! It was magic and we got to live through it. Let's enjoy tonight and we'll see about the next one", he had said.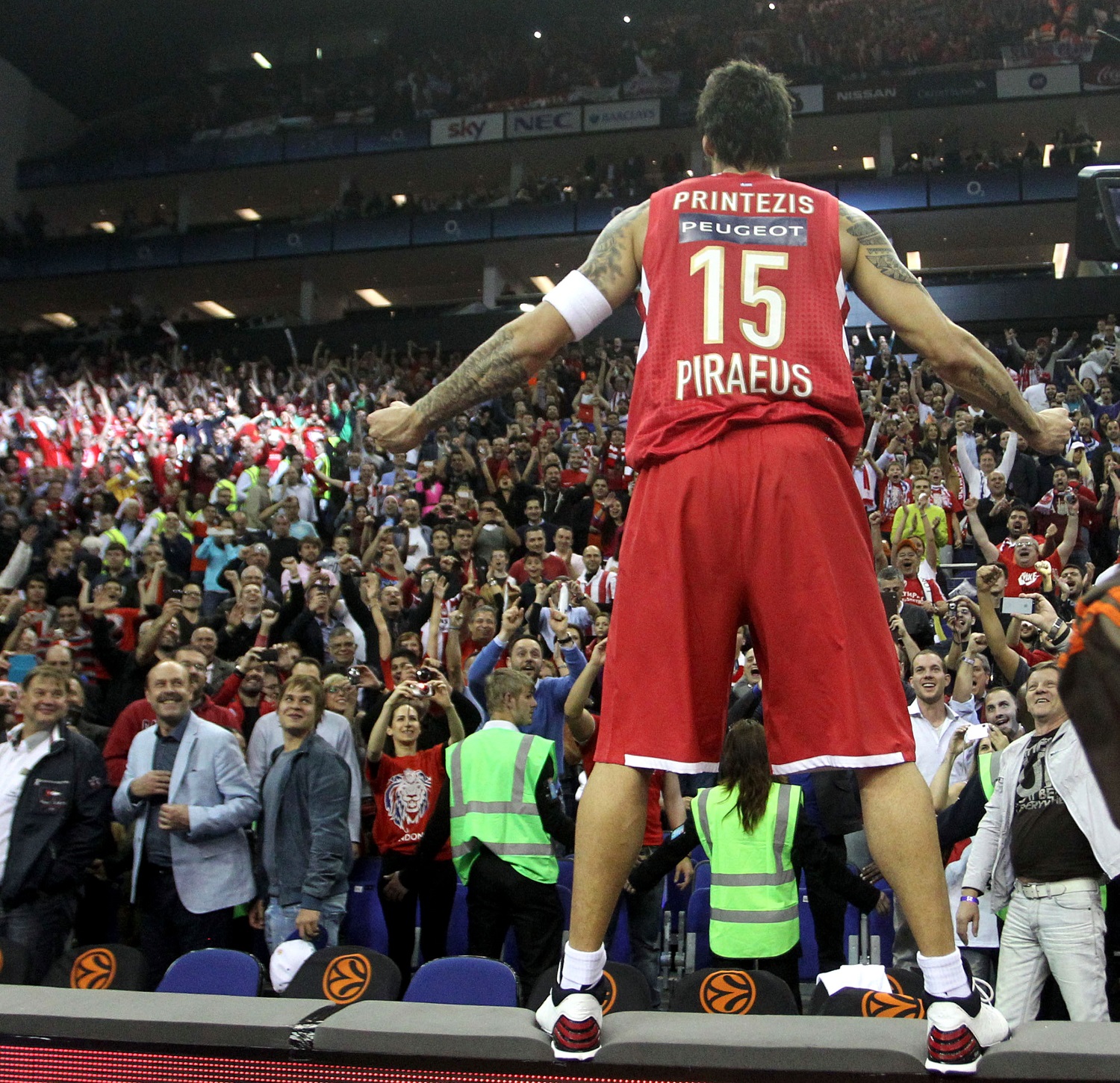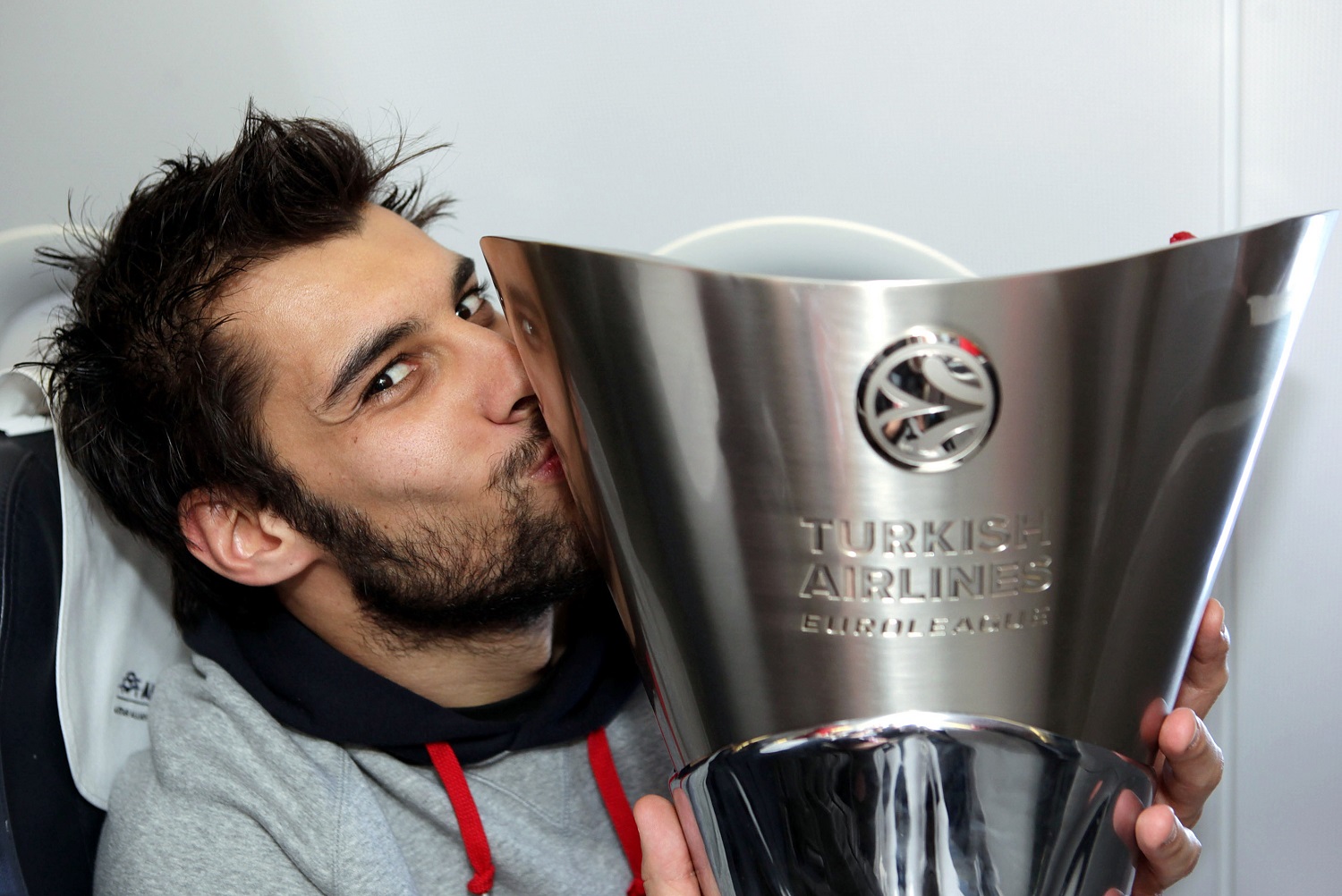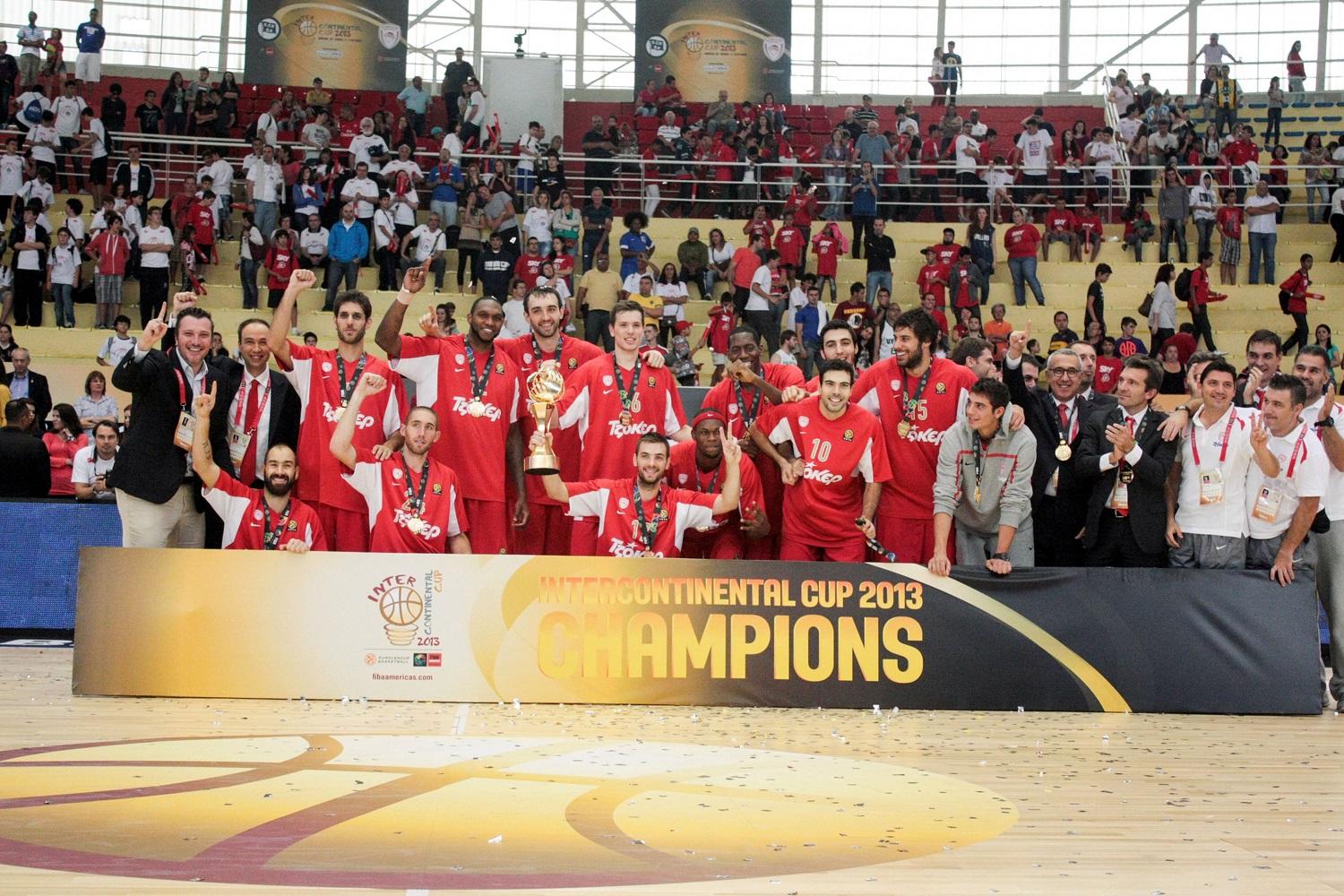 2013-14
The season that followed the two back to back European titles was not the best one possible, since Olympiacos did not succeed to bring home any of the set goals. However, that did not stop the two parties from renewing their … vows throught 2017.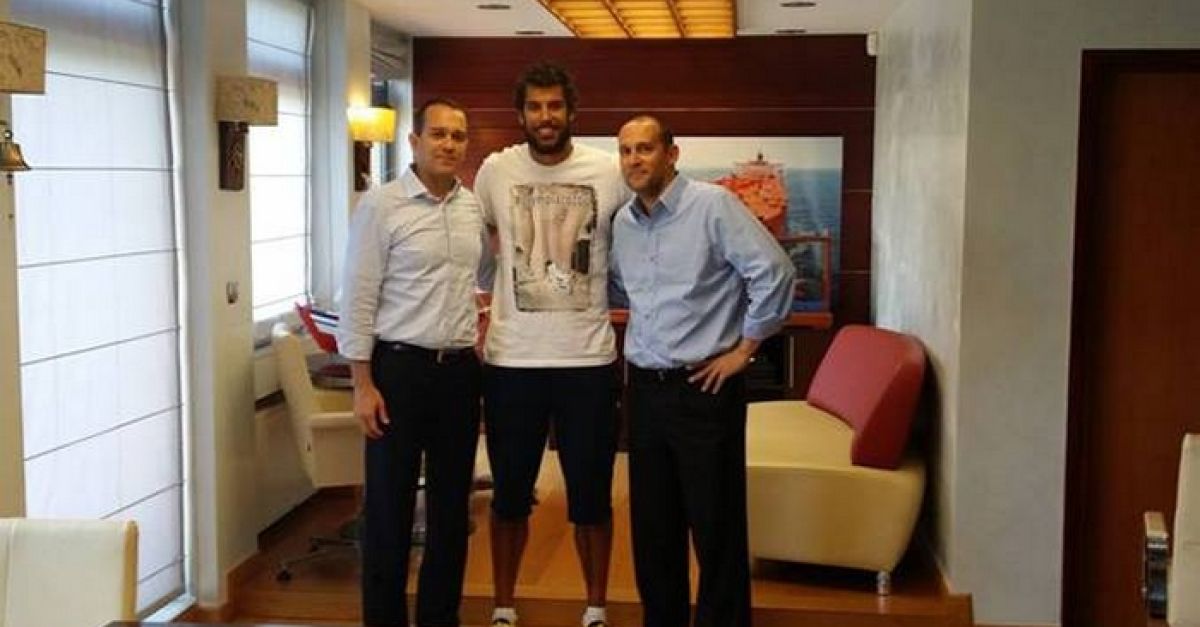 2014-15
The return of Olympiacos and Giorgos Printezis was a powerful one! With his own three at the buzzer (photo), the 'reds' sealed their qualification to the 2015 final four against Barcelona, while only a few weeks later they got to celebrate winning the Greek Championship against Panathinaikos.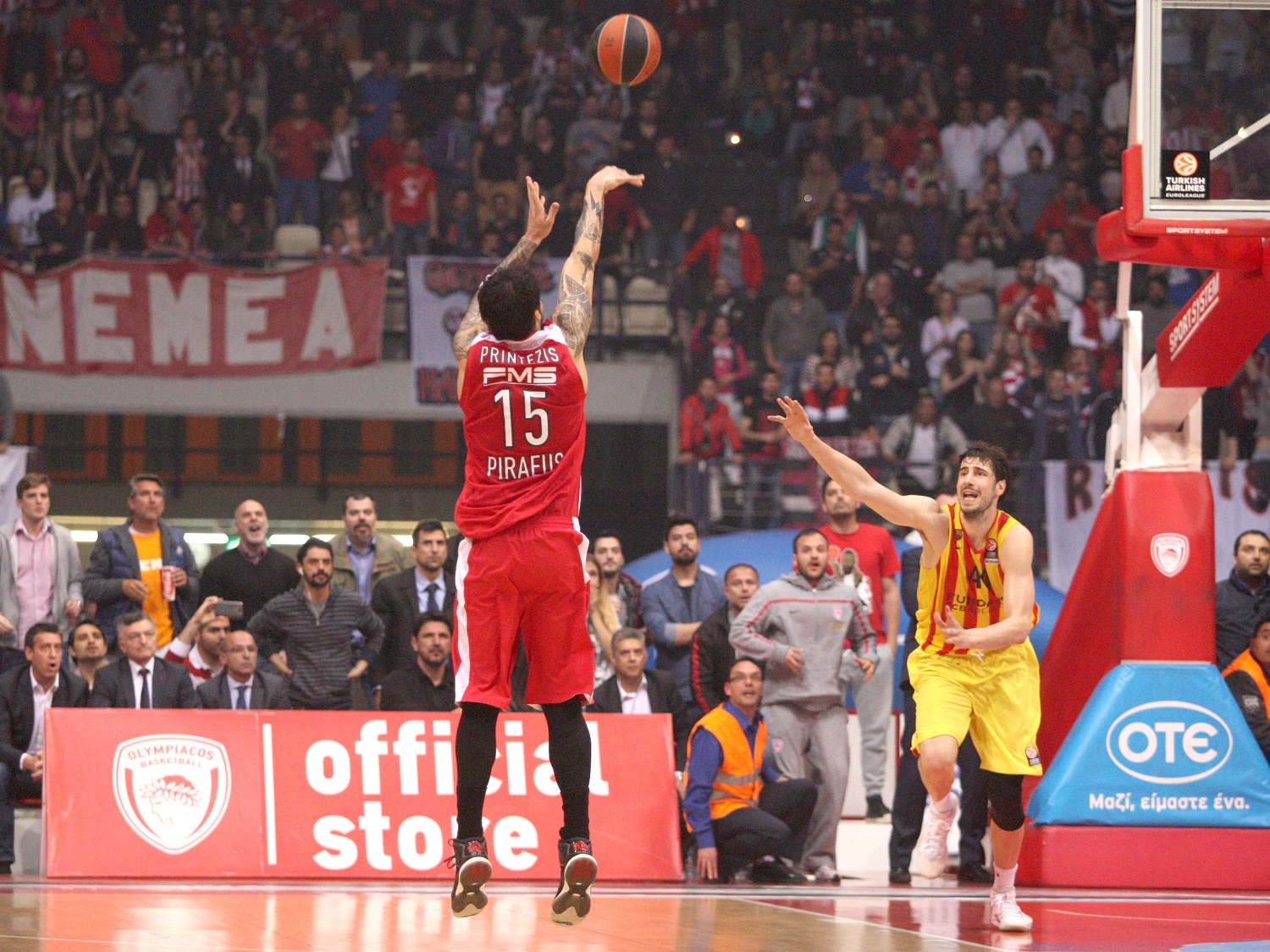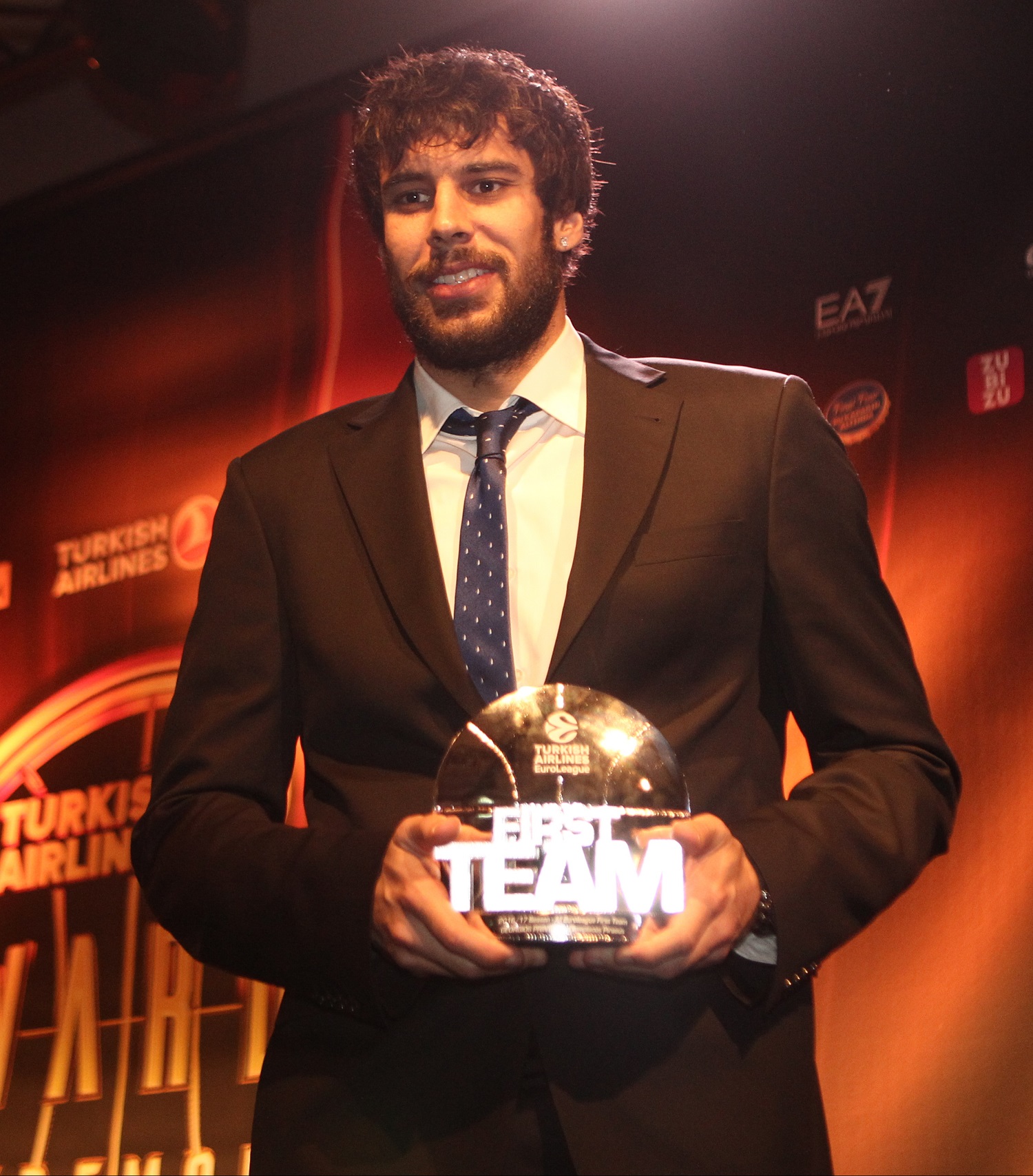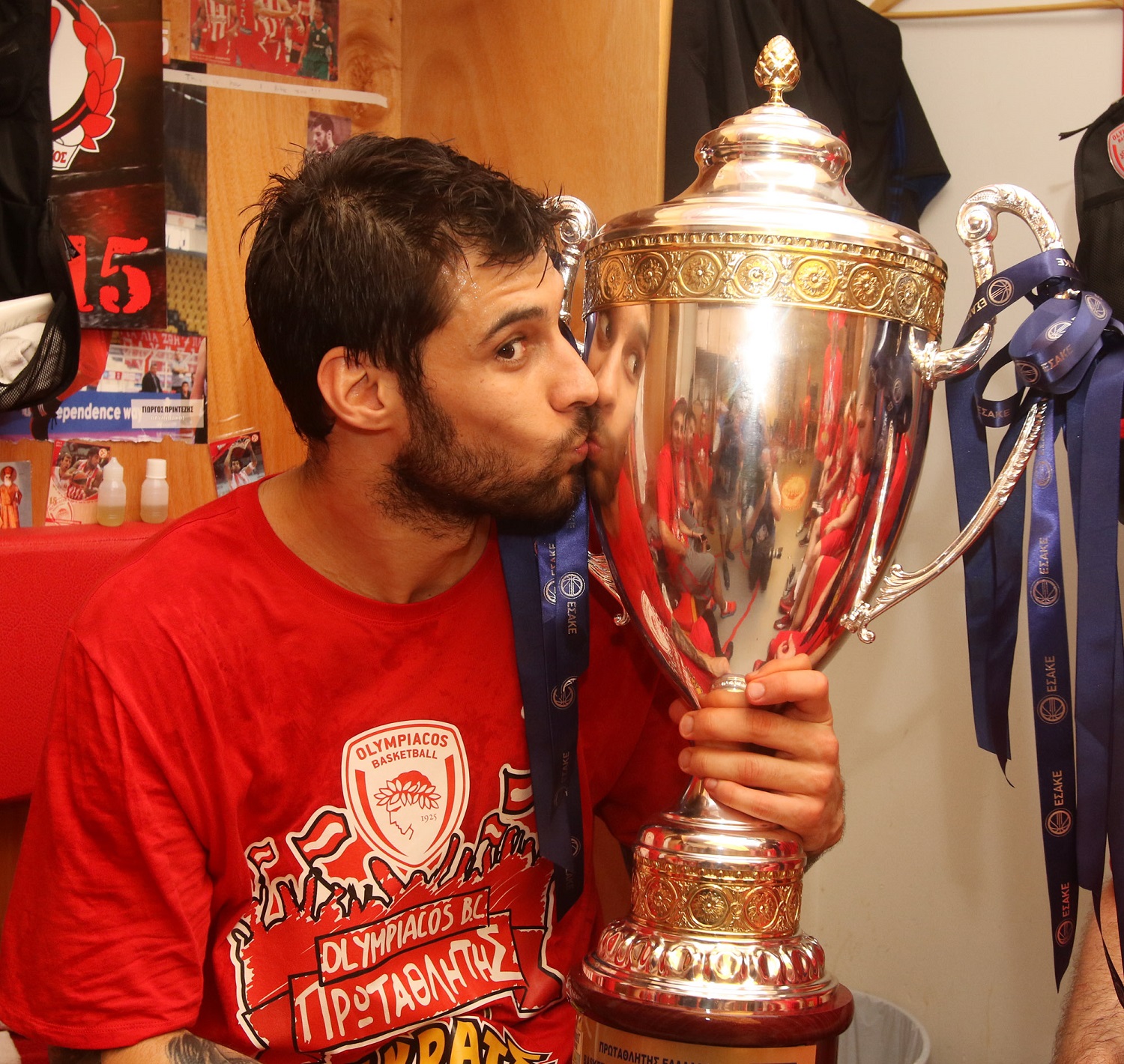 2015-16
One title, but with a multitude of meanings for all and especially for the Captain was winning the Greek Championship in 2016. On the day of the first final against Panathinaikos, 'Pri' got notified that his father had passed. "I thought about not playing, because I hadn't been well at all at that moment, but like I've said before, because Olympiacos is my second family, I didn't want to leave my second family alone at that moment, at that crucial game. I didn't want to leave my team mates alone. Whatever I did… I wanted to do", he will be explaining later and after having been crowned the Greek Champion inside the OAKA. A trophy he celebrated with tears in his eyes and looking upwards during the whole ceremony….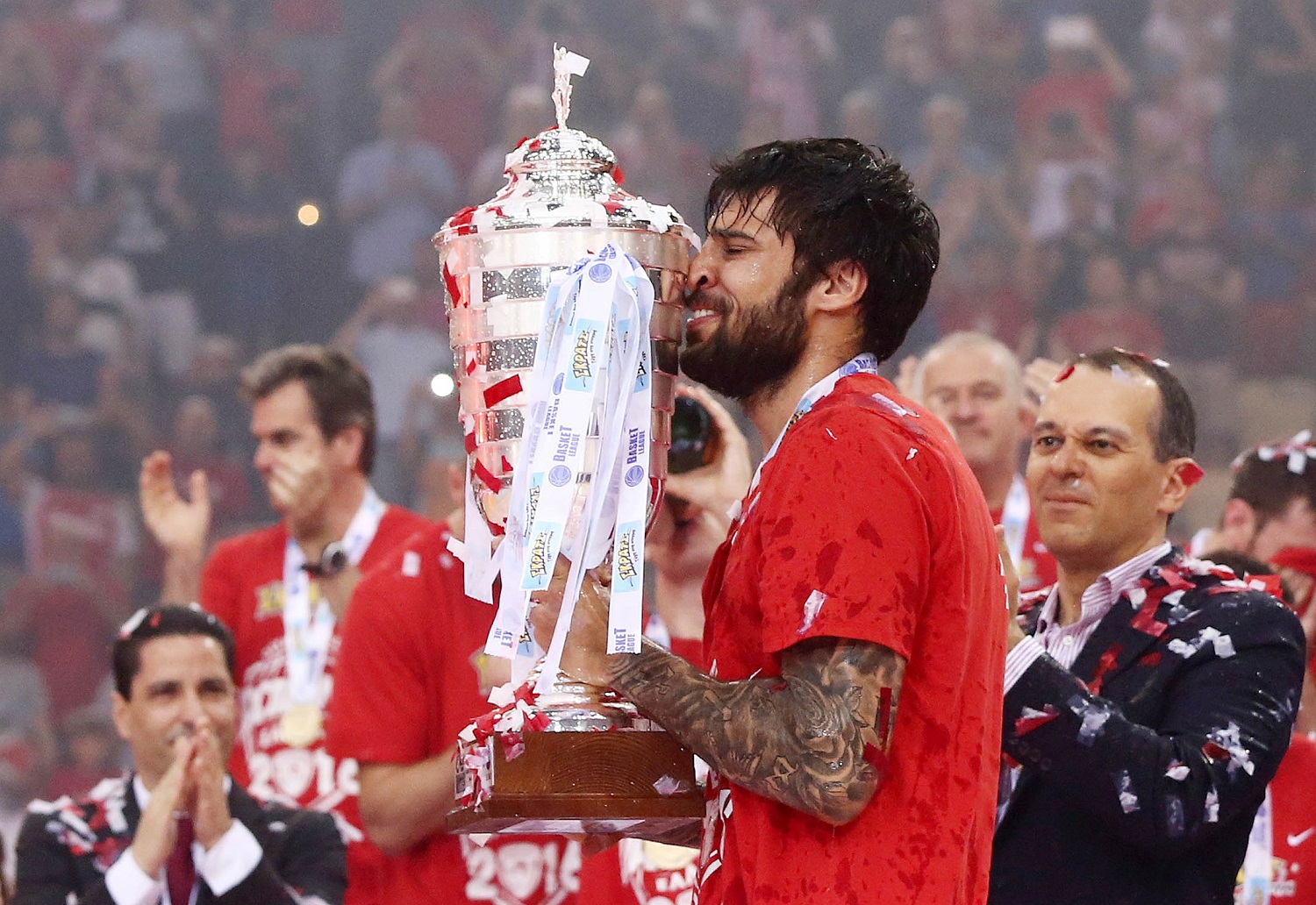 2016-17
Olympiacos eliminated Anadolu Efes in the playoffs, returned to the Euroleague final four, surpassed the obstacle of CSKA in the semis, but was not able to beat Fenerbahce in the final. Nevertheless, Giorgos Printezis conquered one more top, since he was included in the All Euroleague team. On June 14, 2017 and following a brief meet with the Presidents in their offices, he signed a new three year deal that would be binding him at Piraeus through 2020. "We immediately agreed on the next three seasons and we are going to be staying together. It's a great joy for me, since the way things are going it seems I will be ending my career with Olympiacos", he stated visibly moved.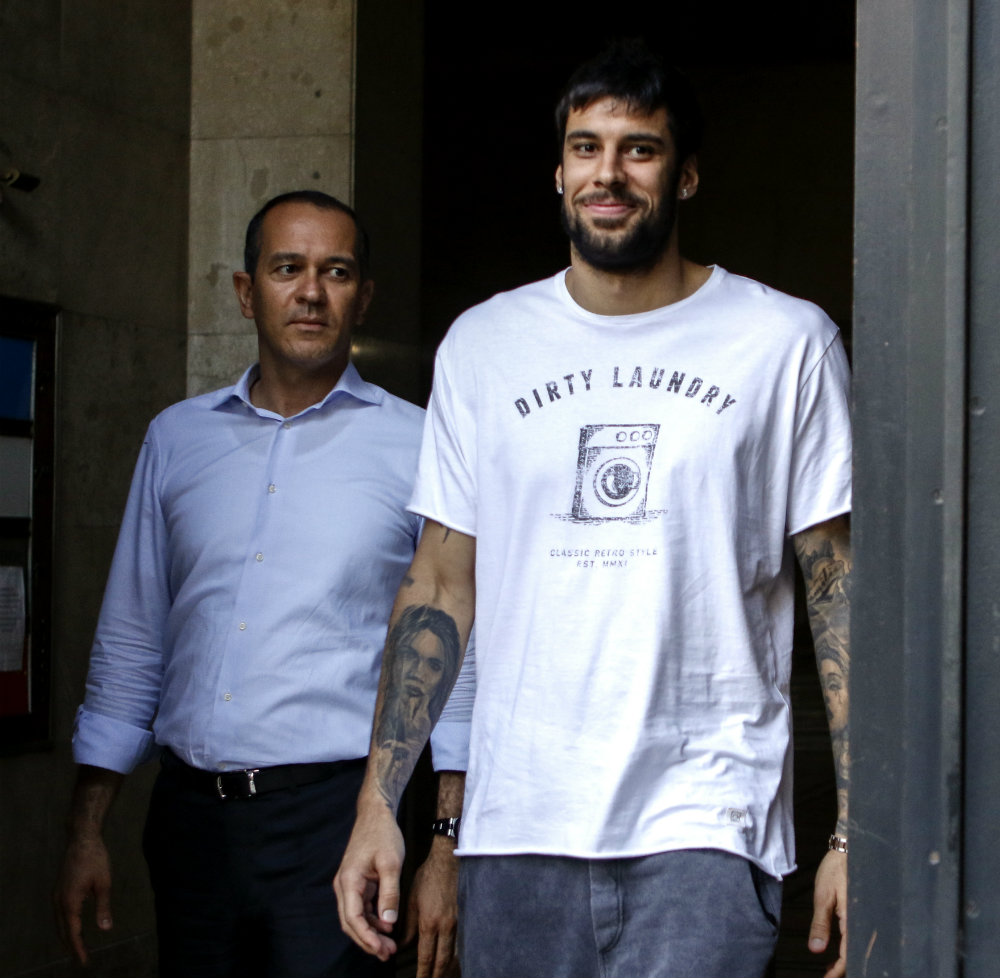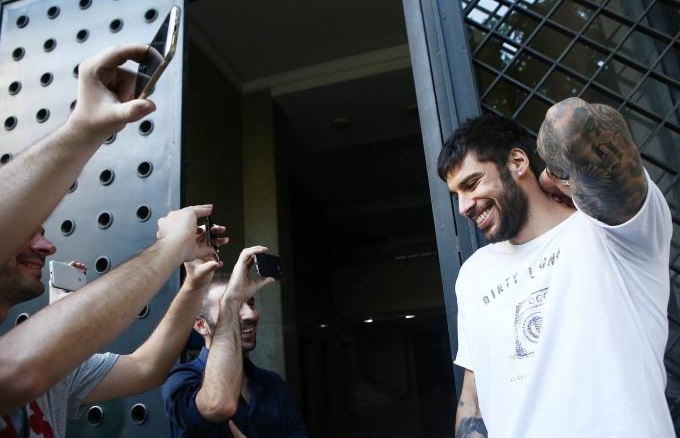 2017-18
There's not only success in sports… The season that followed did not have any titles for our team, however, Giorgos Printezis remained a corner stone for Olympiacos.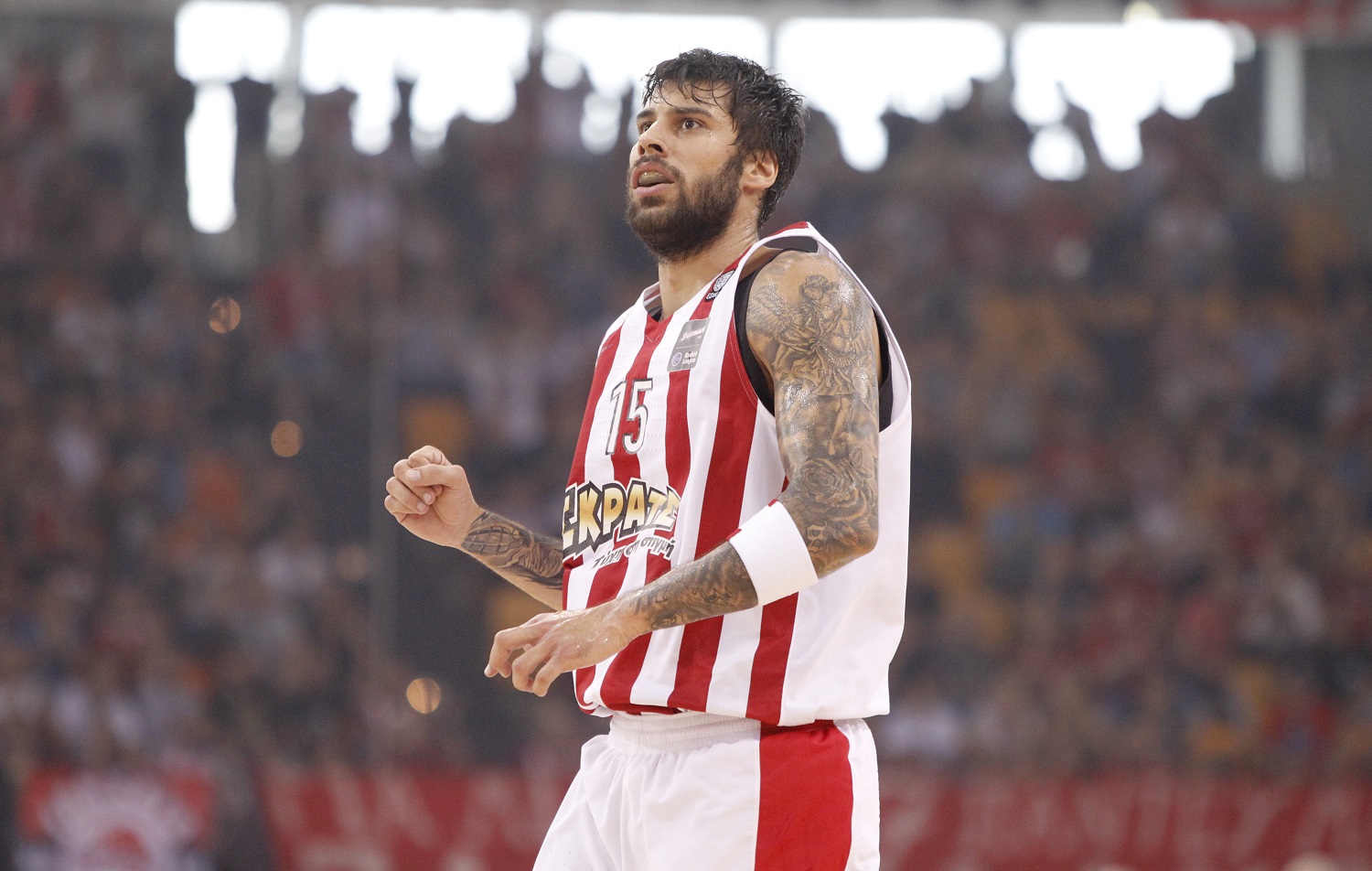 2018-19
On February 13, 2019, Olympiacos left the court at the OAKA protesting not only the terrible officiating of the Greek Cup semifinal game against Panathinaikos, but also the unfair in Greek basketball that had been prevalent for decades. That decision brought a whole tsunami of developments, as well as our team's relegation which we absolutely supported. Giorgos Printezis though remained a faithful soldier, supporting the Presidents' decision to take it … all the way to the end.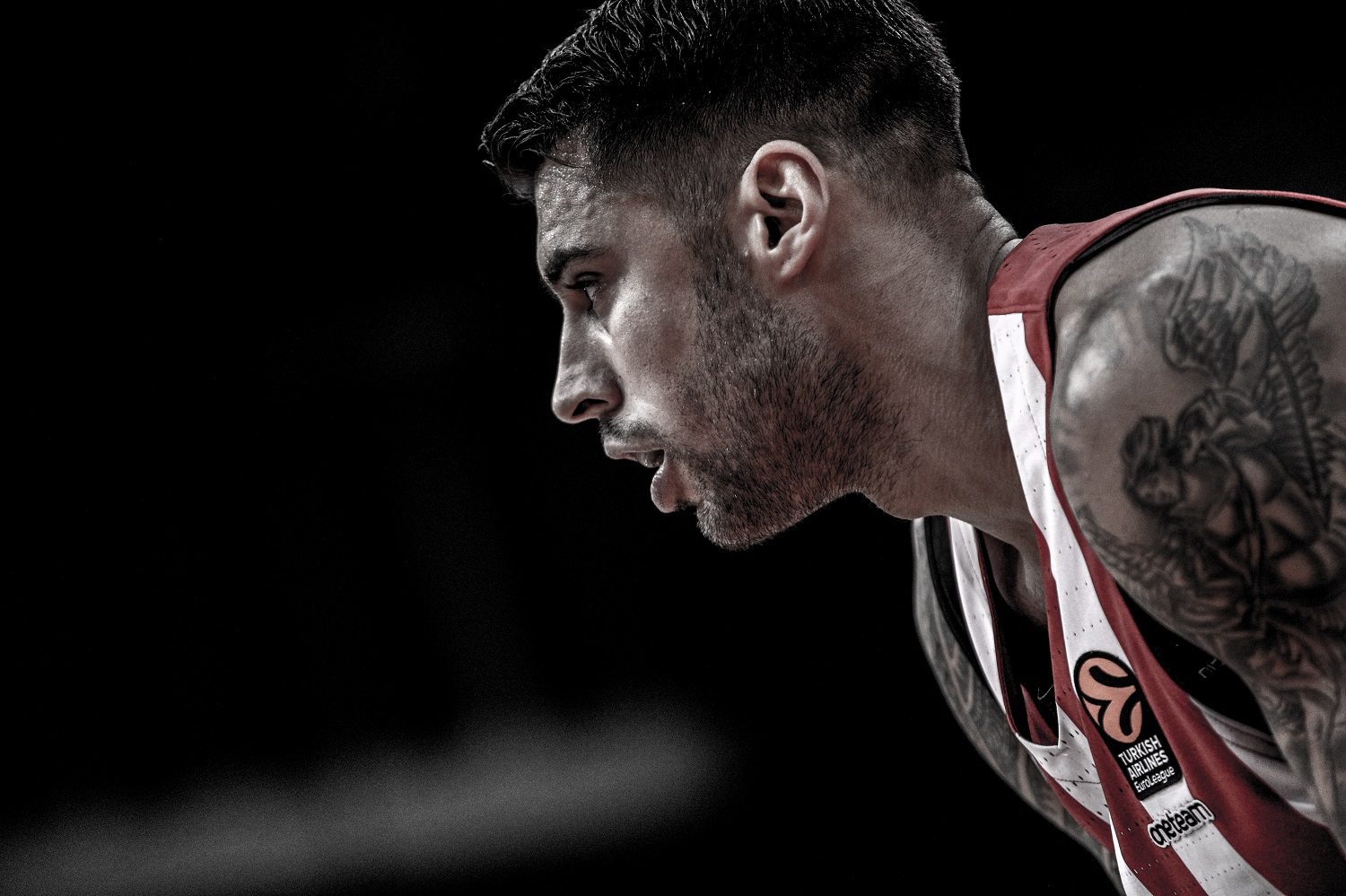 2019-20
Olympiacos (the A' team) played only the Euroleague and was found outside of its goals' range early on in the season.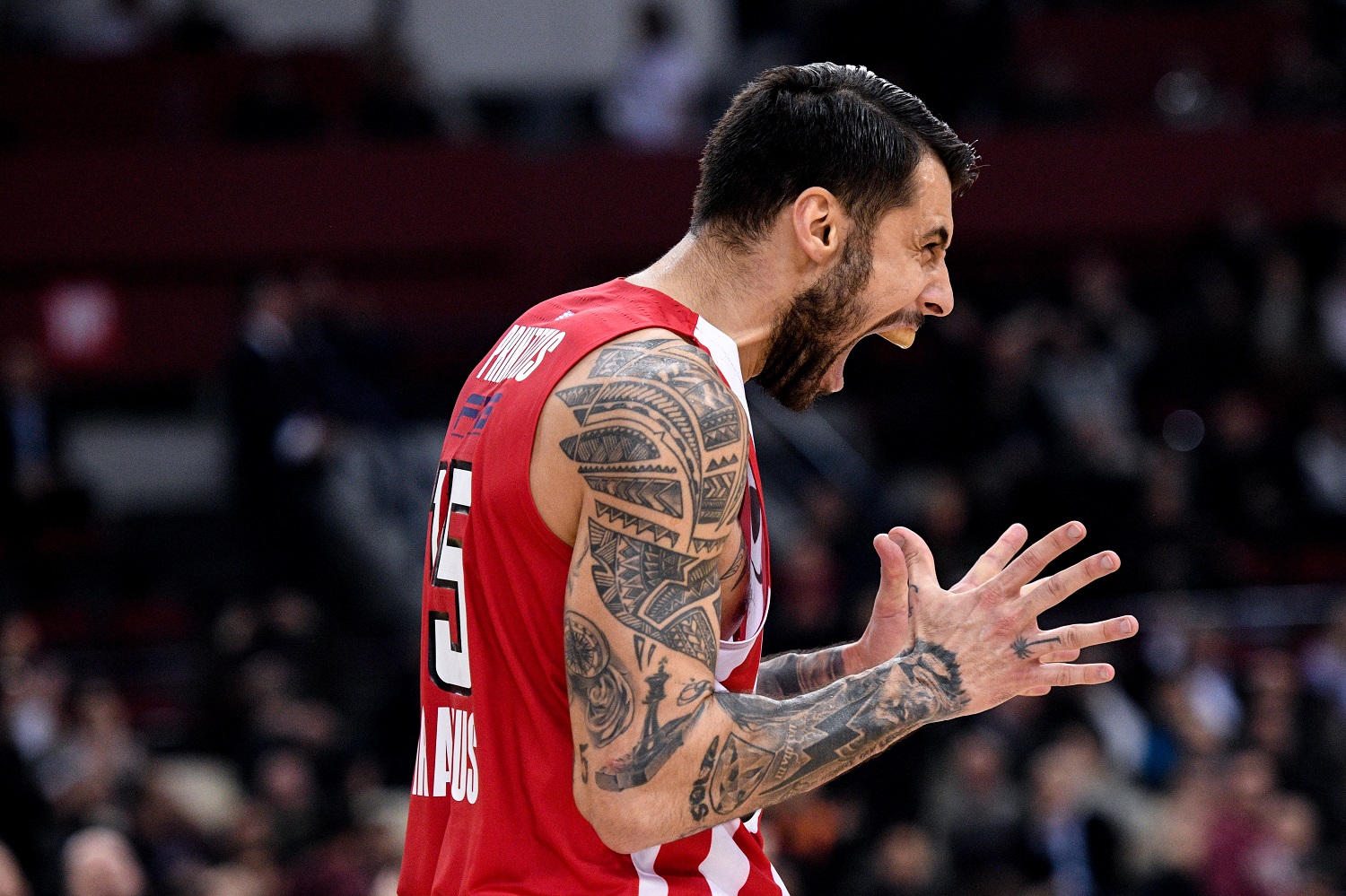 2020-21
With covid having paralyzed almost everything, our team was not able to take a step forward, only playing the Euroleague (A' team). Giorgos Printezis nevertheless continued writing history in the competition, since not only he topped the list with the most made shots in the history of the Euroleague, but in April 2020 he was included in the All Euroleague team for the 2010-2020 decade!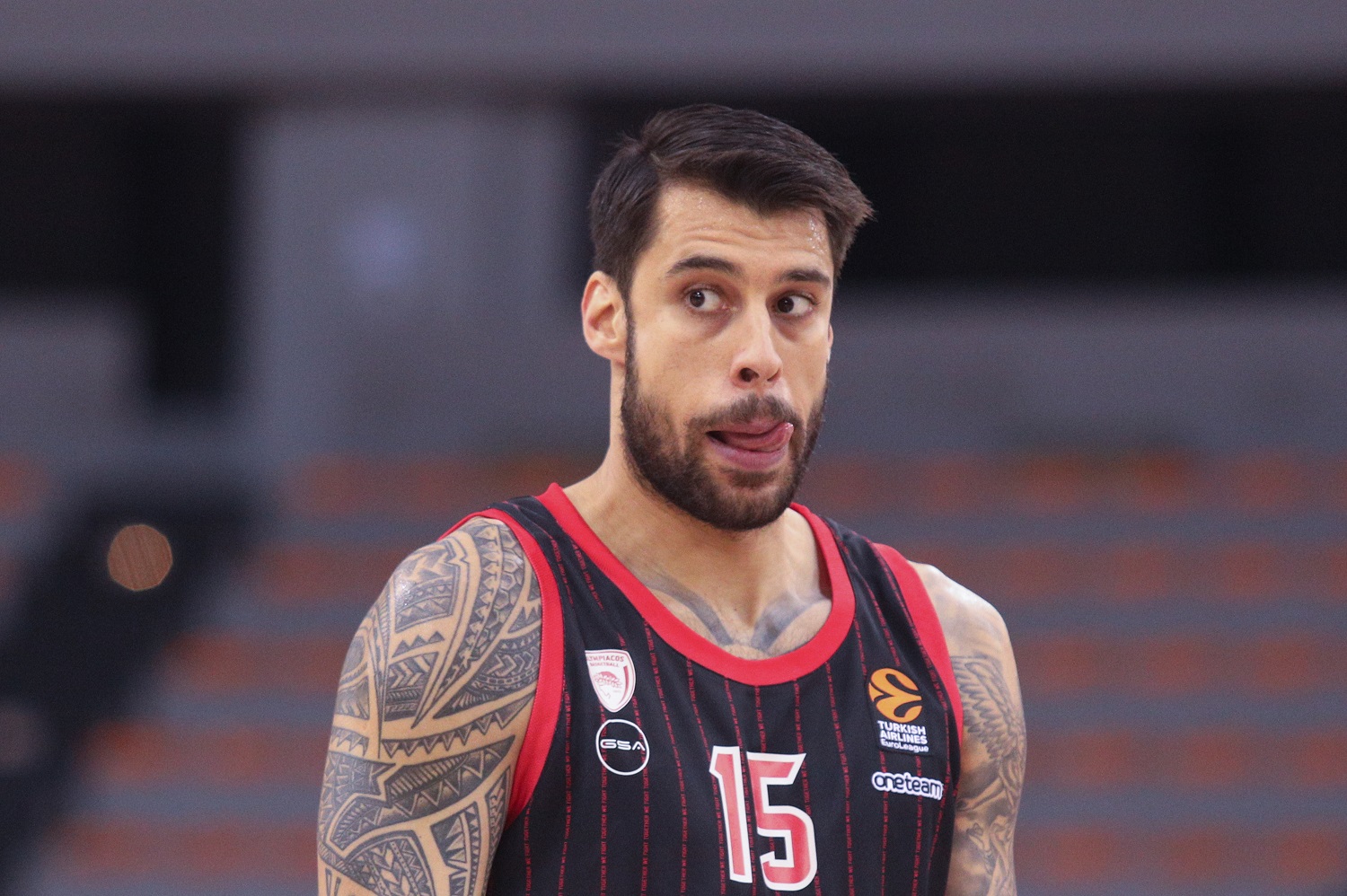 IN PART 2 THAT FOLLOWS, YOU WILL SEE THE PHOTO STORY OF HIS LAST DREAMY SEASON (2021-22), AS WELL AS EXCLUSIVE PHOTOS FROM THE LAST GAME OF THE CAPTAIN'S CAREER!!!