Tyler Dorsey: For The Love of the Game!
He smiles a lot, talks less, while he rarely dismisses his poker face during the game, even while 'executing' his opponents in cold blood. Tyler Dorsey narrates the story of his life through We Are Olympiacos and allows us to get to know him a little bit better…
Baller from the crib!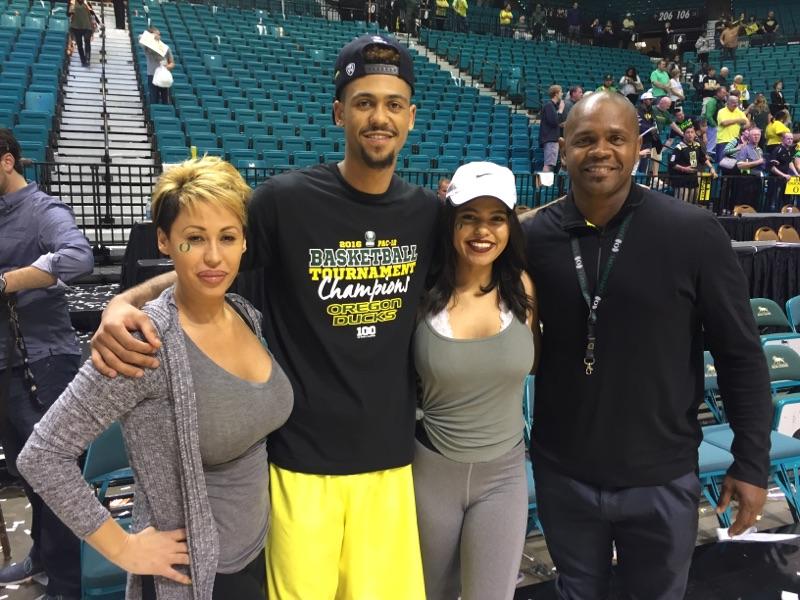 "I was born in Pasadena, California. I, my mother, my father and my sister lived there for many years. That's where I grew up and basketball had always been a part of my life. My family loves the sport. We would be watching sports every day and had 'couch' battles, especially when watching the Lakers play the Celtics! My mom supports the Celtics. Also, I grew up with my grandma and grandpa. My grandpa was Greek and my grandma would always be cooking Greek food. We would be visiting every weekend and she would be cooking for us. Those were really very nice times. I had a very good childhood. Of course, there are difficulties with every family. We also have had some financial difficulties and some other minor issues, but the most important thing was how tight my family had been. We were always together".
Although his love for the orange ball was at first sight, he cannot remember their first … meeting. "I can't even remember when I got hold of a basketball for the first time and began to play. I must have been a baby. If I remember well, I joined a team for the first time in 3rd grade. I tried other sports as well, but I didn't fall for them… I tried baseball and American football, but I didn't like that I would get hit in the head. So it was very quickly that I devoted on basketball, because I knew very early on that this is what I wanted to do. My parents weren't athletes, but the 'pushed' us to get involved in sports. They let me choose what I loved to do and I fell in love with basketball from a very early age".
Shaquille O'Neal and Real Estate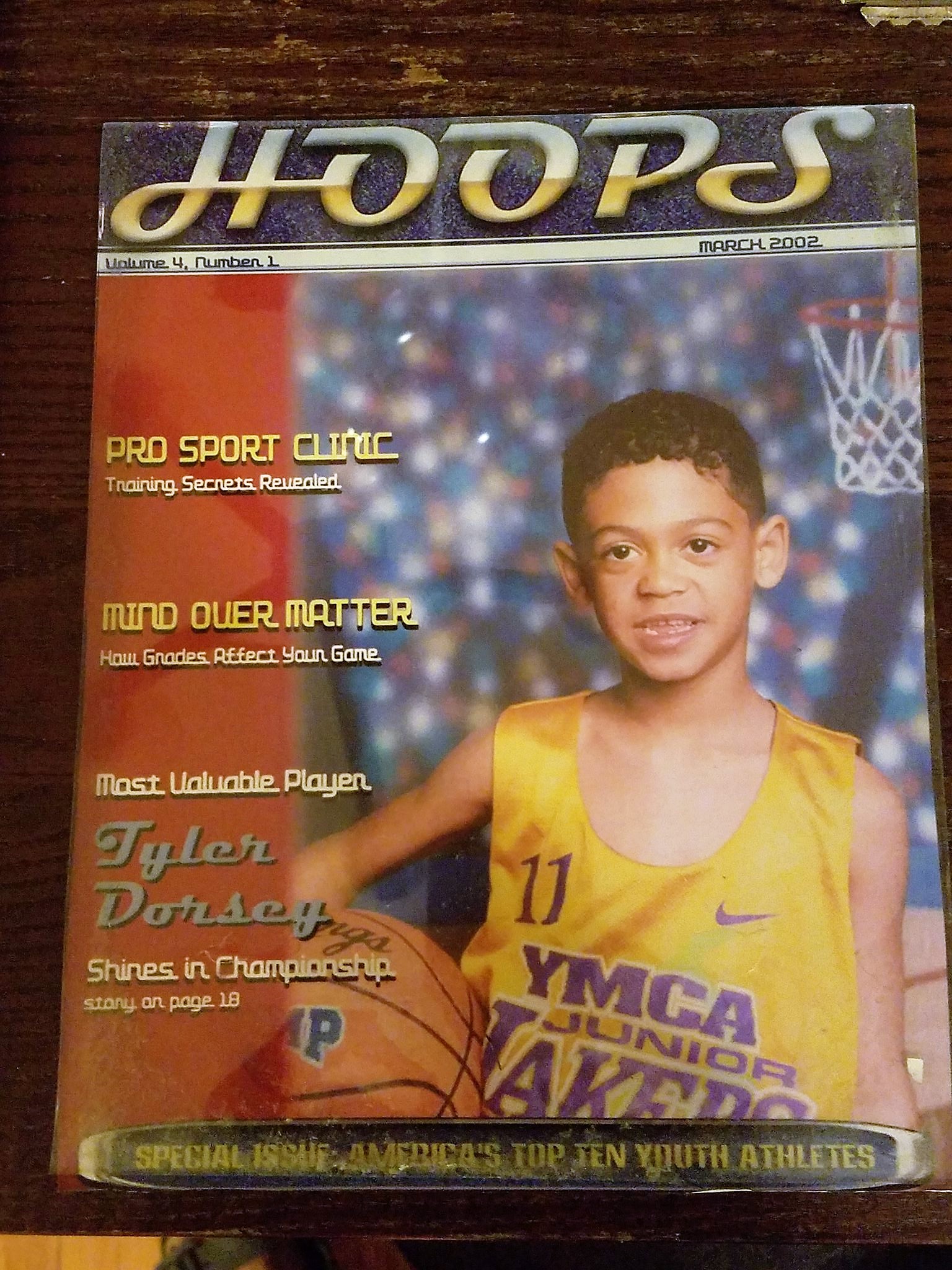 Looking at him today, it is very difficult for anyone to fathom that he began as a center! "I grew up watching Kobe Bryant and Shaquille O' Neal. I admired those two the most, maybe because I was a Lakers fan", he says and explains how he got to play the center position. "I had always been the tallest kid in my class and I played the center. However, I stopped growing after a certain point…" Although it would have been difficult for anyone to predict the position he would excel in at the time, it was easily understood that he had a future with a basketball in his hands. "It's true that basketball people thought at the time that I was good, so I always had basketball in my mind, especially after a certain age".
And somehow like that he became the star of Oregon! "I really enjoyed myself in college. It was the best experience of my life. I made friends and the fans had been fantastic. It's a little bit like here. They are 'crazy' and really noisy! On one hand, I really enjoyed it, on the other though, those were really important years, because it was the time I was trying to take the next step and become a professional. So I was really serious about it, despite trying to also enjoy it as I said before, and I also tried to be consistent with my studies". At the end though, he only remained loyal to basketball… "I was studying business administration, but I did not graduate. I still have a year and a half and I'm going to finish one day. I like it and I want to get involved with real estate. I already own property and I want to expand on this front each year".
His first substantial contact with Greece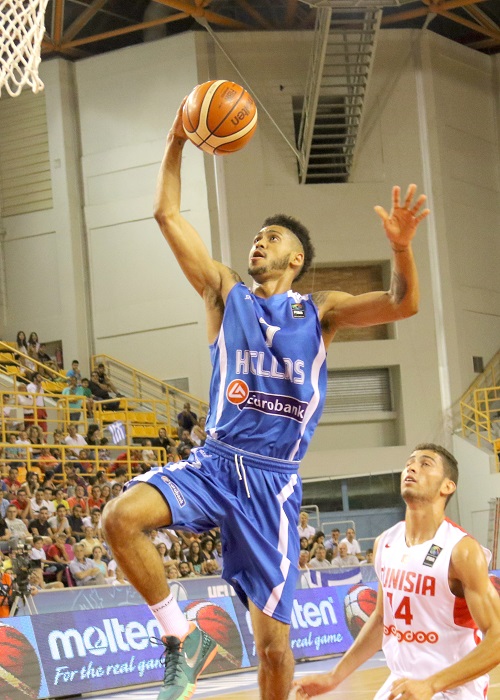 Despite his Greek ancestry, he had never thought about playing for the Greek National team. Anyway, he had never been able to visit our country before he was 18. "I tried to make the American U18 team, but I did not make the cut. I can't remember now whose idea it was, if it was my mother or my father that suggested I tried with the Greek National team. They had met someone who could bring us in touch with the people in charge, and that's what happened. Except for my grandfather, I had never had any other contact with Greece. I had never visited the country, because we could not afford to. So, when I played for the U19, that was the first time we did it!".
The fact that he came to a completely strange surroundings for him wasn't the easier thing for a kid his age. "It was a little tough, however, basketball and the people on the team helped me a lot to adjust. At first it was shock, because everything happened so fast. But I adjusted and I really enjoyed it. That's basketball and the job we are into, you get accustomed to circumstances, different cultures. The important thing is to adapt and I'm now used to it. I quickly adjust to everything".
Maybe the National Team wasn't a goal for him from the start, but something similar was. "I had always wanted to play for the NBA. That had been my goal. I wasn't sure if I would get to have a career in Europe, but I knew that one day I would be coming to play for a Greek team. I had never imagined when, but I knew in my head that one day, this would be happening".
The dream that became reality
In 2017, instead of traveling to New York for the draft, he chose to sit with his family in their favorite couch. Not for one of their favorite battles, but to learn together whether his big dream would start materializing. "I watched it from home. I had never been to New York because, although you never know, I never hoped to get picked in the first round. So I chose to stay home with my family. We watched the first round for a few hours until we reached the second one. We were quite nervous due to waiting, but it was a blessing when I heard my name. It was exciting. It was a dream come true".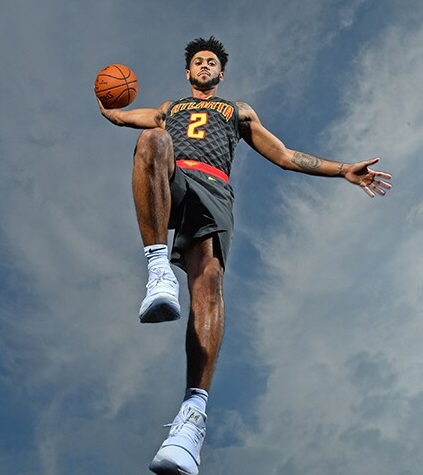 For the history, it was the Atlanta Hawks that picked him in No 41, while they hurried to 'tie' him down with a two year contract. "I signed with the Hawks for two years and I got traded to Memphis in the second one. I wasn't playing much in its start, so I got moved to the G-League for some games. Then they brought me back to the first team. From that point on I had a lot of back and forth between the first team and the G-League. At the end though, I had the opportunity to play enough and show what I can do. The second year, it was the same. I would be playing a few games, others not, and around February I was traded. About twenty minutes before the trade, I got a phone call to let me know that I was going to Memphis. I played for a few weeks there for the G-League and then the same routine… back and forth between the first team and the G-League. Finally, I played a really good game and stayed with the first team till the end of the season. I made a good finish".
Nevertheless, the journey to the magical world of the NBA was interrupted. "You never know what will happen. Hard work is definitely an important part, however, luck is equally important, timing, circumstance… All of them together and if you find a good organization to believe in you and give you a chance, then they can all work so that you succeed. There are too many factors… All the pieces have to be properly aligned at the right time".
Asked if he felt his character changing during the time he played for the top League in the world, he replied: "I'm the same person. Nothing has changed for me, neither then nor now, except for the fact that I don't live in a small apartment now, but in bigger one. I love basketball. Even if I weren't getting paid, I would still be playing. Obviously everyone wants to be making money, but I simply love basketball and I would be playing even for no money. What I was finding a hard time getting used to, was not playing. It's a real mental battle and I would say that that had been the greatest obstacle for me those two years. Staying mentally strong when I practically hadn't played for months".
From mental battles, to real war!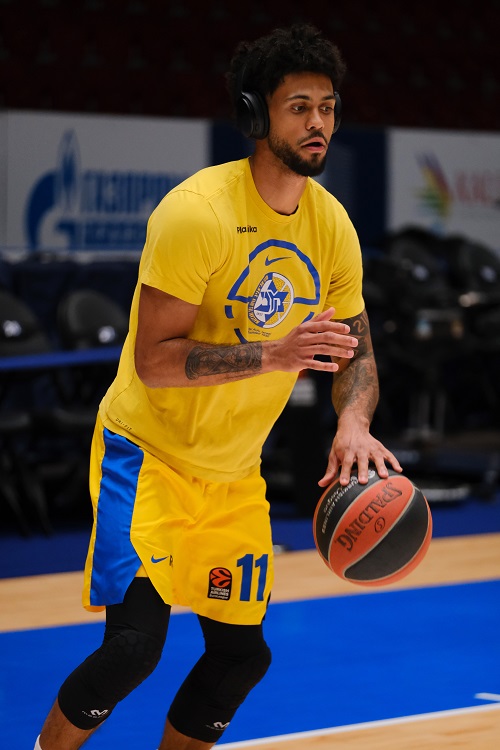 Mental challenges did not break him. Despite having the chance to continue fighting for an NBA spot, he thought reasonably and moved to Israel. "It's tough sitting at the end of the bench, however, I thing that all of that helped me to become who I am today. After Memphis, I did not have an offer for a minimum one year guaranteed contract. I was only getting offers for ten day contracts and I wasn't willing to put myself through that again. So I went to Maccabi for two years".
Israel wasn't a completely strange country to him. "My grandmother and my mother had been born in Israel. However, this had nothing to do with joining Maccabi. I just saw it as a good opportunity to play for the Euroleague. The signing season had progressed a lot, it was end of summer and it was a great opportunity. Israel is as beautiful as I had heard people describing. It's really beautiful there. But, the pandemic and the war made the situation hard for me. The war was the reason I left before the end of my second season there. I had never experienced something like that before and I did not feel safe. I would be seeing rockets in the sky, I would be hearing them. It was the sirens… It was crazy. A simple quiet day would be dawning and then from nowhere, while I was sitting in my couch, I would be watching all of that happening. Too many rockets. I could see everything from my apartment. It was scary. Also, I was going through all of that by myself. Without my family, without friends. No one was able to come to the country. It was a nightmare for me, even if for some it was just normal. I could not get used to it. I could not accept it as normal".
Τhe pressing of the 'red' fans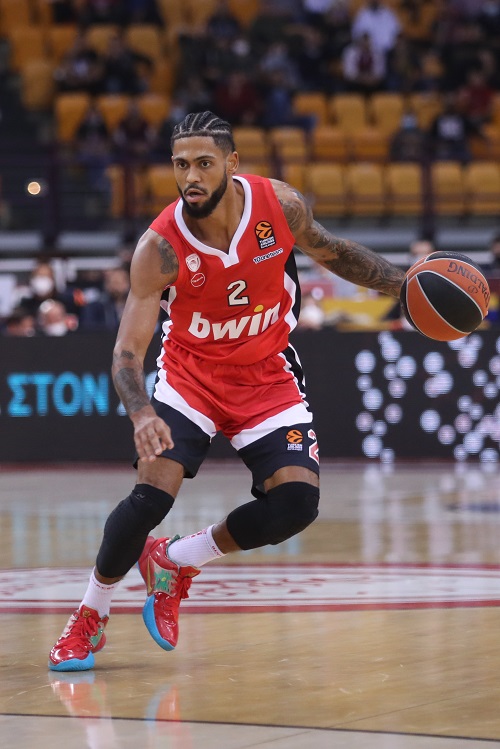 After leaving Maccabi, Tyler Dorsey once again tried to open up the NBA doors. "I was a free agent. I didn't know, even if I stayed till the end of the season, if everything would be Ok. I didn't know what to do. At first, I wanted to focus on going back to the NBA, however, I again had no offers for a guaranteed contract. Before Olympiacos, early in the summer, I had other offers, but I hadn't wanted to make a decision. I wanted to wait for the NBA to see what would come up. Finally, since I wasn't offered a guaranteed contract, I said 'yes' to the Olympiacos' offer. I knew they wanted me. The Greek fans had always been vocal about their love for me. Since I had played for the U19 team, they would be following on my career. I also knew it was going to be a great chance, given that Spanoulis had retired, so a spot for me had opened up here. It was a great opportunity, for a very good team. We have been playing very well, we have a lot of talent and that's exactly what I wanted to do… To win and constantly evolve as a player!"
The pressing from the fans to see him in the 'reds' jersey had started early on! "During the summer, I would be getting messages telling me to 'come to our team'. Even when I was playing for Maccabi, because they knew that I would be becoming a free agent in the summer". Asked if he feels pressure from the fact that the fans have high expectations from him, he was categorical. "I feel no pressure, because I expect a lot of me first. That's the right thing: They should be expecting a lot from me!"
«Always by our side»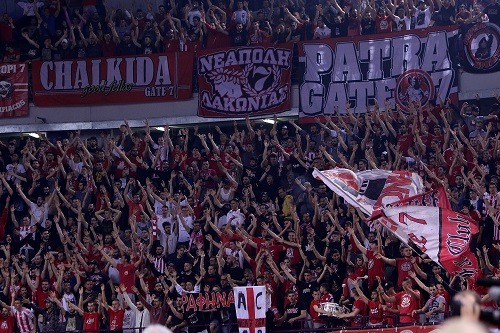 It's not just the fans that expect a lot though. Tyler Dorsey expects a lot from them too. "This season, the main goal is the playoffs, but we still have a long road to cross till then. What we need to do is to preserve the energy we have and continue winning. As long as we keep winning, the more fans are going to be coming to the gym. And the more our fans love us and support us, the more motivation we are going to have to succeed".
He has no complaints until now. "I really love the atmosphere they create at the SEF! They are really noisy and make life difficult for our opponents. We need that throughout the season, in every home game, especially against big teams".
Although a fan of the Olympiacos' fans' temperament, he mostly remains expressionless during games. "It's true that I'm always in balance. I don't get really hyped. Sometimes though, I do. All in all, our fans help me boost my energy even if I don't get to express my feelings. But that's how I am in my life outside the courts. Always calm".
«We can beat everyone»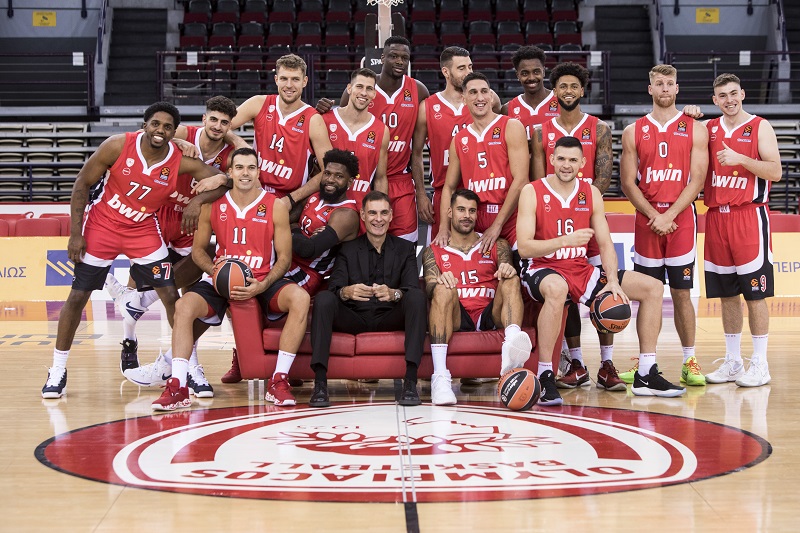 The goal set from the beginning of the season is the playoffs. The Greek-American guard though does not hesitate to admit to wanting more. "I want to make the final four. I know though there are a lot of steps before that and the first one is making the playoffs".
Asked how he sees the team after eight games for the Euroleague and six for the Stoiximan Basket League, he said: "I feel that at this time, we can face any team, the best team. We can be competitive against everyone and beat them. I think we have proved that until now, but, we still need to get better… We are good in the backcourt and what we need to do is connect all the pieces together in the offense as well. Also, something else I think we need to improve is how we start the games. We start some a little 'numb'. We need to start stronger".
Tyler off court...
- What do you do in your free time?
"I usually relax with my partner. We go to dinner a lot. We love trying different foods, different restaurants. I love the beach and I have been lucky to have lived in Los Angeles, in Tel Aviv and now here. Also, the weather is incredible!"
- Do you get recognized on the street? Has anyone put you in an awkward position?
"Yes, sometimes they come up and talk to me. No one has every made me feel awkward. I enjoy it when people show me love; they watch the games and have something nice to say. It's important to me to be polite with everyone. They usually ask me for a photo and I never say no. Also, it's many times that kids or even college athletes come to me for advice on what they should be working most on their game and things like that".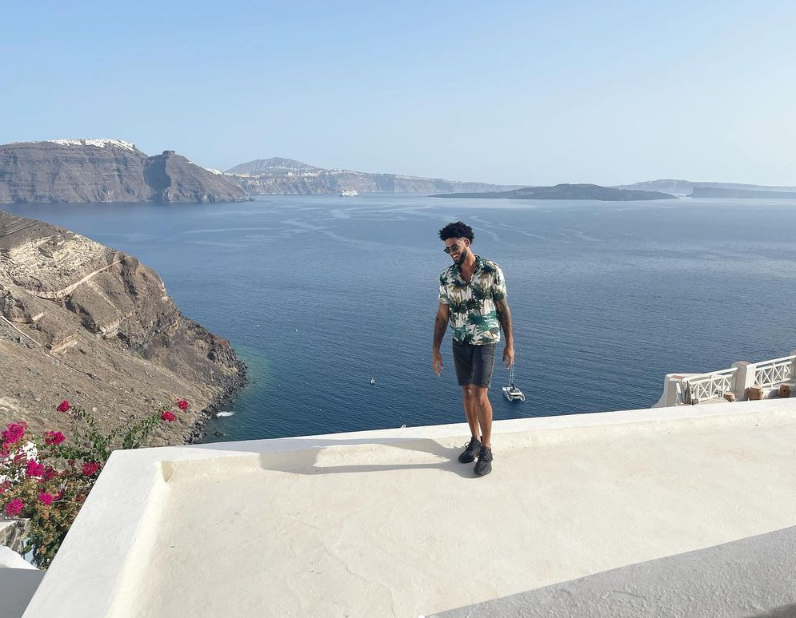 - What was your childhood dream? Has it become real yet?
"I would be dreaming of what I do now. Many kids have dreamt about it, but most have not been in the blessed position I'm in. The percentage of professional athletes is very small".
- What's your biggest dream off courts?
"To have my own family. To have kids, dogs, have my own business".
- Your family has supported you with all they had to help you fulfill your dreams. Do you feel you owe them something?
"I don't feel I owe them, but I certainly do this for my family too. Despite loving basketball, I also play to support my family. My mom had never been to Israel since she had left at 8 years old and my dad had never had the chance to see other countries. Now they get to travel the world with me".
- You promised to learn Greek this season. Is it happening?
"Yes. Now that my girlfriend is back from the States we are starting lessons together".