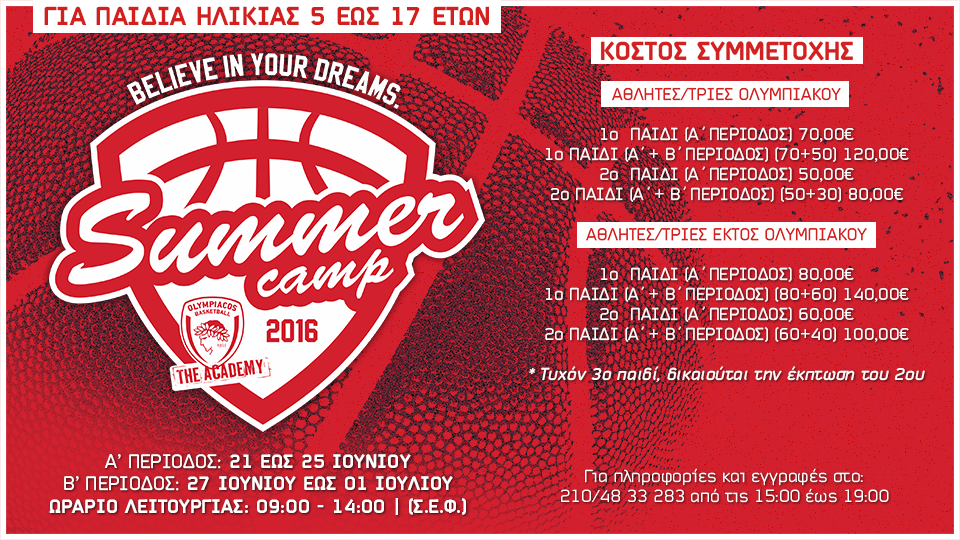 Believe in your dreams
For one more year, the Academy of the Greek Champion organizes a summer Camp at the Peace and Friendship Stadium facilities.
The program addressed boys and girls between the ages of 5 to 17. The program shall be supervised by the head of the Olympiacos Academies Mr. Nikos Keramefs.
The Summer Camp will be completed in two periods:
PERIOD A :

Tuesday, June 21 throush Saturday, June 25
PERIOD B: Monday, June 27 through Friday, July 1
For Olympiacos athletes
1st kid (Period A') 70,00€ 1st kid (Α΄+ Β΄ periods) (70+50) 120,00€ 2nd kid (period Α΄) 50,00€ 2nd kid (Α΄+ Β' περίοδος) (50+30) 80,00€ Possible 3rd child
For non Olympiacos athletes
1st kid (Period Α') 80,00€ 1nd kid (Α΄+ Β΄ periods) (80+60) 140,00€ 2nd kind (Period Α΄) 60,00€ 2nd kid (Α΄+ Β΄ periods) (60+40) 100,00€ * Possilbe third kid, entitled the same discount as the 2nd one
From 09.00 a.m through 14.00 p.m., the young athltes will be practicing individual skills and on physical conditioning. The exercise drill will be stirctly adjusted to age and sports level. Hence, they will be given the opportunity to learn basketball foundamentals, form proper behavior and build on character and enjoy themselves in a pure sporting environment.
Our fully skilled coaches are absolutely committed to helping the athletic development of the kids, just like the excellent infrastructure at their disposal can guarantee the success of the said program for that runs for the sixth season in a row.
Come to us, work hard and believe in your dreams!
For info and registrations at: 210-4833283, daily from 15.00 to 19.00 and on Saturday from 08:00 έως 14:00.
OLYMPIACOS BC - THE ACADEMY | BELIEVE IN YOUR DREAMS.