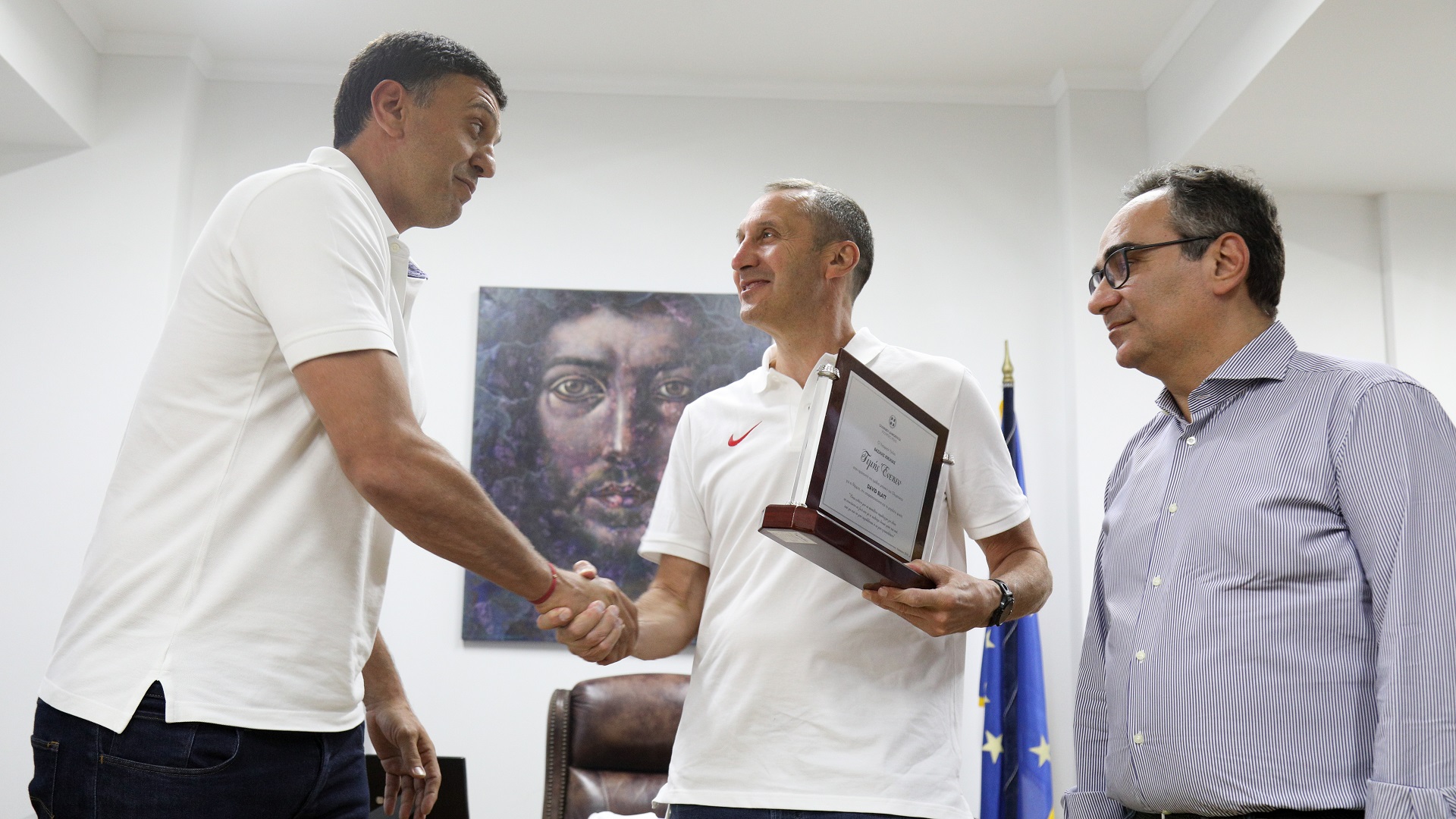 Blatt's award by the Minister of Health
The Minister of Health, Mr. Vassilis Kikilias, invited today (August 23) the coach of Olympiacos, David Blatt, at his office and together with Deputy Minister, Mr. Vassilis Kontozamanis, awarded him on his courage, determination and greatness of soul (according to the characteristic inscription on the award presented to him) to publicly address his personal health issue.
The 'reds' coach was accompanied by the General Director of Olympiacos BC, Nikos Lepeniotis and the Sports Director, Christos Bafes.
"It's a great honor for us at the Health Ministry that coach Blatt has accepted our invitation and is here. A distinguished professional and coach for many years, in the NBA, in Europe and in our country, with the team of Olympiacos", the Minister Mr. Kikilias stated and went on to say: "We called him to congratulate him and sincerely thank him for his greatness and generosity to publicly address his health problem, inspiring young kids in our country and people that experience similar situations, giving them strength and courage. That's why we thank him, we are very proud and we hope he continues the same way in terms of values and moral, because he's now an example in Greece for many young and older people, inside or outside the sports community. We really thank him for being here today".
On his part, the 'reds' coach pointed out: "First of all, it's a great honor for me to be here with the Health Minister, Mr. Kikilias and it's also a great honor to be coming here as a sports person and hence contribute and encourage all Greek citizens and people everywhere that find themselves in a situation similar to mine. I feel the responsibility and the need to extend a positive message, a message that motivates all people to cope with their problems and to point out that the most important thing is that they are aware of their health status, which is necessary for all of us. Thank you very much. It's a great honor to be in Greece".