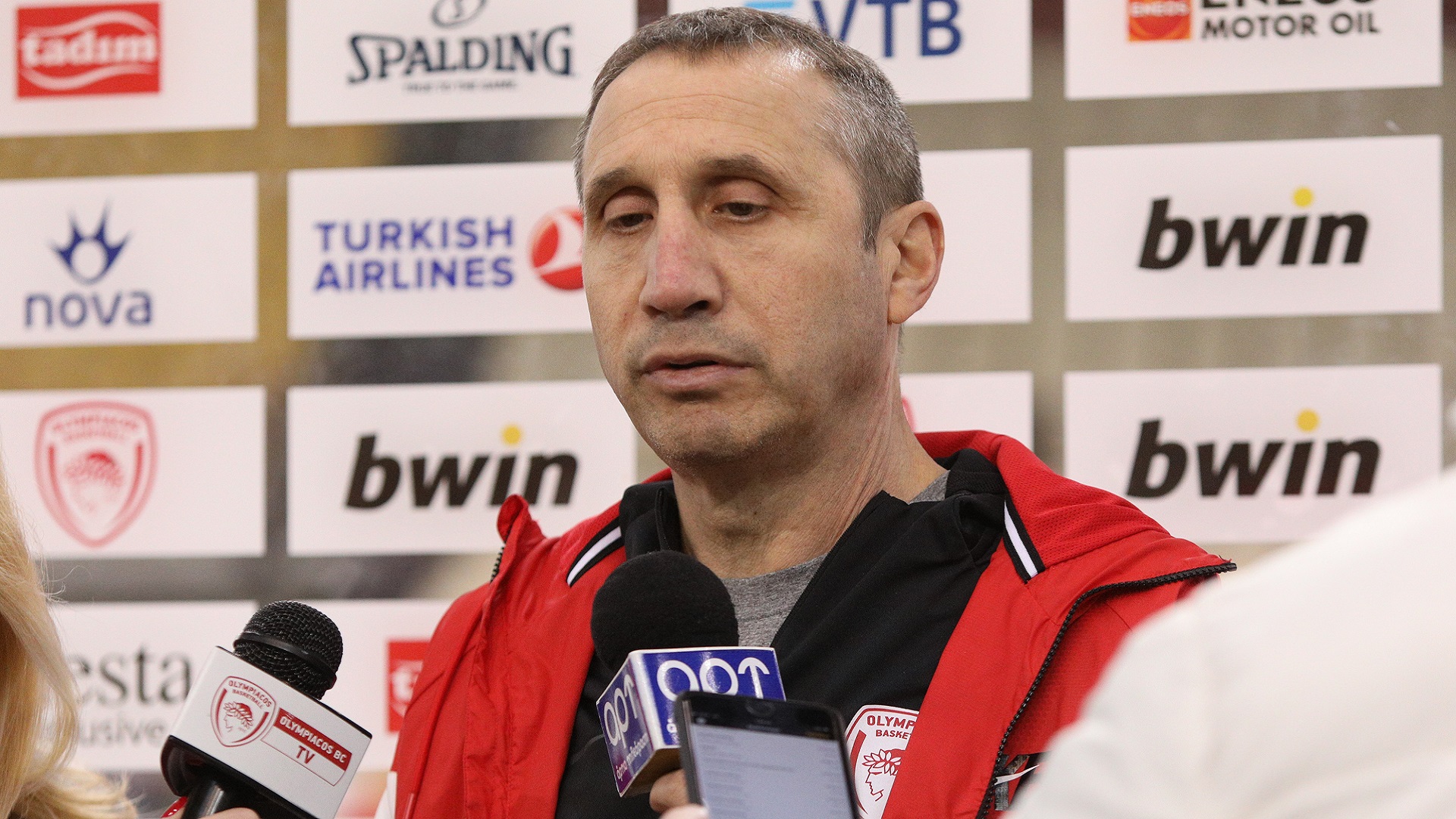 Blatt: «We need to reverse the situation»
Olympiacos is determined to return to the path of success, beginning tomorrow (01/03, 20.30 CET) at the SEF, when the game against CSKA Moscow for the 24th round of the Euroleague is scheduled to take place.
"We are anxious about returning to our home court after more than a whole month without a home game", the 'reds' coach, David Blatt commented. "It is certainly a great game for our fans to come and watch. We have worked very hard and I feel we are ready. I'm excited to have the chance to come out and play such a high level game in front of our fans. CSKA is without a doubt a very high level team and they are not only proving that this season, they have been proving that for many years now. We know we should be playing high level basketball to beat them and that's what we want to do".
On the bad offensive performance of the team during the past month, he said: "It's a fact that we haven't been shooting well for more than a month. We have been shooting very poor percentages. It may have to do with the level of the competition, maybe with the fact that we haven't been playing at home or with other things… But none of that is important. We need to make the shots, we need to score".
Talking about Janis Strelnieks and the return of Vassilis Spanoulis, he pointed out: "Injuries are part of the season. We need to face that. There are no excuses. Teams miss players during the season and what you need to be doing is to rely on the next available player that comes to fill in the void. That's what we need to be doing".
And he went on to say: "Obviously, the best thing you can do when you are in a bad situation is to win. That's what we are anxious to do. I'm not that certain that it is us we've been playing that bad, or that it is the other teams that have been playing a little bit better. When you are not shooting well, this becomes all the more difficult, however, there was a special time in the season, when we were playing very tough road games, against very good teams and were winning. We need to return to that, return to the race, stay true to our principles and reverse the situation".
When asked to address the 6th player of the team, he made it clear: "It is without a doubt that we have gained a lot from the energy of our wonderful fans and I hope to witness the same thing tomorrow".
Asked about the FIBA windows, he stressed: "I have talked about it in the past, quite a few times. It's a problem that can impact all European teams. In this case, it has an impact on us and it's not the first time. What bothers me the most is that we were open minded and helped the National programs. We were understanding as to how important these games are to the players themselves. And we sent players to the National teams that we suddenly saw playing for 38-39 minutes in game, something that never happens in a Euroleague game. And that makes you wonder what kind of respect or understanding we get to receive from the National teams. I think it is highly irresponsible, dangerous to the players, it is obviously hurtful to the team and there is not much I can do except telling you that all this is awful. And the one responsible for all of that should know it is".
Finally, when asked why the team has not moved forward with signing a new player following the injury of Janis Strelnieks, he made clear that: "I never thought about getting a new player. The reporters thought about it, not us. Sometimes, I think that the media is the best friend of the agents. Guys, you should be choosing your friends more wisely».
«It's time to react»
Kostas Papanikolaou pointed out that the game against CSKA is the right moment for Olympiacos to make a come-back. "We need to react. This moment needs to come. It's a good chance to be aggressive against such a team, play with energy and return to winning with the help of our fans. We were given the opportunity to work very well last week, with a lot of intensity, with strong practices. All the guys were completely focused and there was some very good work done. However, this does not mean anything if we don't convey all of that effort on the court".
On whether he feels ready to step up and lead the come-back, he replied: "Basketball is a team sport, we all need to be ready to give our best of the good of the team. We need the victory, we don't care who the protagonist is. I don't think that any one player has more will than anyone else or that any one player will be trying harder than the next one. We all want to win, we all are going to give our best and I'm sure we are ready to come on the floor as aggressive as possible, strong, and willing to win".
Talking about the fans that are expected to be pack the SEF, he said: "We expect the gym to be full as always, with the fans to be extra supportive. We feel that, they support us. It's very important when bad results come to have the support of the fans. We, on our side, need to return that support and give our best self. We need to make our world better".
Asked about the absence of Strelnieks, he commented: "Janis is a key player for the team, when you miss such a key player for a long time, the impact is serious. That's sports, that's basketball. However, we need to look ahead and cover for him as a team. We have many worthy players that can cover for Janis but also for each and any one of us, if something like that happens".
The 28year old forward closed with the following: "I don't think that our outlook in the last games was representative of who we are. I talk about our scoring averages. We need to have a clear head, make more clear decisions and return to good performances. And I say that knowing how we practice and work. I believe that it's time to turn the situation, lift our heads high and look ahead. We need to return to where we were and to the performances we were making".