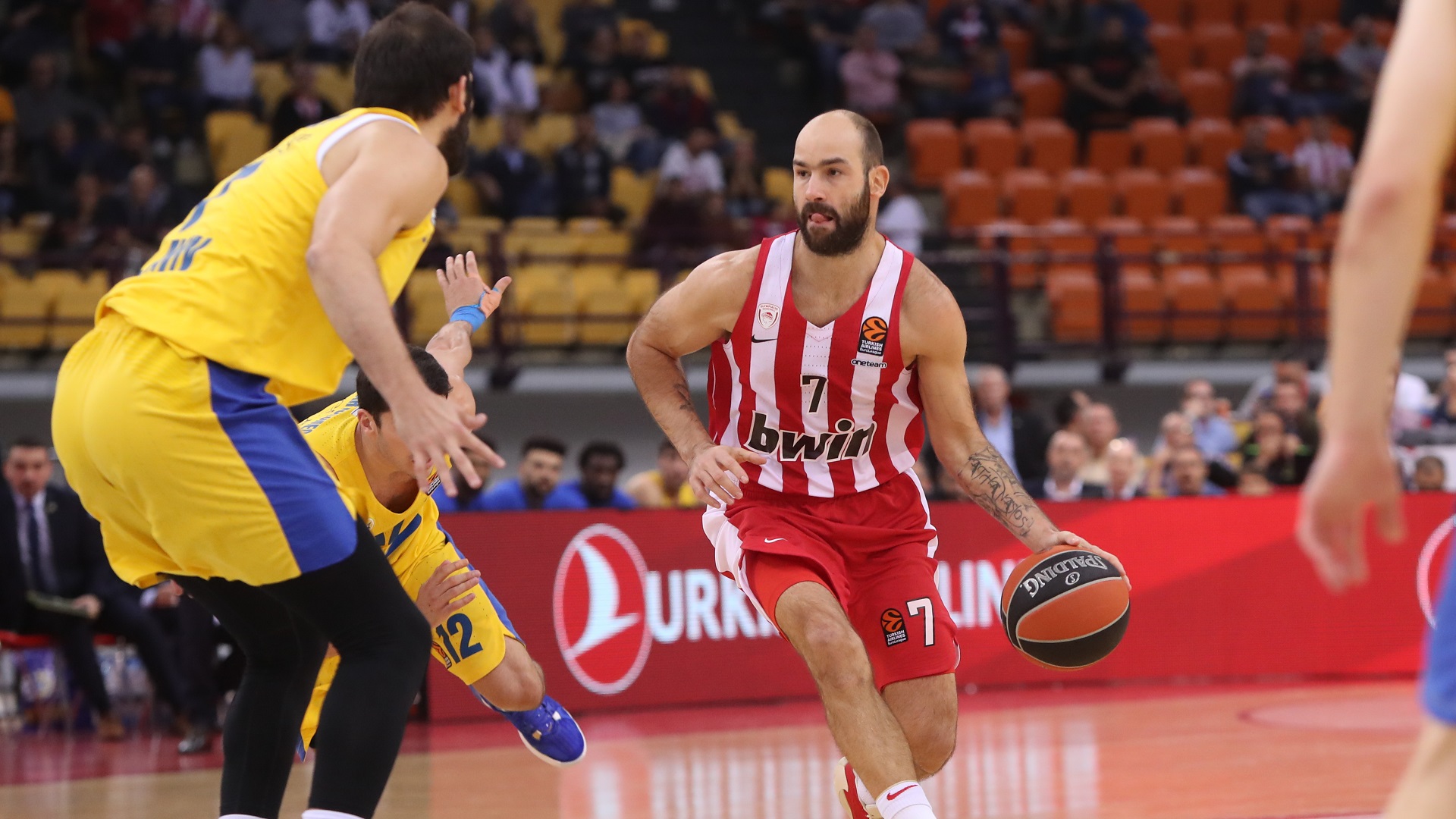 A heavy loss to Maccabi
Olympiacos performed beneath what was expected and needed and lost to Maccabi Tel Aviv at the SEF 65-90, for the 6th day of the Euroleague.
The 'reds' got to lead 9-2 at 3', however, defensive gaps and missed shots allowed Maccabi to turn the game and close the 1st quarter leading 21-24. Relying on their perimeter percentages, Sfairopoulos' players increased the margin even further (30-40 at 15' and 35-45 at 19'). With a follow by Sasha Vezenkov, a good defense also by him and a three at buzzer by Kevin Punter, Olympiacos responded with a 5-0 run and closed in at 5p. (40-45), at the end of the first half.
In the second one, Olympiacos got o make a two point game with a three by Paul (43-45), however, the Israelis - who continued shooting from behind the three point arc - regained complete control and turned the game to a one role play. Taking advantage of the poor defensive game of the 'reds' as well as of their poor choices in the offense, they skyrocketed the difference to +20 (61-81, at 36') and got an easy road victory.
* Kostas Papanikolaou who was injured, as well as Wade Baldwin and Ethan Happ did not make the final 12 men roster. On the contrary, despite suffering from a virus, Nikola Milutinov, Mindaugas Kuzminskas and Augustine Rubit played the game.
* Taylor Rochestie and Willie Reed got to debut in the 'red' jersey.
The quarters: 21-24, 40-45, 56-68, 65-90.
Οlympiacos (Κemzura): Punter 4(1), Rochestie 4, Paul 12(2), Spanoulis 8(1), Cherry 4, Milutinov 3, Vezenkov 2, Printezis 16(1), Κuzminskas 6(1), Rubit 5, Reed 1.
Μaccabi Τ.Α. (Sfairopoulos): Bryant 4, Wilbekin 19(4), Acy 8(1), Hunter 8, Casspi 9(1), Dorsey19(4), Dibartolomeo 4(1), Walters 10(2), Cohen 2, Black 4, Zoosman 3.
"We did not do the things we had planned"
The Olympiacos' coach, Kestutis Kemzura, commented: "Congratulations to Maccabi for a very good game. They played physical, as we had expected. Especially in the second half, they kept running us off balance with their very hard game. I'm disappointed, because when the game started getting out of hand, we practically stopped fighting. That was the worst. We tried to save the situation playing individually and that's also bad. We did not do the things we had planned on either part of the floor and the reasons for not doing them are many. We could not find score through collective game and they would hit us at the transition. Communication is needed there and we gave them too many easy buckets. We tried to change our defense at the end and play with switching at the pick n' roll. Maybe we should have done this earlier in the game. During the last time out, when everything had been decided, I told them: "Don't look at the score. We know we are not going to win. Let's go to good solutions, let's try to play well". But we didn't do that either at that point. I want us to not be giving up. Defeat is certainly disappointing, but the worse thing is gave up the game and stopped playing rationally ".
When asked about the new signings, Taylor Rochestie and Willie Reed, he replied: "It was very tough. They practically got in without practicing, because the team came back from Moscow only yesterday, practice was held with many players missing. Rochestie came in and did a good job in the first half with his experience. He made mistakes in the second one, but he's experienced, smart and we saw what we wanted and expected from him. It's harder for Reed, since he has no European experience. We, nevertheless, have a few days ahead of us to practice hard and help them get acclimated".
When asked about not using Antonis Koniaris, he said: "It's always after the end of a game that you can say why this or that guy did not play. That was my choice. To play with more experienced players. He was not feeling well, he had a problem with his lower back and I didn't want an expanded rotation. I wanted to have certain choices. If something doesn't work at first, you seek solutions. But we weren't that bad in the first half. It would be unfair to use Antonis when the game got 'broken'. I tried with Rochestie because I had the feeling it would be the best thing to do… We had Spanoulis, Cherry and Punter. It would not be fair to use Koniaris when our opponent was leading with a big margin".
Finally, about the possibility for some player out of the Olympiacos roster to leave, or for anyone else to join, he said: "There are negotiations. I can't say someone is leaving. We'll see in the future. The same goes for anyone coming in. We'll see in the future. First of all we need to have the new players adjust and then we'll see".
"The Angelopoulos brothers know what they're doing"
Maccabi's coach, Giannis Sfairopoulos, commented: "I want to thank Panagiotis and Giorgos Angelopoulos for honoring me and the fans for the warm welcome. People's applause is very important, because they recognize the effort we had been making, not I, but all of us together, throughout these four years. No, I did not confuse the locker rooms, but I got a little confused when walking to the bench, instead of going left, I went right at first".
About the game, he commented: "We were very good defensively, with the exception of the fist 2-3 minute. We continued focused after our first time out, followed the plan and got to lead winning all four quarters. We built our game on good defense and then found scoring on the open court. We stopped Olympiacos at scoring 65 points in the SEF, which is great after the game they played against CSKA. The victory in Moscow proves that Olympiacos has quality and if you are not focused, you are going to lose. We need to continue the same way, because it's a long road and we don't need to think that we succeeded anything more than a good road win. We have a good atmosphere and good players. All teams are going to go through rough patches, you can't be at top shape all the time. The season is demanding, but the good thing is we have been working right. I want to wish Olympiacos all the best for the remainder of the competition".
When asked how he would advise the Olympiacos' players, he said: "The team needs everyone's support. I liked the fact that the fans were singing for the team, even when the difference got to big. Olympiacos has made a new beginning, with new players, you cannot be making a strong team from one day to the other. It takes time and patience. Fans need to understand that it takes time. Tonight the team was probably confused with the new players. When they adjust with time and practices, the team is going to be getting better. I think that Olympiacos has good material; they need to find roles and chemistry. When they do that, their performance will peak and we'll see games like the one on Moscow".
When asked about Olympiacos' decision not to participate the Greek League, he said: "We are here for the Olympiacos-Maccabi post game interview. It's not the right time to answer that. The only thing I'm going to say is that the Angelopoulos brothers know very well what they're doing".