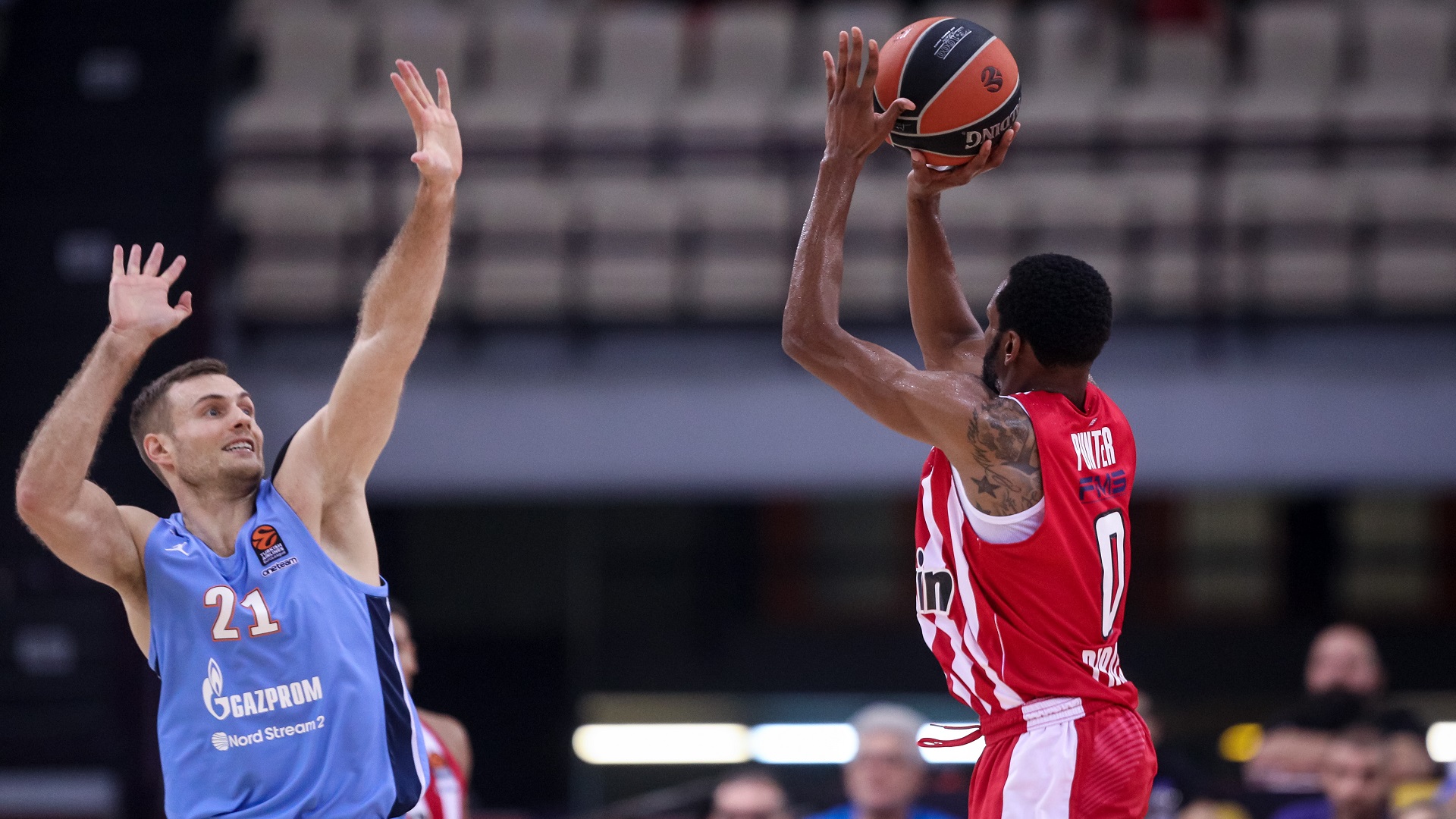 An overtime and a loss to Zenit (vid)
Olympiacos lost at the SEF 68-77 to Zenit St. Petersburg at the overtime (64-64 the score at the end of the regulation), for the 3rd day of the Euroleague.
With Spanoulis and Milutinov leading the team, the 'reds' made a strong beginning running a partial 12-0 (at 4'). However, the Russian team relying on good perimeter shooting, succeeded in turning the situation around and with the three by Trushkin - at the end of the first quarter - got to lead for the first time. Hollis and Renfroe continued executing from behind the 6.75m., taking the lead for Zenit to +5 (21-26 at 12'). Good defense and with Spanoulis and Punter spearheading the offense, Olympiacos replied with a 10-0 streak and regained the lead (31-26). However, bad perimeter percentages (Brandon Paul scored the first three for the team at 18' and after 11 missed shots) and poor defensive operation, allowed the Russians to counter attack and close the first half at +2 (36-38).
Zenit began the second half running a partial 10-2 and was hence found leading with +10 (38-48 at 25'). Nevertheless and despite his terrible perimeter percentages (1/18 threes up to 30'), Olympiacos succeeded to close in at 3p, relying mainly on Milutinov and PUnter (50-53 at 31'). Four minutes with bad offensive plays for both teams followed, which however benefited the St. Petersburg team that increased its lead to +7 (50-57 at 35'). With two threes by Koniaris and two free throws by Kevin Punter, the 'reds' had a one point game (58-59 at 37'). Plaza's players responded with a 5-0 (58-64 at 38') and the score remained unchanged till 45'' before the final buzzer, when Punter hit a three that kept our team alive. A missed two by Ayon followed and a three by Papanikolaou (6.5'' before the buzzer), that sent the game to overtime, since Khvostov's shoot for three at the buzzer did not find target. But the 'reds' were not able to follow through in the extra five minutes. Poor choices and defensive gaps allowed the Russians to play their game and get their first Euroleague victory.
The quarters: 19-20, 36-38, 47-53, 64-64 Παρ: 68-77
Οlympiacos (Κemzura): Punter 16 (2), Baldwin 1, Paul 5 (1), Κoniaris 6 (2), Spanoulis 7, Cherry, Μilutinov 16 (16 reb.), Printezis 7, Papanikolaou 6 (1), Kuzminskas, Rubit 4.
Ζenit (Plaza): Iverson 6, Αlbicy 2, Hollins 9 (3), Τhomas 9 (1), Ρenfroe 10 (2), Khvostov 4, Τhruskin 3 (1), Voronov, Αbormaitis 6, Ponitka 18, Αyon 10 .
"When you don't do the small things correctly, you don't win"
The coach of Olympiacos, Kestutis Kemzure pointed out: "We had been expecting a tough game. We made a good start, ran a partial 12-0, but the problem began when we made the first changes. We lost control of the game, allowed Zenit to make some big shots and finish the first half leading. We weren't able to find the rhythm we have had in the previous game, we did not have the same energy and did not manage our offense as good, due to their physical defense. We also did not move the ball well, we kept it in our hands more than should have and had been static at times. Defensively, we allowed open threes at some points. They made some under pressure. What hurt us were offensive rebounds, but we did a better job in the second half. We were also hurt by the weak side and the blocks, because we 'fell asleep' managing them. We made two big threes, sent the game to prorogation, but weren't able to do what was needed to win. When you don't do the small things correctly, it's tough to win ".
Asked if he would like to make changes in his roster in case he was to take over the team permanently, he replied: "I would like some additions and some changes. We need to meet with the owners and I believe we should proceed".
On whether he has been informed if he is to remain as the head coach for the remainder of the season, he said: "The second game is over, we shall sit with the Presidents, we'll talk and see. I appreciate the fans support. It's tough when you don't play as the fans expect you to. I'm ready to change the team and we'll do the best we can. I don't want to simply make changes. It's not easy to do it now; it takes time that we don't have. We need to be careful and find the best solution."
About his choice to bench Koniaris after he had made two big threes, he explained: "I'm happy Antonis took these two shots and I'm happy he played that way. However, at that point we wanted the most experienced players on the floor to make the right decisions. This doesn't always work in our favor".
Joan Plaza commented for Zenit: "I'm very happy for our first Euroleague victory, although you cannot see it on my face. Especially since the victory came against a very big team in Europe. We have had some good periods in the previous games, but not enough to win the games. Spanoulis is one of the best teams in Europe during the last few years and he has great team mates, like Printezis and Milutinov. We had prepared to contain Olympiacos' assets and to avoid getting hurt by the rest of the players. We played a very serious game with team work. I'm proud because we deserved to win and despite it hurt that we went to the prorogation, we showed character and won. Even great teams have ups and downs sometimes, when they make changes, when they get new players. It's hard for Olympiacos to change players at this moment without falling out of rhythm. A team like that can create habits after some time and once again become unstoppable. However, until then, they can suffer unexpected losses like tonight's one".