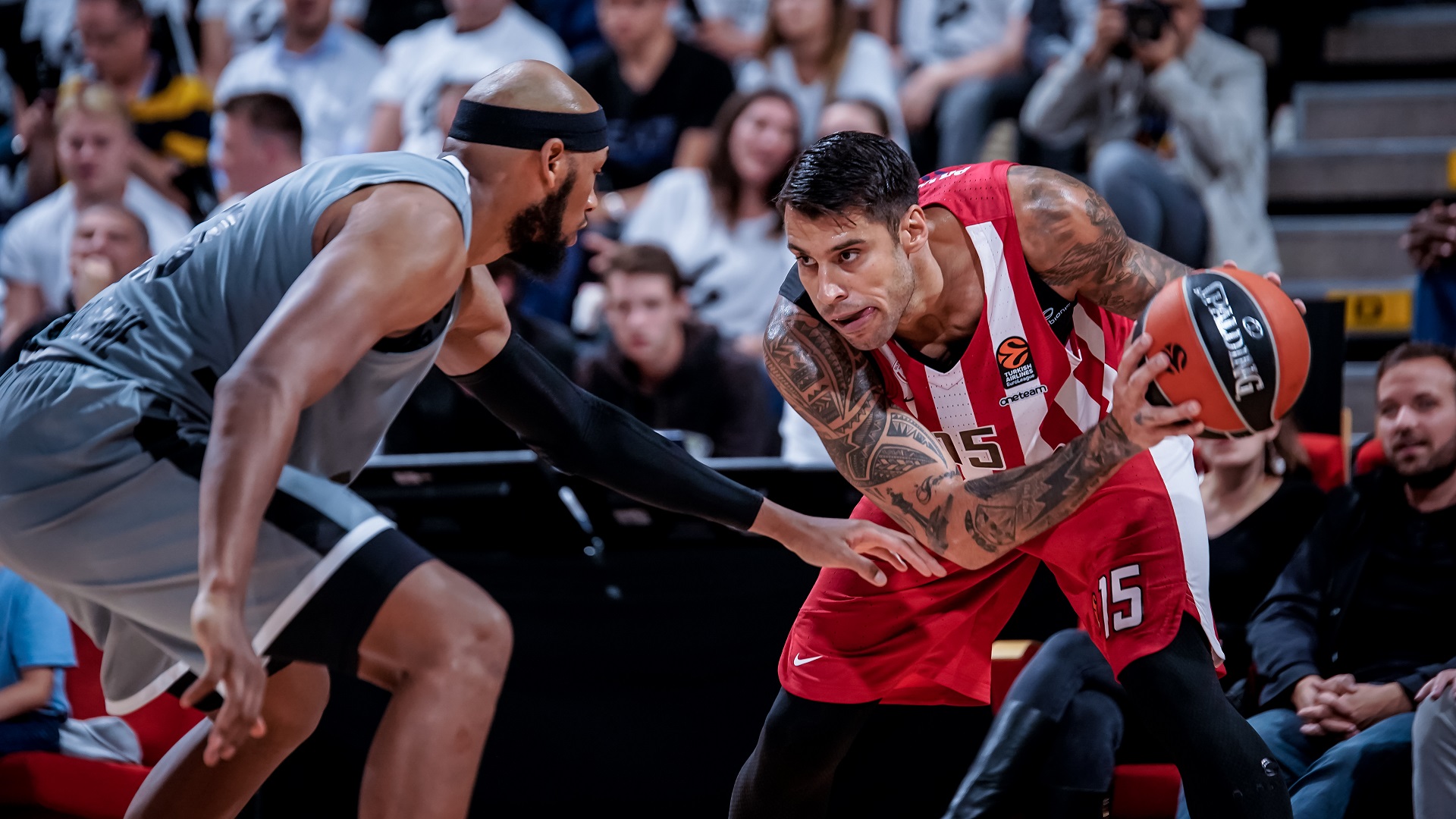 A heavy loss in Lyon
Olympiacos was removed from his best self and suffered a heavy loss on the road for the Euroleague premiere against Villeurbanne with a score of 63-82.
The 'reds' passed the ball inside the post and led by Printezis, Kuzminskas and Punter got to lead by +7 (10-17 at 5'). Bad choices and unnecessary fouls (from which four were consecutive buckets and one!) allowed the French to tie the game 21-21. With a buzzer beater by Vassilis Spanoulis, Olympiacos closed the first quarter leading 21-24, but was not able to remain in the driver's seat… The hosts took advantage of the fact that the 'reds' were unable to find rhythm in the offence and went ahead with 6p. (31-25). Will Cherry "broke" through Villeurbanne's defense and made a three point game with a lay-up (36-33), however, in less than 40'', our team received a partial 4-0 and went to the locker rooms trailing by 7 at the end of the first half (40-33).
With a partial 7-2 at the beginning of the third quarter, Villeurbanne took the margin to +12 (47-35) and forced the players of David Blatt to trail the score. In the fourth quarter, Olympiacos tried to react and with a three by Spanoulis closed in at 7p. (59-52 at 32'), but, unforced mistakes, horrible percentages, defensive gaps in addition to the good perimeter shooting percentages of the French, were the things that led to the total collapse of our team.
Quartes: 21-24, 40-33, 56-47, 82-63.
Villeurbanne (Mitrovic): Jackson 5, Τaylor 16 (3), Jekiri 13, Kahudi 7, Maledon, Noua, Jean-Charles 10, Diot 8 (1), Bako, Lighty 16(2), Payne 7 (1)
Οlympiacos (Blatt): Punter 11, Baldwin 2, Paul 2, Spanoulis 9 (3), Cherry 2, Μilutinov 10 (10 reb.), Vezenkov, Printezis 15 (1), Papanikolaou 4, Κuzminskas 6, Ρubit 2
Vassilis Spanoulis has reached 4000 with the Euroleague. He's the second player to succeed this. The top scorer in the history of the competition is Juan Carlos Navarro.
"It's not right to be looking for excuses"
The coach of Olympiacos, David Blatt, stated: "Congratulations to Villeurbanne. They played better and deserved to win. We did not do many things right and looking for excuses would be a mistake. Once again, congrats to our opponent. We have obviously a lot of work to do".
Asked on whether he was surprised by the performance and the victory of Villeurbanne, he said: "I thought that they are a good team before the game. Obviously, there is continuation and evolvement since last season with the addition of some good players. Also, I think that a proponent for our opponent is that they have had a much more normal pre-season. They have been together for much longer".
On what went wrong and Olympiacos' performance changed for the worst after the first quarter, he replied: "I think that in reality, the plan for our game had been a good one, we simply did not continue doing some things we were doing correctly in the first quarter and the opponent took advantage of that. The interesting thing for this game is that you need to make some shots. If you don't make them, the dynamics of the game shift fast. With 23% from the perimeter and 65% from the free throws line, you will most probably lose. That's the reality ".
Finally, on whether he thinks that Olympiacos was impacted by the fact that they haven't played any official games, contrary to Villeurbanne, he commented: "Maybe. I certainly don't want to be looking for excuses. It's not right to be doing that. I could have been a factor. And if it really is, than we need to find a way to correct this, so that it doesn't get to us".