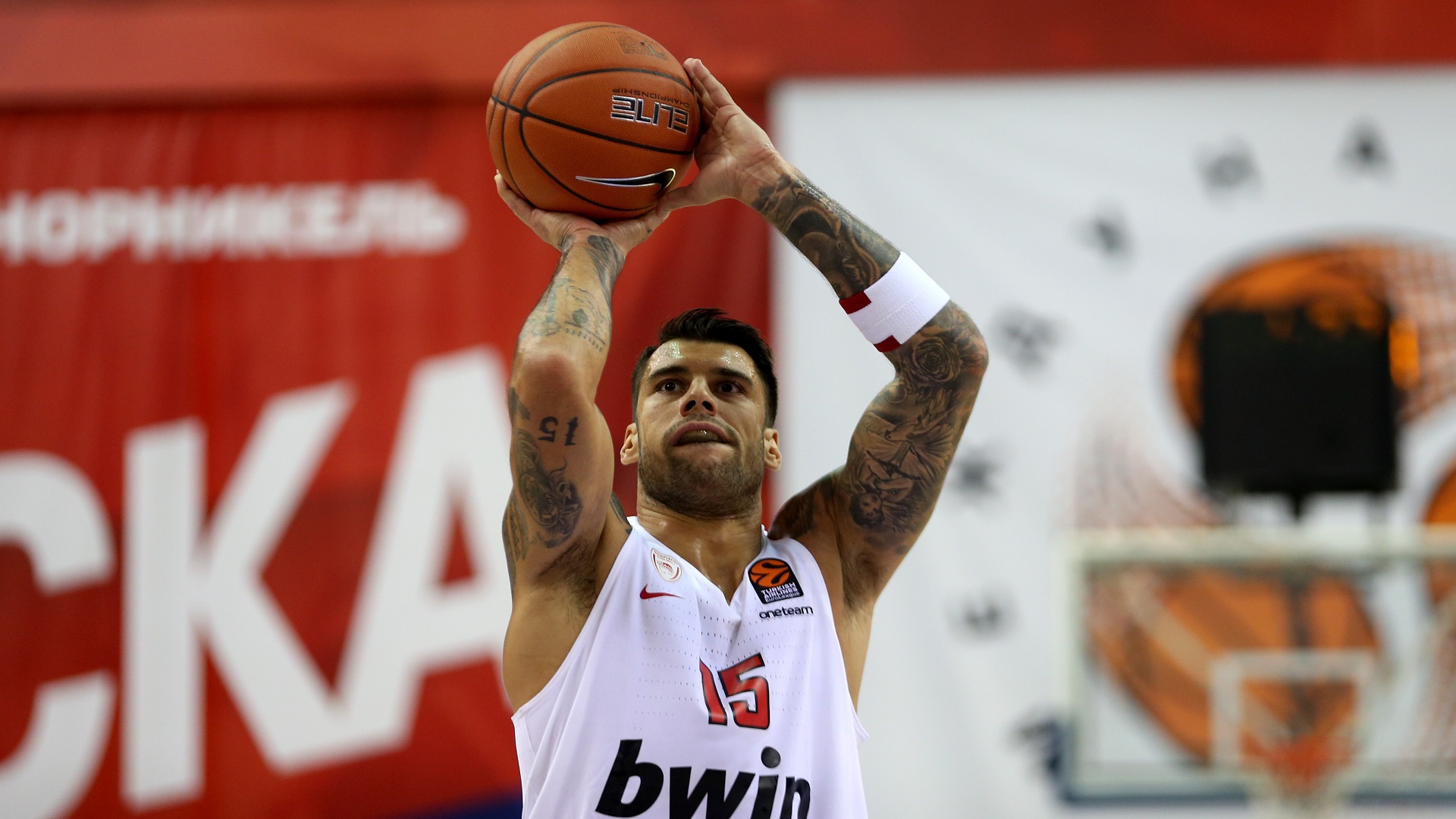 Gomelsky Cup: Unics Kazan – Ολυμπιακός 66-70
Olympiacos beat Unics Kazan 70-66 and will play the final of the "Gomelsky Cup" tomorrow (25/09) facing the winner of the CSKA – Prometheus game.
Bad choices and defensive gaps allowed the Russian team to set the tempo and close the first quarter leading 17-12, but Olympiacos, led by Kevin Punter and Vassilis Spanoulis, ran a partial 10-3 and got ahead 22-20 at 13'. The game was rather balanced from that point on with Kevin Punter closing the first half with a buzzer beater that sent the reds to the locker rooms leading by one (36-37).
With a solid defensive game and by controlling rebounds, as well as thanks to the offensive contribution of Giorgos Printezis, the 'reds' found themselves leading with +13 (48-61 at 32'), having run a partial 14-1. Turnovers and hasty choices allowed the Russians to close in at 4p. (61-65). However, Kuzminskas and Milutinov at the end were the ones to seal the victory for Olympiacos (66-70).
The quarters: 17-12, 36-37, 48-56, 66-70.
Unics Kazan (Priftis): Morgan 8, ΜcCollum 11, Tyus 10, Klimenko 4, Uzinkii 2, Smith 17(3), Μantzaris 3, Palsson 2, Kolesnikov, Κaimakoglou 9.
Οlympiacos (Blatt): Punter 14(2), Paul 3(1), Κoniaris, Spanoulis 8(2), Cherry, Μilutinov 10(13 reb.), Printezis 18 (7reb.), Papanikolaou 7(5 reb.), Κuzminskas 4, Rubit 6 (3 reb.), Happ.
*Wade Baldwin was off the lineup due to injury and Sasha Veznkov did not play since he's still recuperating.
«We'll be ready for the premiere»
David Blatt considered the game to be very useful in view of the team's Euroleague games. "It was a good game for both teams. I'm certain Unics is going to be very competitive and a tough opponent. I'd like to thank the organizers of the tournament. It's obvious one of the best pre-season tournaments and Olympiacos is happy and proud to be participating for yet another season, thanks to our relationship with another great organization, that of CSKA. Pre-season games of that level are great for me as a coach, because you get to play against quality teams, with good coaches. You play high level games and you have a chance to try things, that you'll probably have to put to the test during close and tough Euroleague games. We have only been together for a few days, with the exception of Baldwin and we obviously did not have the time to develop our full game due to the participation of our players to the World Championship and the injuries we have been dealing with, however, this is reality and we have to deal with it. We'll have to cover for that and be ready for the Euroleague premiere".
Asked on whether he thinks it will be good or bad for the 'reds' to only be playing one game a week and what it is he expects will happen, he replied: "It's uncharted territory. It hasn't happened before. So, I cannot tell you if I expect this or the other thing to happen. I know this is going to happen and has to happen, that is to be playing one game a week. What I expect is that we'll be having some advantages from that situation and we'll need to deal with any setbacks appear on the road. That's how the situation is and that's what we need to do. It's simple".
On his part, Giorgos Printezis pointed out: "We played a good game against a good team. Unics was well prepared and they have good chemistry. We are days before the beginning of this season's Euroleague and it's the first game we have played with almost all of our roster. We are still missing two players. However, it was a good test. We tried to find chemistry, we presented an improved outlook on both ends of the court, but we need to get better in the games to come".