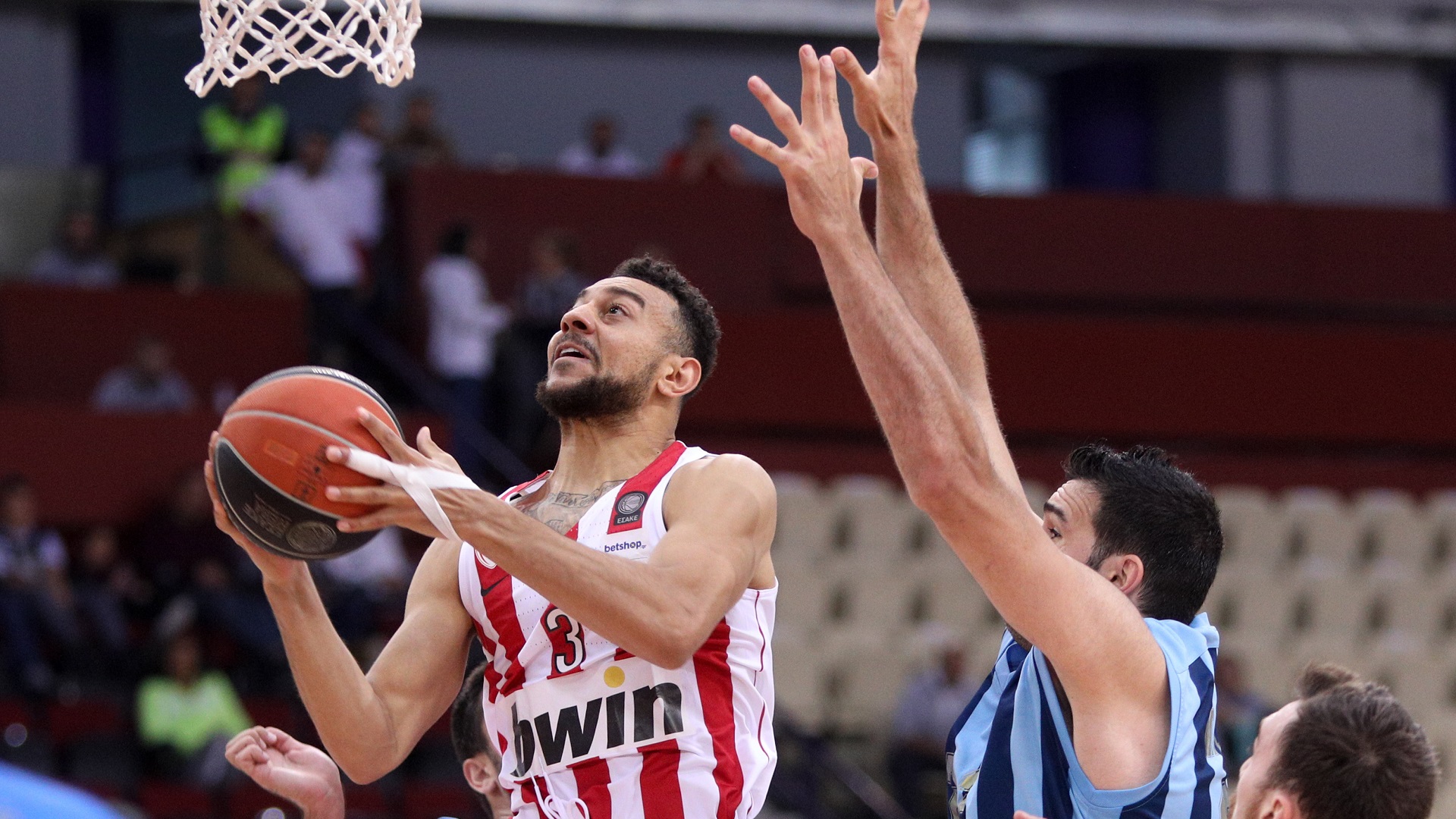 An easy victory over Kolossos
Olympiacos got an easy victory over Kolossos Rhodes at the SEF (95-74) in a game for the 22nd day of the Basket League, that had been postponed.
Kolossos took advantage of the lukewarm beginning the 'reds' made in the game and got to lead 7-3. Led by Sasha Vezenkov and Giorgos Printezis, our team got ahead 18-13 (at 8'), however, the guests, relying on their good perimeter percentages once again got to lead the score (22-27 at 12'). At that point, and despite the aggravation experienced by our players due to certain officiating call, Olympiacos made his counter attack… The team put pressure in defense, moved the ball very well, made the right calls when attacking the basket and with a partial 21-4 streak was leading by 12 (43-31 at 18').
The first half was completed with David Blatt's players having a +10 at hand (45-35), which they saw to make bigger in the second half… Playing good defense and finding score from many players, the 'reds' got to broaden the margin to +21 (69-48 at 28'), not stopping there.. Following the same tempo, they were leading by 27 at 37' (92-65) and reached a very comfortable victory.
The quarters: 20-18, 45-35, 71-53, 95-74.
Οlympiacos (Blatt): Printezis 13 (1), Vezenkov 18 (8 reb. 2 st.), Μilutinov 17 (12 reb., 2 as.), Papanikolaou, Μantzaris 9 (3 3p., 7 as., 1 st.), Αgravanis 2, Bogris 3, Williams-Goss 11 (6 as.), LeDay 14 , Cherry 8 (9 reb., 5 as. 1 st.)
Kolossos Rh (Koufos): Μavroeidis 10, Cupkovic 6 (1), Dimakos, Browning 6, Lee 16(2), Georgakis, Georgalis 6(2), Papadakis 12(4), Pinkston 18 (8/16 fg, 5 reb, 2 as), Demps.
«The good disposition of our players is reflected in our game»
Olympiacos' coach, David Blatt, stated: "We have been playing well in recent game. The players are dedicated, professionals and that's a very positive thing. I appreciate their approach to the game and that says a lot about them. It's good when everyone has the chance to play and contribute. That's what we have been on every day".
Asked about the will his players have been exhibiting in recent games, despite the lack of an especially high motivation and if this has been the case with practices as well, the 'reds' coach replied: "Yes… That's very important to me. It reflects the team's disposition and it sure reflects in the way we have been playing. It reminds me a lot of the good days early in the season, when Spanoulis and Strelnieks had been healthy and we had been playing and working really well every day up until January".
When the Kolossos' coach, Stergios Koufos was asked if he has contemplated the possibility for Kolossos to be playing in the second division next season, together with Olympiacos, who has brought Greece so much success, he replied: "You can realize that the mere possibility of watching Olympiacos play in the second division, a team that has brought so many successes to the country, is something. Taking mathematical odds into account, had we won today's game there would be one in a million chances of keeping the category. But we need to be realistic, that's only a fantasy scenario. For a brand name, like that of Olympiacos' it's sad to even think about it. However, what has transpired this season may have brought the right momentum for a permanent solution. To find that framework within which everyone will be feeling right and willing to contribute. Basketball really needs both families, that of Mr. Angelopoulos and that of Mr. Giannakopoulos. They are the only ones who can support the infrastructure of Greek Basketball. Without these two names no one will be able to bring in almost any revenue. The first category will end up like the second one».