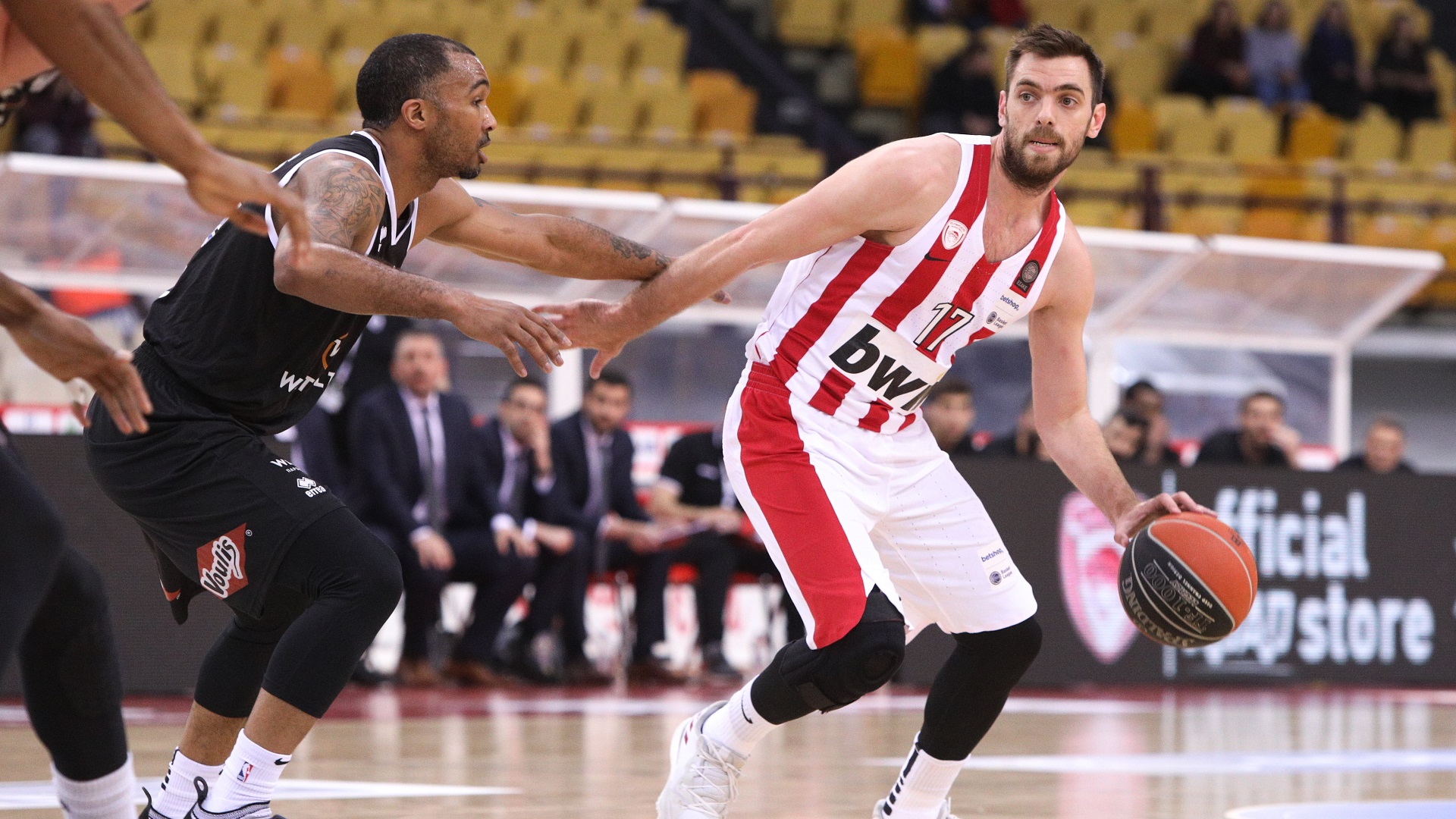 A victory over PAOK with +21
Olympiacos beat PAOK at the SEF 80-59 for the 24th day of the Basket League.
Relying on their good percentages from the perimeter, the guests got to lead with 7 (9-16 at 6'). David Blatt'splayers nevertheless, got to react, put pressure in the defense, passed the ball low to Pritnezis and Milutinovand running a partial 9-0 got ahead 18-16 at 8'. Bad choices and poor shooting from the perimeter, allowed PAOK to once again lead (27-32 at 15'). At that point, David Blatt saw one more of his players being 'knocked out'. GiorgosPrintezis felt intense lower back pain and was not able to continue. However, despite the extra problem, Olympiacos attacked back and with Nikola Milutinov spearheading the offense closed the first half leading by 2 (36-34).
With good defense and Zack LeDay making an aggressive start in the game, our team set the tempo and built a +10 lead (54-44 at 26'). PAOK ran a partial 5-0 closing in at 54-49, but Olympiacos replied with a 6-0 of his owned and restored order asap (60-49 at 30'). In the fourth quarter, the 'reds' opened fire from the 6.75m. andsent the margin to 20p. (74-54 at 37'), giving the game a completely procedural character. The difference went up to +24 (80-56 at 39').
The quarters: 20-22, 36-34, 60-49, 80-59.
Οlympiacos (Blatt): Κoloveros, Printezis7,Vezenkov 15 (33p., 14 reb, 3 as), Μilutinov 16 (10 reb), Papanikolaou11 (8 as, 1 st., 2 bl.), Μantzaris 8 (23p., 6 reb., 8 as.), Αgravanis 4, LeDay 19 (33p., 5 reb).
PΑΟΚ (Papatheodorou): Chrysikopoulos 13(1), Κoniaris8, Τepic 3 (1), Goss 8, Jefferson 6, Zaras 4, Μargaritis10(1), Garrett, Hatcher 7.
"The players represented the team the best way possible"
Olympiacos' coach, David Blatt, stressed: "I want to congratulate my players for the way the came forward, fourth, played and stayed together. They represented the team the best way possible. The players played as a team on both ends of the floor, they played amazing defense and for a very big part of the game they also played good offense. It was a good and important victory for us and I'm happy the guys made it".
When asked about his thoughts on the team's next day and whether it will be re-enforced, he replied: "First of all, Williams-Goss will be returning from the US, where he went to attend to his grandmother's funeral. I believe we are bringing in a player to help the team. I cannot guarantee anything right now, but I believe that if we can, we are going to try to do it. From that point on, we will continue with our already good roster".
Nextthepreviousquestion, hewasaskedtoclarifyifhe'sgoingtowaitfortheref'sdrawbeforetheteamacquiresanewplayer and what his thoughts are about the fact that after the complaint Olympiacos submitted as to the three refs of the Cup game, none of the them was selected to play any Olympiacos' game ever since. "I don't have an answer for that. I expect we are going to continue working the same way we have been doing up to now. From that point on, you all know how I feel about that game. And that whoever is objective even at a minimum will see that what happened in that game was unbelievable. It was something I had never before seen in my life. Never… And I hope I'll never see it again. It was shameful, ugly, awful… It was despicable. About all the rest, I don't know about them… It's not in my hands. I'm not making the decisions caused by these deeds. But I fully support my team no matter what it decides".
Asked on whether this season is the weirdest one of his career, he pointed out: "It's not over yet. We'll talk when it's over".
On whether he had expected when coming to Olympiacos that all of that would be happening (among others, meetings between the players and the administration) and how hard it is to manage all these situations, he said: "First of all, I would like to clarify that there's nothing bad with players meeting with the administration. That happens all the time, it's only normal. I have never been with a team when the administration refused to talk with the players. What's abnormal or unusual in that? It's completely natural, this is what should be happening and has been happening always in my career. This is not an easy moment for me. But I'm going to use what Nietzsche has said: "What doesn't kill you, only makes you stronger". So you fight through hardship, you evolve, you learn and you try to come out stronger. Maybeyoudon'talwayssucceed, butsuccesscomeswitheffort".
About his decision to not use Bogris and Sevgaras, he commented: "I planned to win this game and did whatever needed to do that. That's my job and you never think about how many are going to be playing, but who is going to be playing to win. I'll tell you the truth, when we lost Giorgos during the game, I was shocked. We were already in trouble and when Giorgos, who was playing really well, was injured, it was really hard. And PAOK is not an easy team. They have won games in the Greek League. Given the circumstances, having won with +20 is a good thing".
About how he feels that three players he had chosen (Toupane, Weber and Timma) are no longer with the team, he replied: "Whatever happens is my responsibility. If you are asking if I blame someone else or I, I repeat that whatever happens here is my responsibility. I feel responsible for everything and when things don't go well, I don't feel well. Timma asked to leave because he wanted more minutes, so we accommodated him. As for the other two, I choose to think more about the players we do have. And I do feel responsible for everyone. I take my share of the responsibility".