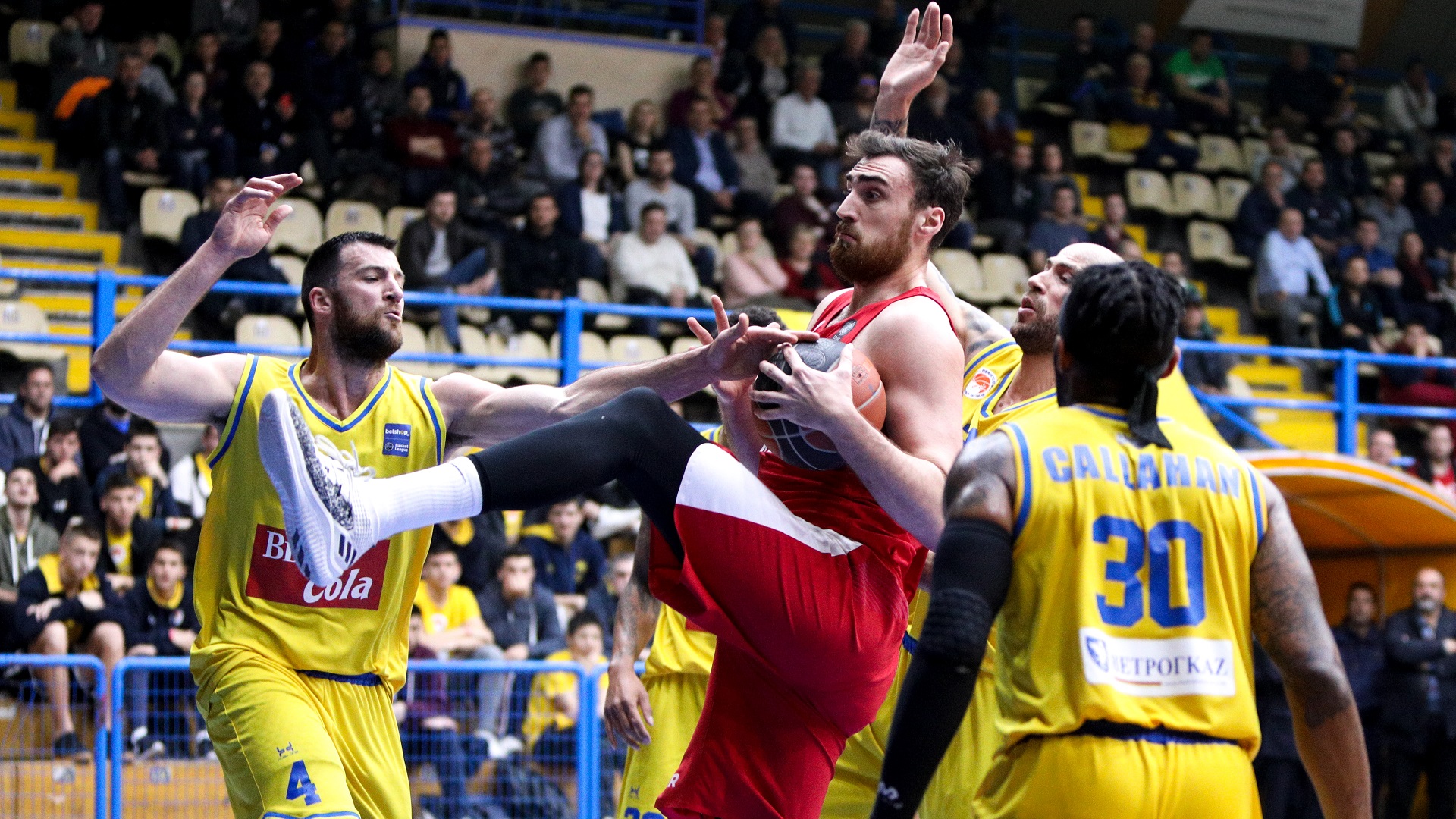 Defeated at Peristeri
Olympiacos lost on the road to Peristeri 76-81, for the 23rd day of the Basket League.
The hosts made a strong beginning thanks to their peripheral good percentages and 'built' a +8 lead (15-7). Led in the offense by Nikola Milutinov and with a partial 9-1, our team tied the score at 16 points (6'), while thanks to Axel Toupane, got to lead for the first time at 12' (22-24). However, the 'reds' got to pay for the gaps in their defense later in the game, receiving easy points inside the post, losing the rebounds battle at the same time and found themselves trailing by 6 (45-39) at the end of the first half.
Peristeri widened the lead at the beginning of the 3rd quarter (48-39), Olympiacos closed in at 2 with Weber and Vezenkov (52-50, at 25'), however, Milutinov's 4th foul at 26', created new problems for David Blatt. The hosts continued dominating the post and closed the third quarter leading 63-56.
Before even Nikola Milutinov got back on the floor, he was ejected with his 5th foul! Nevertheless, playing zone defense and with good ball movement, Olympiacos closed in at 2 points at 37' (74-72), but was not able to complete the upset, since although having the opportunity, the team tried hasty three point shots that did no go in. At the same time, Bentil wrote the 77-72 score, while he also got to make 3/3 free throws widening the margin to 6p. (80-74, at 39').
Williams-Goss made the score 80-76 with 55'' on the clock, however, in the plays that followed, Toupane and Weber did not find target. The final 81-76 was written by Gray after everything was decided.
The quarters: 22-19, 45-39, 63-56, 81-76
Peristeri (Pedoulakis): Μouratos 2, Skordilis 6, Vassilopoulos 11 (2 3p, 10 reb), Gray 9 (8 reb), Callahan 9 (3), Filippakos, Agravanis 10 (2), Bentil 15 (7 reb), Karampelas, Moore 9.
Οlympiacos (Blatt): Printezis 17 (6 reb), Μilutinov 5, Papanikolaou 5 (1), Williams-Goss 12 (1), Weber 13, Vezenkov 10 (2 3p., 7 reb.), Bogris, Μantzaris 1, Τoupane 6 (1), LeDay.

THE QUOTES BY THE PROTAGONISTS
Olympiacos' coach, David Blatt, stated: "Congratulations to Peristeri. It was a difficult game. Once again we did not shoot with good percentages, while defensively we collapsed in certain plays that although we had prepared, did not succeed in executing correctly".
Asked on whether he thinks about promoting more junior players giving them minutes due to the special circumstances, he replied: "No… we play as is until we have something very specific at hand".
On whether he has made the necessary assessment about the current Euroleague season with the Presidents, he stressed: "We talk about everything every day. We need to move on. We lost qualification for a few scattered points here and there. We need to accept that and move on".