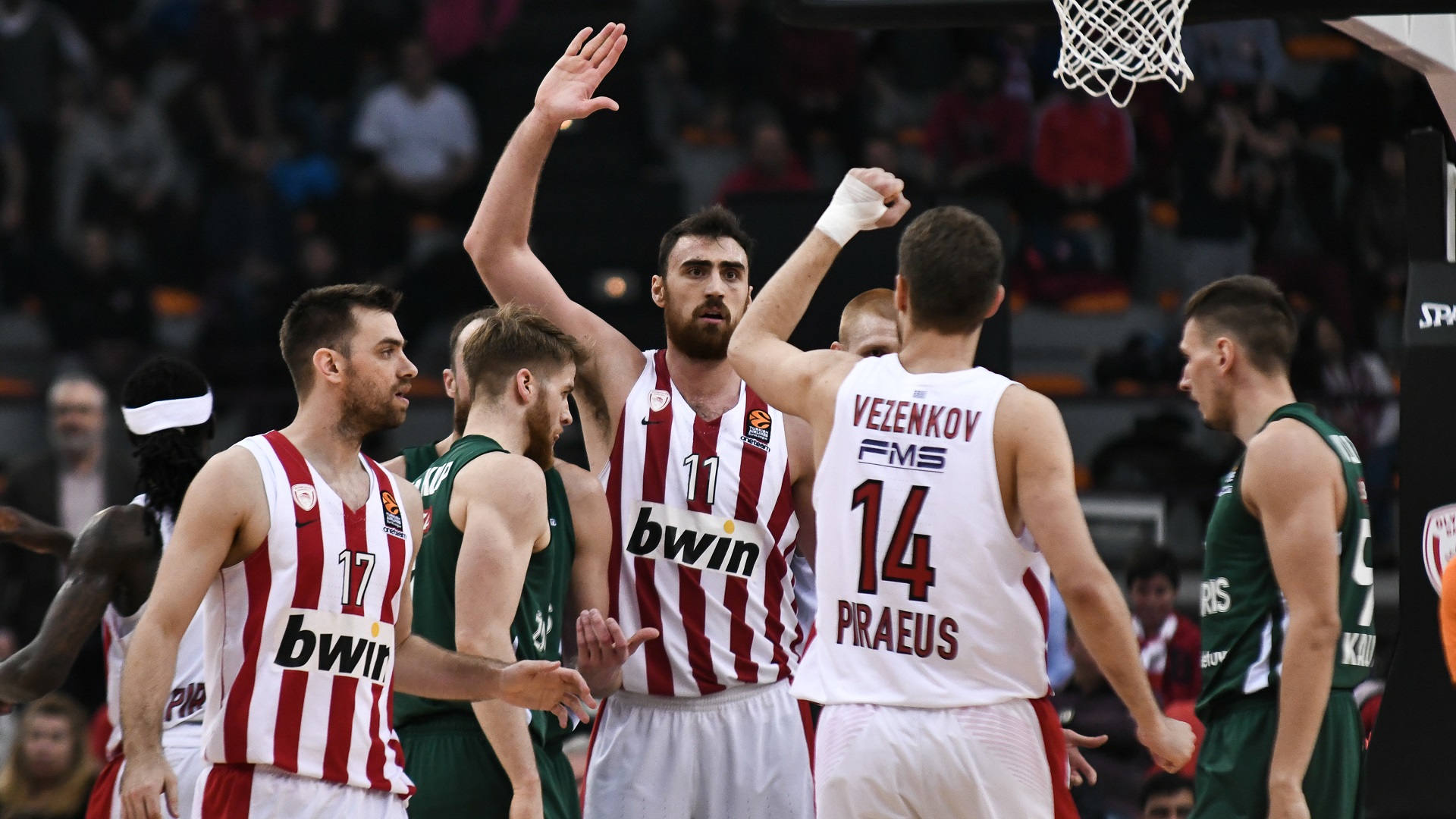 Played "Russian roulette" and lost…
Olympiacos lost to Zalgiris at the SEF (68-72) and now his fate does not depend on him in terms of qualifying for the Euroleague playoffs.
Playing good defense and with Briante Weber leading the offense, the 'reds' got to lead by 7 (15-8), but weren't able to maintain control. The guests pressed almost full court, led David Blatt's players to poor offensive choices and turnovers, passed the ball in the post and taking advantage of their height (given that Nikola Milutinov was benched to get some rest) turn the game upside down with a partial 16-3 (18-24 at 12'). When the Serbian center of Olympiacos got back on the floor however, the situation turned around at once. Our team's defense became more effective, the battle for the rebounds was won (17-11) and with 'Milu' doing as he pleased under the basket, the 'reds' regained control and got to lead by 8 (36-28 at 19'). The Lithuanians however, were able to close in to 4p. (38-34), mainly taking advantage of some unnecessary fouls our players were making, that allowed them to score from the free throw line.
It was the turn for Briante Weber to 'shine' once again, this time in the second half. The American guard did everything on the floor… He played aggressive defense, stole balls, made plays, scored and had a major contribution into Olympiacos getting to lead by 12 (51-39 at 27'). Nevertheless, whatever our team was building throughout the game, came tumbling down in just five minutes… The team suffered an offensive 'black out' and saw Zalgiristaking the lead after running a partial 14-0 (51-53 at 32'). Weber once again took over, but Zalgiris who was shooting very well from the perimeter, only got to increase the distance (57-62 at 35'). With aggressive defense and the offensive triplet of Williams-Goss, Weber and Milutinov, out team closed in 65-68 at 38'. But it was very soon that it had to trail again…
With 53'' to go, Milutinov closed in at 2p. (66-68), an off target shot by Weber followed and then 2 free throws by Grigonis with 6.5'' on the clock. David Blatt called a time out and during inbounding the ball at half court, the ball went to Milutinov, who scored to write the 68-70 and only 5.1'' on the clock. The 'reds' made one last effort but did not make it… They once again made a foul on Grigonis, who made both his free throws and wrote the final 72-68, securing the victory for his team, which keeps Zalgiris 'alive' in the battle to secure a playoffs spot.
The quarters: 18-16, 38-34, 51-48, 68-72.
Οlympiacos (Blatt): Weber 26 (2), Williams-Goss 8 (5 assist), Τoupane, Μilutinov 18 (12 reb), Vezenkov, Printezis7, Papanikolaou 3 (1), Μantzaris 3 (1), Bogris, LeDay 3
Zalgiris (Jasikevicius): Davis 13, Τhompson 6, Walters 7, Walkup 2, Westermann 11 (3), Μilaknis 9 (3), White 14 (2), Grigonis 10, Kavaliauskas, Ulanovas
«We are still alive»
Olympiacos' coach commented: "Congratulations to Zalgiris. I think that both teams, in such a high pressure game, played good basketball. From my point of view, we did not shoot with good percentages. Wehad 4/17 twos. Andit'snotthefirsttimethishappened. In such a game, it's very difficult to score. I really appreciate the way our fans supported us. They gave us boost and I wish the outcome had been different. At the end of the day, the depth of Zalgiris was what hurt us. We only received 6 points from our bench, while they received 15 from theirs. That's what made the difference".
Asked about the offensive problems Olympiacos has been facing in the past few months, David Blatt explained: "We haven't been shooting well. When you don't make shots from the perimeter, then your inside game becomes more difficult. Teams get to know you as time goes by. They did not allow us to run because they know we are good at it. Also, we've been missing two facilitating players that can also shoot, Spanoulis and Strelnieks. This also hurts our offense a lot. I don't need telling you what this means for the team. However, I wouldn't like to start from this, because it would sound like an excuse. However, when you lose 20-25 points from your perimeter due to injuries, then you are going to have problems scoring".
On what he would be changing in case he had the chance to go back in time, he replied: "It's a good question, I would be answering respectfully, however, I don't think it's the right time to do so. The reason is that we are still alive in the competition. It doesn't depend on us solely and I'm not saying that we have the right to feel good tonight. We don't. But it's a fact that we are still alive and we need to do whatever we can to qualify, hoping of course that all other results are going to be in favor. And all of this depends on the roster we have right now. I will be answering that question at some point, but not now".
Finally, about the performance of Briante Weber - who burst into crying at the end of the game - and whether he would want him to stay with the team the next season, he said: "The fact that he came in the middle of the season and immediately adjusted and at this level, is remarkable. The effort and how much he cares is something you don't often see in foreigners and especially those who come into the season. Maybe if they come in the summer and are picked according to their past record, that's a little easier to happen. But when you find such a player, with his personality and the effort he has been making for the team and his team mates and of course with such levels of performance, these things tell you a lot about this guy and his character. If he decides it, and I hope he will, he's going to have a great career in Europe. I really do believe this".
«We showed character»
Zalgiris coach, SarunasJasikevius, commented: "I'm very happy for the win. Congrats to my players for showing great character. We hadn't played the best basketball we could have, but continued fighting and succeeded in getting some important victories. Let's hope we continue doing that".
On whether he expected that it would be a battle to the end for the three tickets that lead to the playoffs, he said: "It was obvious for some time now that there would be a great battle for qualification among the teams that rank middle and below. It was obvious which teams wouldn't have a chance and which teams would be the three top ones. Then came Efes, Barcelona and it became obvious that we would be having a huge battle for the 6 to 8 spots. So, yes, I had been expecting that and I'm happy we are still in the battle. We had to play better basketball than what we had been playing, we have had some injuries, but we have a small chance to qualify and at this time in the season that was the only thing we could have asked for".
On whether he could have imagined that development a few weeks ago, that is his team entering the qualification equation strong and Olympiacos who was battling for home court advantage now fighting to qualify, he replied: "Pasqual had told me that the biggest secret is not losing three or four games in a row. That's exactly what had happened to us and that's exactly what happened to Olympiacos. At some point, they were in a very good place. If you can't use 100% of your roster, it's very hard to make it in this Euroleague. It's a really tough competition. That's what happened to us. I was very happy that the team started playing good around December. Our players began understanding the system and then we lost a lot of players and things became difficult. You lose your confidence with all of that, it's only logical. So, it's important not to lose three games in a row. If you win three in a row, you come back easily".
Finally, when asked to explain the seven victories Zalgirishas had in a total of eight games against Olympiacos, under his leadership, he commented: "Each game is a different story. There are not theories. Each time we try to play the game we can play, I can't explain that".