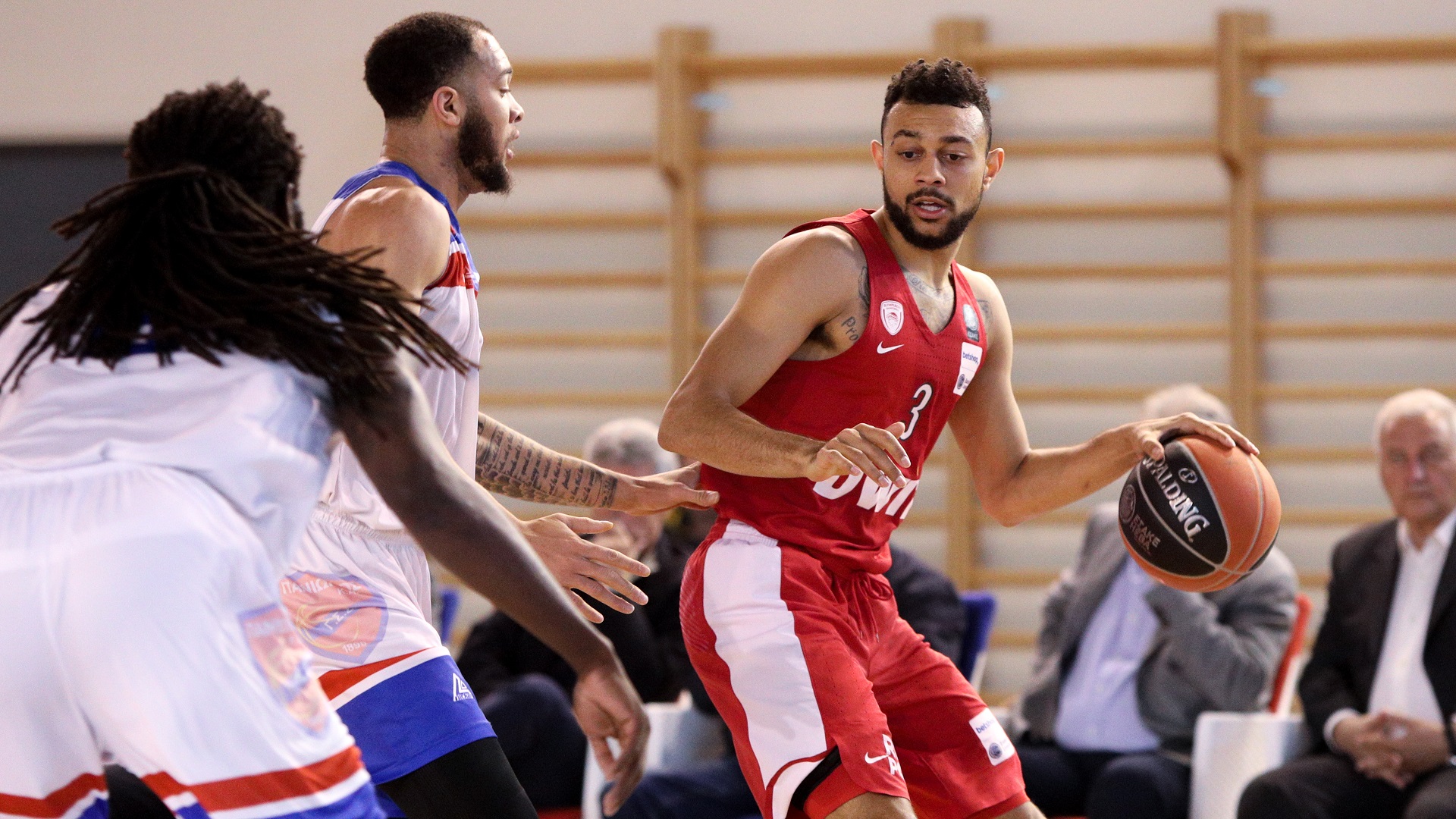 Did his duty
Olympiacos 'crashed' Panionios on the road 101-65, for the 20th day of the Betshop Basket League. The highlights of the game include the debut of the juniors Thomas Zevgaras and Iosif Koloveros with the professional division, who also succeeded in scoring their first "professional" points.
The 'reds' tried to impose the tempo and led in offense by Nikola Milutinov and Briante Weber, got to lead by 6p. (7-13 at 6'). However, due to bad percentages and gaps in the defense, they saw the score closing in to 17-20 at the end of the first quarter, and Panionios taking the lead 21-20 immediately after that. David Blatt's players reacted on the spot. They put more pressure in the defense, run the fast break, found solutions from the perimeter (mainly with Williams-Goss) and took the difference to +12 (31-43 at 18'). At the same time, the saw to maintain the distance at two digits up to the end of the first half (37-47).
Olympiacos made a stronger start in the second half… Using a good defensive game and good perimeter shooting, the team succeeded in leading by 26 (41-67 at 30') and give a prematurely procedural character to the game. David Blatt, having obviously the game against Zalgiris in the back of his mind, saw to maintain strength for his team. Despite that, the 'reds' denied to step on the brakes and sky-rocketed the difference to +41 (47-88, at 35). With the game being decided very early on, the coach threw in the game the juniors Thomas Zevgaras and Iosif Koloveros, who got to score under apotheosis from their team mates!
* The injured Vassilis Spanoulis, Janis Strelnieks and Dimitris Agravanis did not participate the 12 men rotation.
The quarters: 19-20, 37-47, 41-67, 65-101.
Panionios (Fragkias): Papantoniou 5 (1), Berry 7, Harris 7 (1), Austin 13 (1), Hamilton 5, Kamarianos 4, Diplaros 2, Dorsey 3, Kamperidis 7 (1), Dimitrakopoulos 8 (1), Chougaz 2, Mackey 2.
Οlympiacos (Blatt): Koloveros 2, Weber 19 (3 3p., 7 reb., 5 as, 4 st.), Williams-Goss 20 (4 3p., 5 as.), Τoupane 4, Μilutinov 11 (8 reb), Vezenkov 10 (1 3p., 6 reb.), Printezis 7, Papanikolaou 3(1), Bogris, Mantzaris 12 (4 3p., 4 as), LeDay 11 (1), Ζevgaras 2.
"I back the team 1000 per cent"
The Olympiacos' coach, David Blatt, stated: "Last week had been a challenge for us, both mentally and physically. We returned home after such a terrible game and we only had one practice. That's not easy. We are not happy about the way we played against Gran Canaria, however, we got to respond today. Things are never that good or that bad, as they seem to be. This is a life lesson. We need to keep in our minds and our hearts positive thoughts about the Friday game. Olympiacos is a traditionally proud time and one with character and we need to show both this attributes this week".
On whether he could have imagined in December that two rounds before the end of the Euroleague regular season, Olympiacos would not be holding his fate in his hands, he replied: "Obviously, when we had a 12-7 score in December, things looked different. But I'm not one to read the future. I'm no Pythia… I look at the day ahead and try to do the best I can. I have learned in this business that this is the one thing you need to have your players understand, on both good and bad days. You have to rise up to the next day challenge. This is what we have continuously been doing, so it's not necessary to offer motivation for the next game. Players should always be ready and motivated in view of the next day. If you turn this into a habit, then you are in a good place. And this is one of the advantages you have when you coach a team like Olympiacos. The players have been together for a long time and they have built on that habit".
Asked whether the team has been impacted from non-competitive factors, he replied: "I think a time comes when, if you want to solve a problem, you need to come to ground zero. There are things here that need to change, that a solution needs to be found… Continuing on the same path is not the right thing to do. Someone is going to get hurt, someone is going to be paying the price, but finally, that's what is going to be bringing change. I understand that very well. I'm part of this team and I back what's been going on, not 100% but 1000%. I know well that things are not right. They need to change. And I'm not one to put my head in the sand and wait for others to change them. If you are asking me, if I'm bothered by all this, the answer is yes. If I get what's been going on, the answer is still yes. If I'm a part of all this? Yes. I've chosen to be".
On whether the performance against Panionios is going to help his players in view of a difficult continuum, he replied: "This performance will definitely help. We played a good game against Bayern also, last Tuesday. We need to play at least as well in the next game to win. Our players came through following the difficult game on Thursday… You have an obligation to react following such a bad performance".
Finally, when asked to make a comment on the perimeter and its good defense against Panionios, he said: "I'll tell my players to shoot as good as today! We moved the ball well and shot well. We played excellent defense against Bayern and did the same today. We weren't good on Thursday and there are many reasons for that, however, it's not the time to discuss about it".