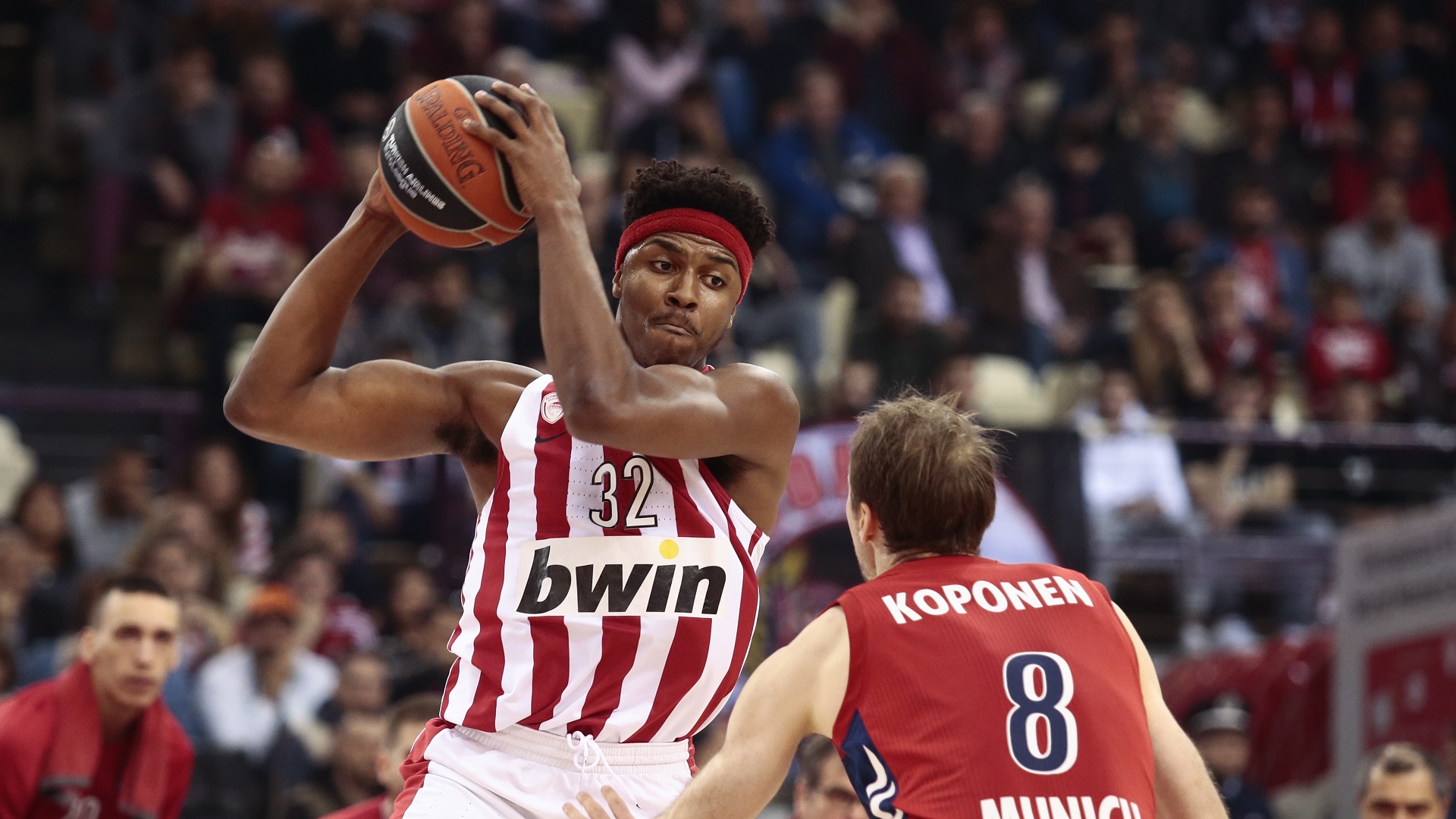 «Demolished" Baynern and flies out to Gran Canaria!
Olympiacos "crashed" Bayern at the SEF (89-69), got two precious ranking points and now solely focuses on the Thursday road game against Gran Canarai (21/03, 21.30 CET).
The highlights of the game include the Euroleague debut of the 17year old Aleksej Pokusevski. He was on the floor for 51.7'' towards the end of the game (substituting for Zack LeDay) and scored 1 point (1 out of 2 free throws with the clock having expired).
Relying on excellent defense (and despite five turnovers in the first quarter), our team completely controlled the tempo and led by Nikola Milutinov and Giorgos Printezis when attacking, got to build a +12 difference (14-2 at 6'), closing the first quarter at +10 (20-10). With two back to back threes, the Germans closed in at 4p. (20-16, at 11'), however, the 'reds' weren't taken by surprise… They put pressure in the defense, moved the ball correctly, completely dominated rebounding (they grabbed 24 boards in the first half for 10 of the Germans), relied on LeDay, Milutinov and Weber to lead the offense and closed the first half at +19 (50-31).
Briante Weber got to up the margin from behind the 6.75m., (22p., 53-31 at 21'), but Bayern 'struck' from the same position and closed in at 13 (57-44 at 24'). But once again the reaction of David Blatt's players was immediate… The answered with a partial 14-0 and skyrocketed the difference to +27 (71-44 at 29'). In the fourth quarter, the Olympiacos' coach tried to maintain strength for his players and the tempo slowed done (77-62 at 36'). But that was that. With good defense and Vangelis Mantzaris offering solutions from the perimeter, Olympiacos once again furthered the distance and got the victory.
*during the game, Nigel Williams-Goss was injured his eyebrow, but he will be traveling to the Canary Islands.
The quarters: 20-10, 50-31, 72-48, 89-69.
Οlympiacos (Blatt): Weber 12 (2 3p, 8reb, 4as), Williams-Goss 6, Τoupane 3 (1), Μilutinov 20, Vezenkov, Printezis 11, Papanikolaou 5 (1 3p, 10reb, 6as), Μantzaris 8 (2 3p, 4reb), Pokusevski 1, Bogris, LeDay 23.
Bayern Munich (Ράντονιτς): Dangubic 2, Hobbs, Koponen 15 (5), Radosevic 2, Lucic 6, Lo 2, Dedovic 10 (2), Amaize 6 (2), Jovic 1, Barthel 7, Williams 5, Booker 13 (1).
THE QUOTES
DAVID BLATT: «I believe that our players did an excellent job facing up to the challenge. They understood the importance of the moment and despite all the problems we had been facing, they rose up to face the situation mentally and physically. We had very good ball movement for big parts in the game and played exceptional defense for almost all the game. I think we deserved to win and we have to acknowledge that Bayern is a good team. We have a long trip ahead of us, we need to travel, we need to rest and be ready for Thursday", the head coach of the team said and continued commented on the big players' scoring. "It was part of the plan to attack with our big guys. I believe we tried to move the ball, to have good distancing and find penetrations or pass close to the basket. That was a good thing. What we didn't like were our 15 turnovers, but they were due to our playing faster. However, we play better when we play faster».
As to whether he had expected such a reaction from his team, the 'reds' coach explained that: "I had hoped for that and I believed they could and would do it. And they did. You can have problems, but of your locker rooms are strong you can find a way to cope, just like we did tonight. These guys boos one another".
In regard to the possible opponent for the playoffs, the Olympiacos' coach was clear: "Let's not run ahead of ourselves. We have in no case secured the playoffs. We have a long way to go. We played without Spanoulis, without Strelnieks, today we played for a long time without Goss. We have a lot of ground to cover".
DEJAN RADONIC: "Congratulations to Olympiacos for the victory. We played very bad defense in the first half, both in the perimeter and in the post, in any situation. The game was practically decided at the first half. Olympiacos has had control in the second half as well. It's hard to play when the opponent has 44 rebounds against 23 of your own. Again, congratulations to Olympiacos. We need to move on and I hope we play better against Barcelona in two days".
ΖACK LEDAY: «The key factor had been speed. We want to play faster and run. That's why this team has been built. That's what we want to be doing next. I personally, simply wanted to help my team».
VANGELIS MANTZARIS: "We had been focused and determined from the start. We had definitely wanted to win for competition and psychological reasons. We played very well for 35 minutes, if not for 40, and that's why we won rather easily against a very good team. We have done ourselves wrong in the past month and a half. From fighting to be among the top four teams, we are now trying to make the playoffs. We don't deserve this. We hold our fate in our own hands now and we need to react to finish in as high a seed as possible".
ALEKSEJ POKUSEVSKI: "Papanikolaou pushed for me to play. He told the coach to use me. First of all, I wish to thank all those who came to watch the game, and the coach for putting me in it. I felt good and the coach gave the chance to play free. It was very good. There are going to be more games when the shots are going to go in. I will be remembering this point. I want to be taking the right steps and making the final 12 men roster for Olympiacos. I want to help the team. I'm 2.12m without shoes and 2.15 in shoes. I want to be playing the 2 and 3 positions. I feel very well there and coach Blatt uses me in these positions as well. I'm happy. I want to be playing for the NBA at some point. I want to show what I know and help the team, Olympiacos is a great team".