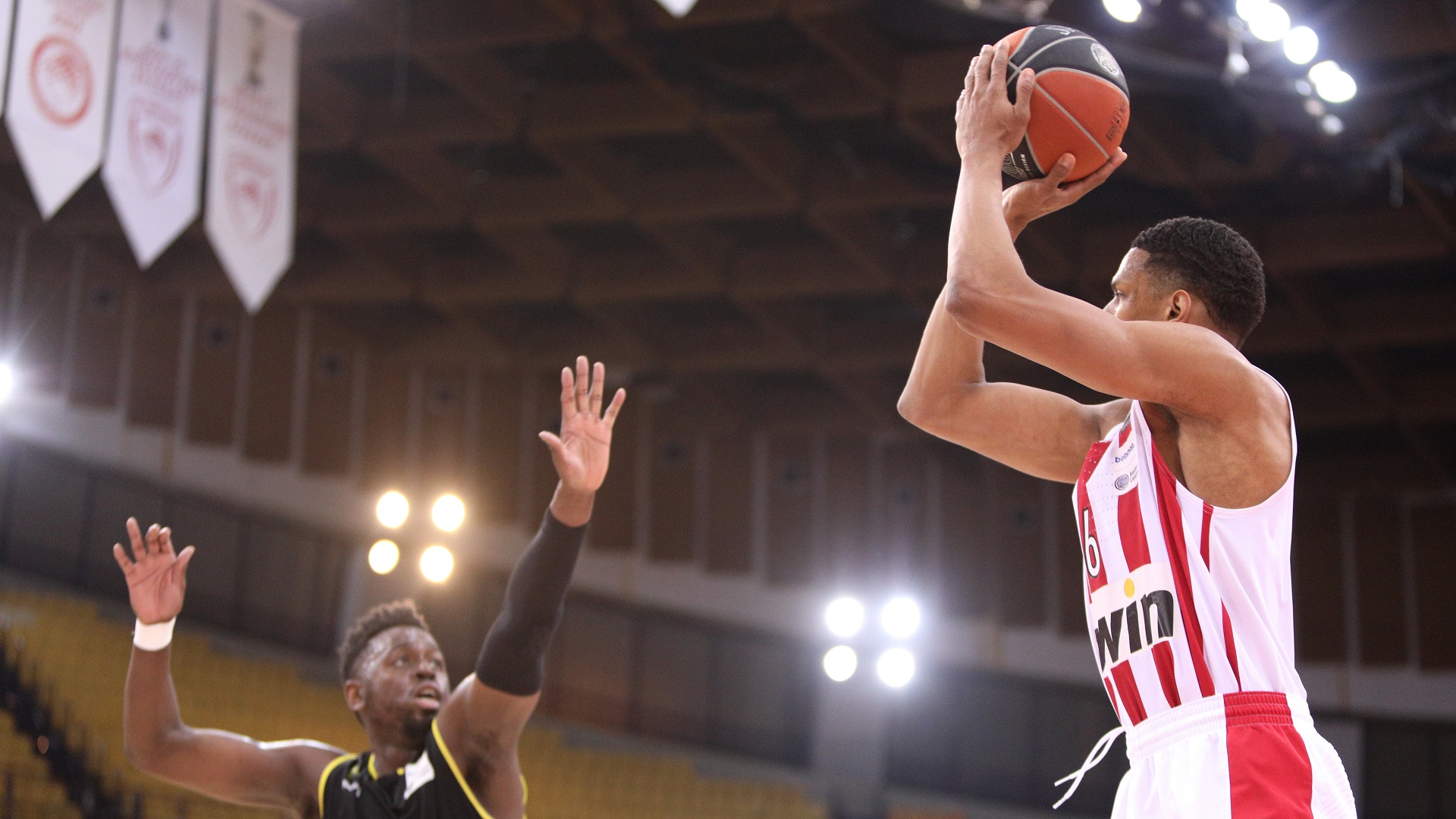 A win against Aris and off to Montenegro (vid)
Olympiacos bested Aris at the SEF 76-67 for the 17th day of the Betshop Basket League and now focuses on the road game against Buducnost.
Aris took the lead with 7-2, but the 'reds' immediately turned the situation in their favor. Good defense, good perimeter percentages and a 13-0 streak, gave them the lead with 15-7. Olympiacos got to lead by +10 (19-9), but the guests succeeded in closing in to 4p., by exploiting on the bad offensive choices of the hosts (23-19, at 11'). However, once again the reflexes of Blatt's players were excellent. Through their good defensive game, they run the fast break and increased the difference margin to +12 (33-21 at 13'). However, the situation repeated itself later in the game… Aris once again took advantage of our team's gaps in its defense and closed in at 3 (33-30, at 16'), however with Briante Weber being an excellent facilitator (7 assists in the first half) and Sasha Vezenkov and Axel Toupane leading the offense, Olympiacos closed the first half leading by 12 (48-36).
The 'reds' not only maintained complete control in the 3rd quarter, but led by Dimitris Agravanis, they got to increase the distance even further (+16, 65-49 at 30'). However, they once again and with no reason whatsoever, got to step on the breaks… In just 1:22'' Aris run a partial 6-0 and closed in at 10p. (65-55), forcing David Blatt to call immediately for a time out. However, not even that helped Olympiacos to get into rhythm upon returning on the floor… Missed threes, poor choices and defensive lapses allowed Aris to come as close as to 4 points (69-65 at 37'). Finally, it was defense that gave the solution… In the remaining time, David Blatt's players received only two points and without being substantially threatened finished the game with a victory (76-67).
* Janis Timma did not play due to a personal matter.
The quarters: 21-16, 48-36, 65-49, 76-67.
Οlympiacos (Blatt): Vezenkov 9 (1), Μilutinov 6 (9 rebounds), Papanikolaou 7 (1), Williams-Goss 9 (1), Weber 8 (8 reb, 13 assist), Printezis 7, Agravanis 7 (1), Spanoulis, Mantzaris 3 (1), Τoupane 17 (2), LeDay 3.
Aris (Kastritis): Flionis 4, Bochoridis 13 (1), McGee 3, Bell 9 (1), Harris, Slaftsakis 5 (1), Τoliopoulos 7 (1), Christidis 2, Jones 6, Dallo 10, Kyser 8.
«We are looking forward to the game against Buducnost»
Olympiacos coach, David Blatt, commented: "It's never easy for Euroleague teams to be playing in such a short time following tough European games, in National League ones. We came out with good energy and a correct approach to the game and played very well in the first part. Aris has improved a lot in recent months. In my opinion, they are a playoffs team. If we take out the turnovers, it was a good game for us in general in order to get back to winning. We are looking forward to the big game against Buducnost on Friday. Spanoulis has had a small problem with his leg and that's the reason he played just for a few minutes. Also Timma was coping with a personal issue and he could not be with us tonight, but he will be returning soon. It was good to see Agravanis play and play well".
About Briante Weber's performance, he said: "He almost had a triple double tonight. This is very positive. I had said the same thing after his first games, he's going to be getting better game after game. He is what we wanted and needed. It wasn't easy tonight, without Spanoulis, Timma and Strelnieks. So it's good we had Weber. There's not doubt about it. He really did a good job".