Maccabi fell too in a sold-out SEF!
Olympiacos bested Maccabi Tel Aviv in a sold out SEF 95-89 and remained at the top of the ranking ladder.
It's worth noting that our team was deprived of Kostas Sloukas' service, who hurt his lower back at 17' and was unable to continue.
The 'red & whites' made a terribly sluggish beginning in the game. Due to their bad decision making in the offence, their bad percentages from the free throw line, combined with Maccabi's good shooting percentages, they found themselves trailing by 11 (10-21) at 6'. It was somewhere there that Bartzokas' players decided to react. Tarik Black did an excellent job under the rim, Sasha Vezenkov was scoring at will and the difference shrank to one point (24-25) at 10'. A poor scoring three minutes' period for both team followed (28-27), up until Shaquielle McKissic decided to take over. With him as the absolute protagonist and a seminar worthy defensive game, our team set the tempo and built a +15 lead (51-36, at 20').
Olympiacos maintained absolute control up until 27' (69-55). However, the Israelis were passing the ball into the post, forced Black and Fall into their third fouls and Sorkin running point in the offence, the closed in initially at 7p. (71-64) at 30' and then at 4p. (73-69) at 33'. The 'red & whites' though had an immediate reaction this time as well. They put pressure in defense, 'struck' from the perimeter with Peters and Larentzakis and increased their lead to 15p. (89-74) at 38'. With three back to back - and unanswered for – threes (two by Adams and one by Baldwin), Maccabi closed in to 6p. (89-83), but Thomas Walkup gave our team a real safety net with a three (92-83) with 48.2'' for the buzzer. With one of two free throws Black made the score 93-83, a three by Colson (93-86, 17.9'' before the end) gave some hope to the guests, but Larentzakis made both of his free throws and sealed the victory (95-86). The final 95-89 was written by Adams from the free throw line.
The quarters: 24-25, 51-36, 71-64, 95-89.
OLYMPIACOS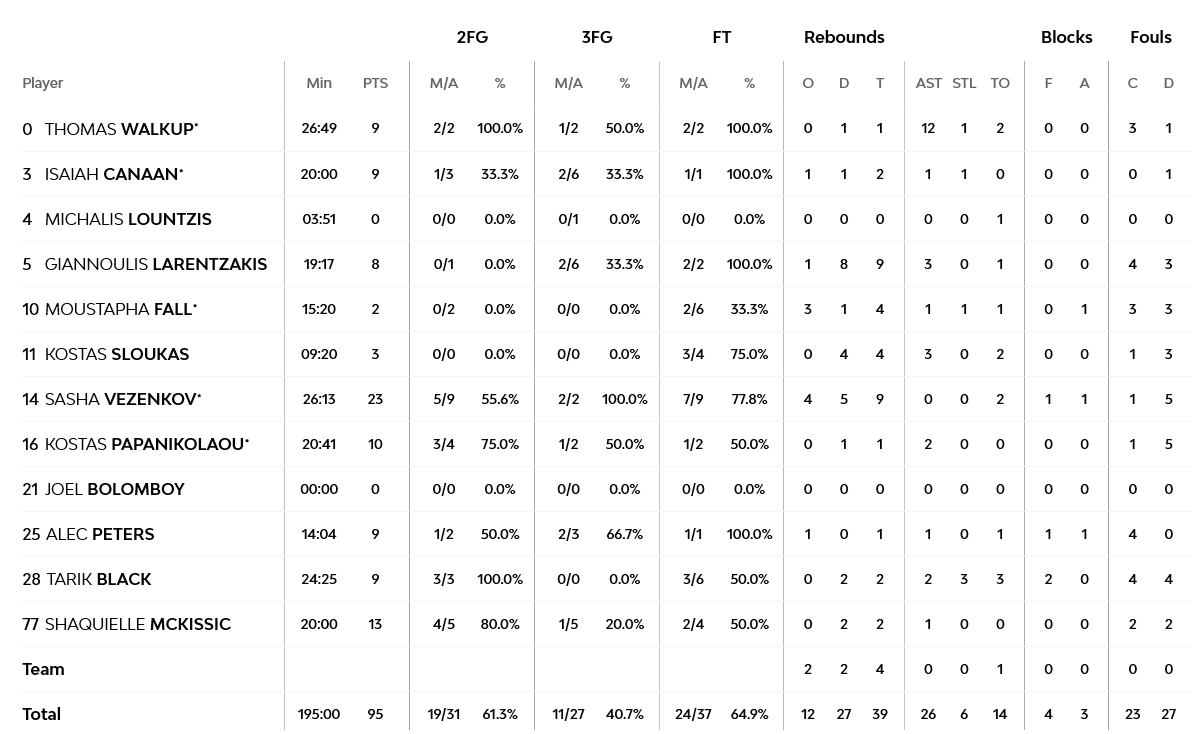 MACCABI TEL AVIV