A big win in Bologna!
With the support of 300 of their fans, without Kostas Sloukas and with Sasha Vezenkov active despite the flue that has been burdening him, Olympiacos bested Virtus in Bologna 85-83!
The 'red & whites' tried to set the tempo through their pressing defense and they succeeded in doing so… With Walkup and Papanikolaou spearheading the offense, they got to 'build' a +8 lead (17-9) at 6', but they failed to maintain it. Virtus struck from the perimeter and with Milos Teodosic taking the lead, they tied the game 22-22 at 10'.
At the beginning of the 2nd quarter, our team found solutions from the perimeter (26-30) at 14', however, they suffered an offensive 'black out', were left scoreless for three minutes and saw the hosts taking the lead for the first time at 17' (33-30). However, Bartzokas' players had a timely reaction. They upped the energy of their defensive game, Vezenkov, Larentzakis and McKissic took over leading the offense and closed the first half at +4 (38-42).
The Italians ran a partial 5-0 which gave them a one point lead (43-42), but Olympiacos did a restart at that point. Fall put pressure high in defense, that had an exemplary operation in total, Vezenkov and Papanikolaou opened fire from the three point line and the difference got to +12 (51-63) at 29'. But they still weren't able to keep their distance… The hosts passed the ball into the post at first, Teodosic took action and they turned the tables at 37' (73-71). Vezenkov, McKissic and Papanikolaou were the ones to get our team 'unstuck' offense wise, building a +5 lead (80-85) 27'' before the final buzzer.
Nevertheless, the end was a thriller… Weems scored a bucket and got a foul making the score 83-85 (17'' for the end), Larentzakis missed both his free throws 10.9'' before the clock expired, while the win was practically sealed thanks to our defense, since the shot Virtus tried with Mickey to tie the game did not find target.
The quarters: 22-22, 38-42, 53-63, 83-85.
VIRTUS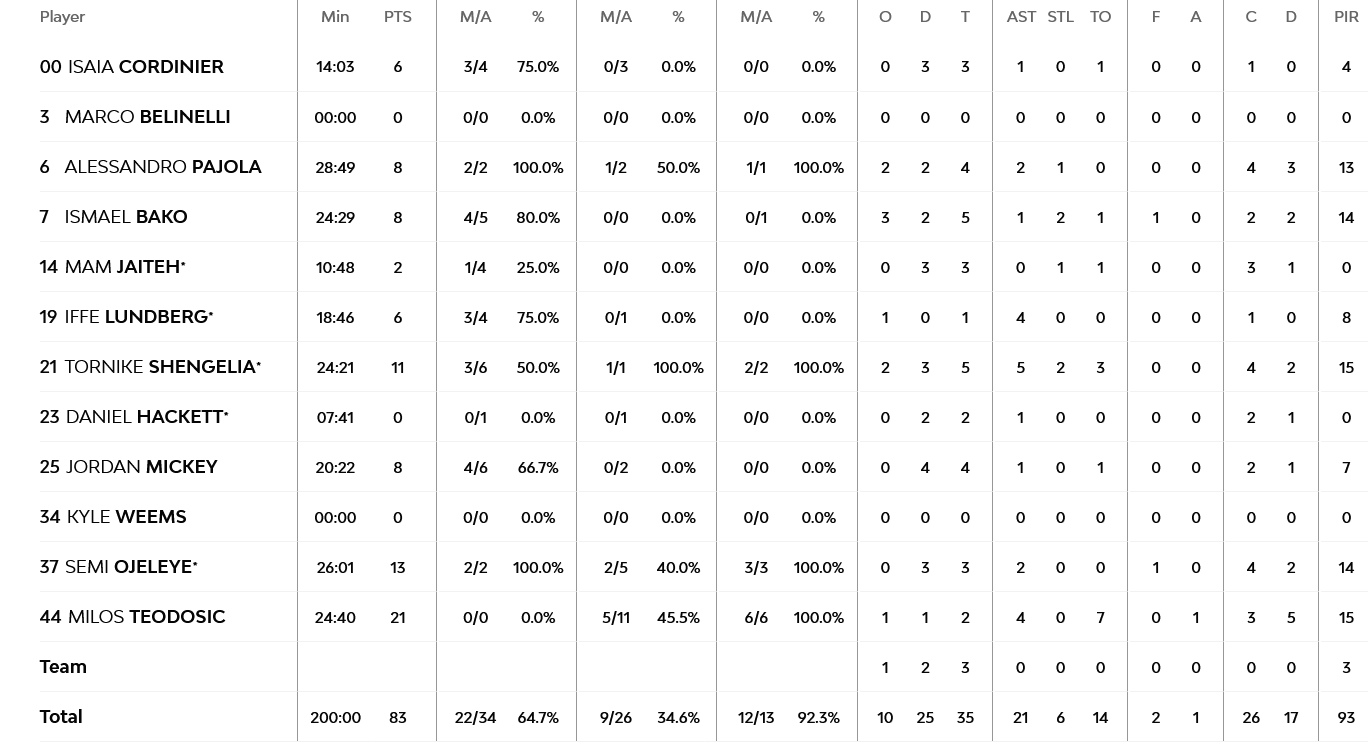 OLYMPIACOS