Lost in Monaco
Although Olympiacos played far from their usual standards, they fought the game against Monaco to the end, but to avail. They lost 64-60, for the 18th round of the Euroleague.
With excellent defense – especially by Walkup and Canaan on James and Okobo respectively – and with Papanikolaou and Fall spearheading the offence, Olympiacos got to set the tempo and closed the first quarter at +12 (8-20).
Relying on long range percentages by Sloukas and Peters, the 'red & whites' kept their distance up until 17' (32-34). However, in the three minutes that followed nothing worked for our team…
They missed too many free throws, had problems when attacking (a result of pressure by the Monegasques), the scoreless James of the first quarter found rhythm, the battle for the rebounds was lost and Monaco closed in to 3p. (31-34) at 20'.
Running a partial 6-0, Monaco got to lead for the first time at 12' (37-34). A three by Canaan tied the score for Olympiacos (39-39), however, the team continued shooting quite off target, resulting in the hosts leading by 8 (48-40) at 31'.
The 'red & whites' did a great job defense wise, but they did not do themselves justice with too many missed lay ups and missed open shots. Nevertheless, with Sloukas and Peters taking center stage, they succeeded in tying the score (53-53) at 37'.
With two back to back threes, Monaco once again upped the difference to 6p. (59-53) at 38', but Olympiacos replied in the same fashion. Peters and McKissic found target from the three point line and once again leveled the score (59-59) at 39'. With 41.7'' for the final buzzer, James made the score 61-59, Sloukas missed in a two-points attempt and then committed a foul that sent Diallo to the free throw line, where he made one of his two shots (62-59, 10.5'' before the end). 7.7'' before the clock ran out, Sloukas went to the free throw line, also making one for two free throws (62-60). The French team got the rebound, sealed the win and James got to dunk for the final 64-60.
The quarters: 8-20, 31-34, 46-42, 64-60.
MONACO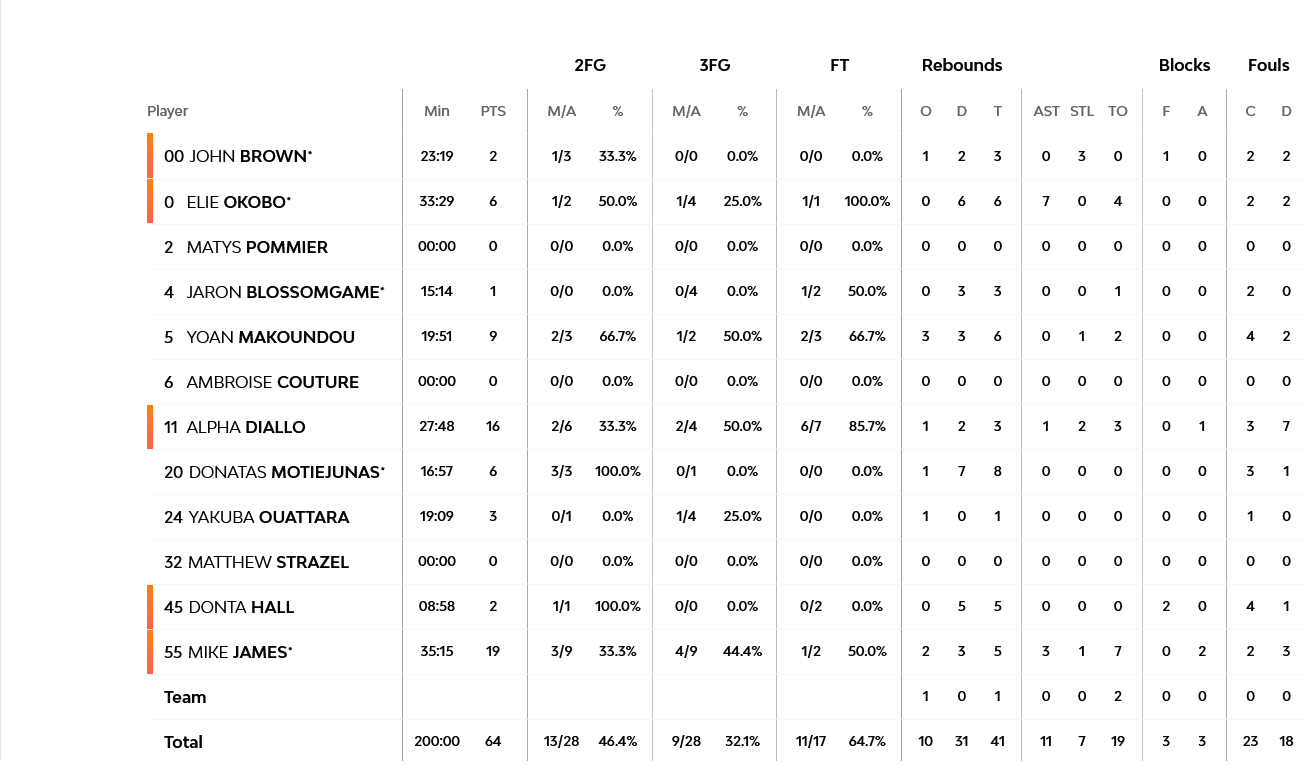 OLYMPIACOS