A comfortable win over Armani sets the tone for the New Year!
Olympiacos began 2023 the same way they wrapped up 2022: With a loud win! Giorgos Bartzokas' team beat - in a packed SEF – Armani Milano 82066, for the 17th round of the Euroleague.
With Alec Peters scoring at will (he had 13 points in the first quarter) and Kostas Papanikolaou doing an excellent job on both ends of the floor, the 'red & whites' imposed the tempo and closed the first quarter at +12 (27-15).
Olympiacos got to lead even by 15p. (32-17), but lapses in the defensive operation and quite a few turnovers (as opposed to the first quarter when Bartzokas' players committed none) allowed Armani' come back with a three-point game (41-38). Finally, with a three at the buzzer of the second quarter, Sasha Vezenkov made the score 44-38.
Up until 25' defenses were playing the main role, resulting in the hosts maintaining only a small lead (46-43). However, through defense, with Isaiah Canaan being the first player of the hosts to dominate it, Olympiacos managed to find rhythm, run the fast-break and with a partial 13-1 to once again built a +15 lead (59-44) at 30'.
And they didn't even stop there… With Thomas Walkup doing an excellent job in defense and with many different actors contributing in the offense, Olympiacos sent the difference sky-high to +22 (72-50 at 36') and a characteristically easy win.
The quarters: 27-15, 44-38, 59-44, 82-66.
OLYMPIACOS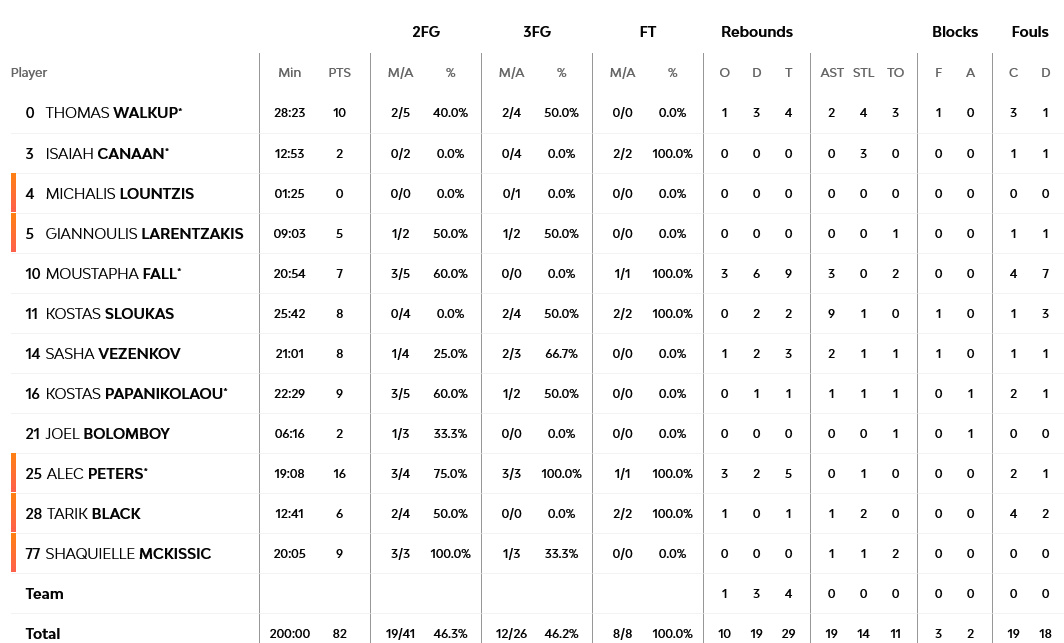 ARMANI