Huge win at the OAKA!
Olympiacos 'dismantled' Panathinaikos at the OAKA 95-71 and came back roaring to the path of winning European games!
With good defense and Moustapha Fall doing an excellent job on both ends of the floor (he had 11p. and 3 as. In the first quarter), the 'red & whites' imposed the tempo and got a +6 lead at 10' for the first time (20-26). However, that was only the beginning! Relying on consistently good defense and with Sloukas, McKissic and Bolomboy running the offense, Bartzokas' players turned the game into a one act play and send the difference skyrocketing at +11 (24-46 at 16'). Bacon fought to keep Panathinaikos alive, but our team was soundly maintaining control and closed the first half at +17 (36-53).
The 'greens' tried to close in striking from the perimeter with Williams and Bacon (45-59), but the 'red & whites' paid them back with their own currency. Isaiah Canaan and Thomas Walkup found target from the 6.75m. arc and increased the distance to 25p. (48-73 at 29'). And they didn't stop there … They continued putting excruciating pressure on the hosts and with Papanikolaou and Bolomboy taking the lead, they found themselves leading with 31 (50-81) at 32'. An inexcusable relaxation followed on both ends of the floor, that allowed Panathinaikos to close in with long range shots to 16p. (67-83 at 38'). But it was as far as it would go… The 'red & whites' reacted (67-91 at 39') putting a definite end to the game.
Our team played without Sasha Vezenkov (injury list).
The quarters: 20-26, 36-53, 50-73, 71-95.
PANATHINAIKOS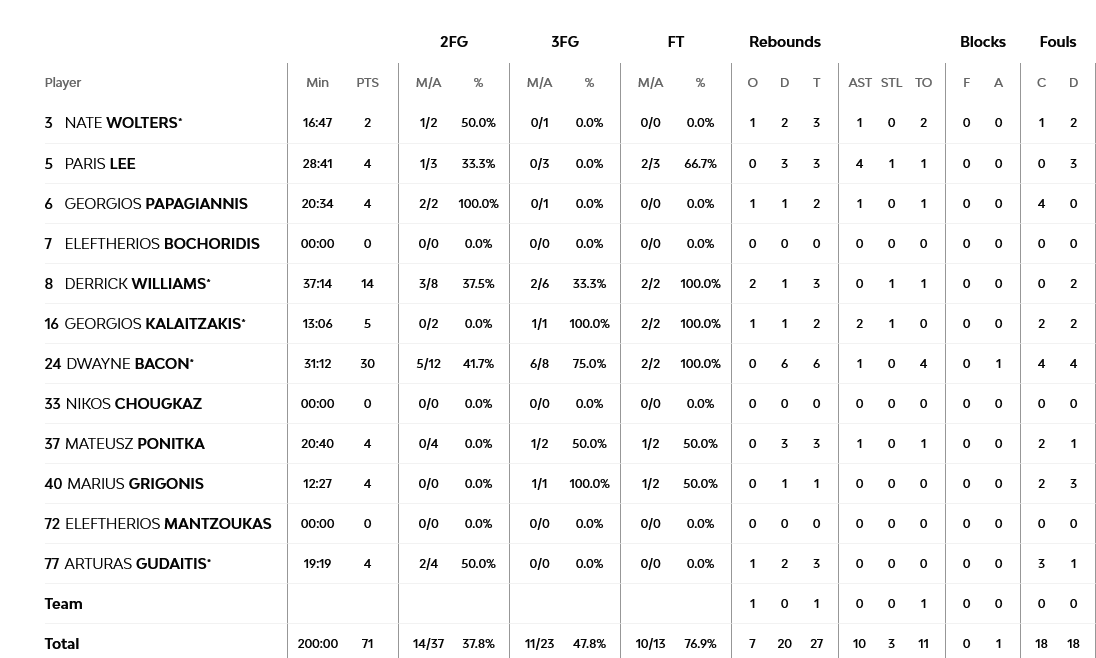 OLYMPIACOS