Lost to Crvena Zvezda at the SEF
Olympiacos was not able to get back to winning. The team lost at the SEF to Crvena Zvezda 86-90, for the 15th round of the Euroleague.
The dynamic beginning of our team (11-5 at 3') did not last… Bad defensive operation and poor decisions in the offense, allowed the guest to run – with Nedovic leading the way – a partial 16-4 and get a +6 lead (15-21 at 8'). Olympiacos got to close the first quarter in the lead mainly thanks to Vezenkov (22-21), while playing some good defense and with Sloukas and McKissic showing the way in the offense, the 'red & whites' got a +12 difference (42-30 at 17'). However, they were once again not able to hold on to it… Mitrovic and Petrusev 'punished' our team's subpar defense and closed in to 3p. (44-41). The score that marked the end of the first half, 45-41, came after Kostas Sloukas made one of his two free throws.
The presence of Moustapha Fall (who had been suffering from a virus the past few days) was not sufficient to change the status quo. The 'red & whites' got ahead with two threes by Papanikolaou (59-51 at 26'), but Crvena Zvezda all but abandoned the fight… They took advantage of the terrible performance by our team on both ends of the floor, 'struck' from the perimeter and with a partial 25-6 streak they got a +11 lead (65-76 at 34'). Bartzokas' players fought hard for the come back and came really close in the last 48'', when Black made both his free throws making a 2p. game for his team (84-86). Olympiacos has had the chance to get ahead, however, Sloukas' three pointer did not land. Vildoza made the score 84-88 with 2/2 free throws (5.1'' before the final buzzer), Kostas Sloukas made the 86-88 with a two-pointer (2.5'' to go) and it was Vildoza once again who wrote the final 86-90 with 2/2 free throws.
The quarters: 22-21, 45-41, 62-65, 86-90.
OLYMPIACOS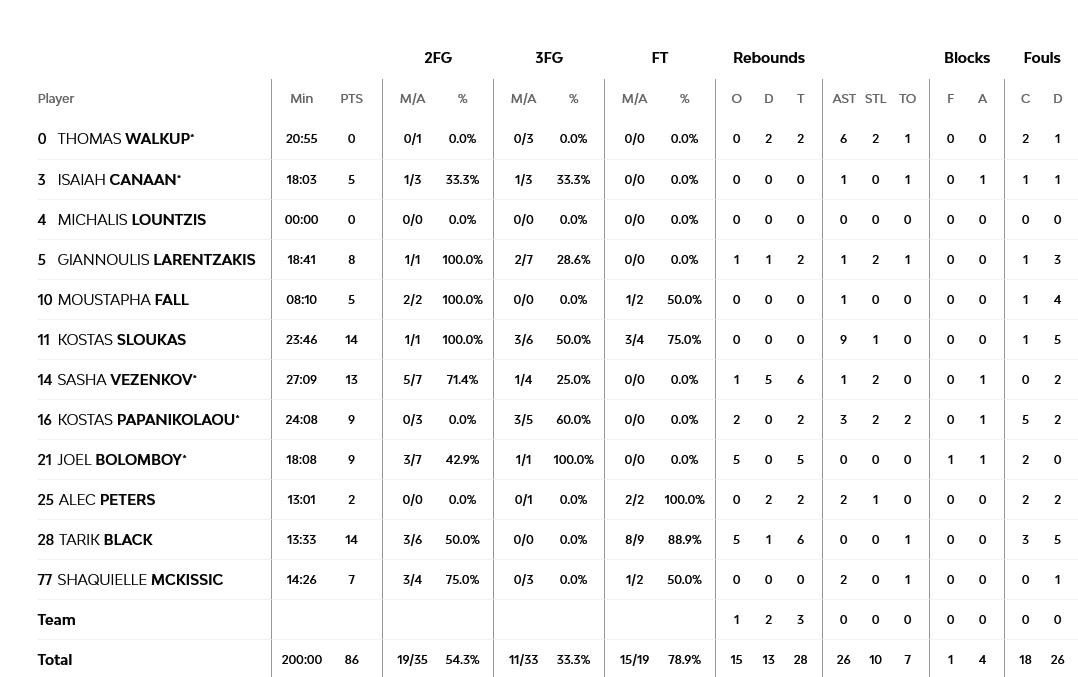 RED STAR