Lost their own game in France
Olympiacos, even though led by 21 at the 23rd minute, did not manage to win at Lyon. The team lost to Villeurbanne, 77-75, in the 14th Euroleague fixture.
With good defense, excellent ball movement (proof of which were the 10 assists in the first quarter) and perimeter shooting, the "red and whites" built a 13-point lead (11-24, 7'), based on the output of Vezenkov and Canaan. The team did not stop there. Through stifling defense and with Bolomboy dominating in the paint, our team pushed the lead to 20 (22-42, 17'). Villeurbanne went on a 6-0 run to trim the lead to 14 (28-42, 19'), however, Giorgos Bartzokas' players maintained control and finished the first half up 16 (31-47).
Papanikolaou and Canaan took the lead up to 21 (33-54), 23 minutes in, however, Villeurbanne pressed on defense, found the target from the permitter and got on a 11-0 run to trim the margin to 10 (44-54) 26 minutes in. Our team continued to face issues on offense, however managed to sustain the lead (50-61) after the third quarter. The Frenchmen, however, did not give up on the battle. They forced consecutive turnovers out of Olympiacos, continued to be on point from the perimeter and got within a point (60-61) at the 32nd minute. From that point and on the game was close, with Olympiacos essentially losing the win through their own mistakes.
De Colo helped give Villeurbanne the lead for the first time with 1:37 to go. Larentzakis made a layup with 27.3" left to make the score 74-75, while Noua made a three with only 0.4" to go, to make the final score 77-75. In the remaining time, Giorgos Bartzokas took a time out, however, Walkup committed a turnover when putting the ball back in play, eliminating any remaining hope for Olympiacos.
The quarters: 18-28, 31-47, 50-61, 77-75.
Villeurbanne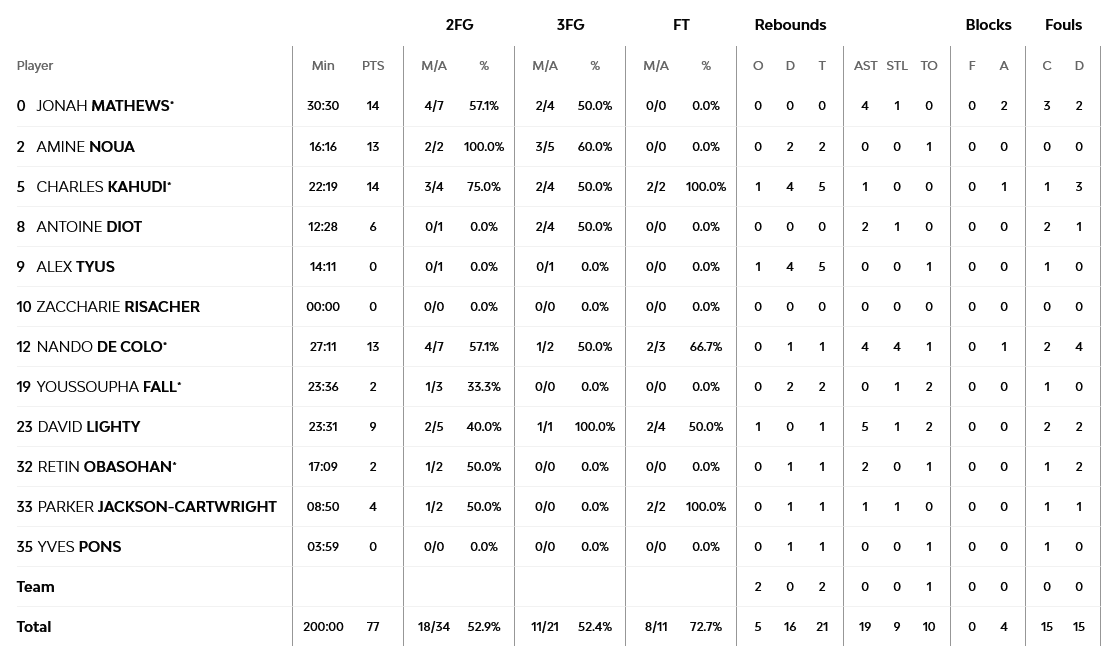 Olympiacos