Team takes down leaders Fener as well!
Olympiacos "crushed" Euroleague leaders, Fenerbahce, at the Peace and Friendship Stadium, 94-67, in the season's 13th fixture, getting their 9th win in Europe.
The "red and whites" started off incredibly! Tremendous defense and excellent efficiency helped our team get a 12-0 lead, 4 minutes in, while the offensive output of the Vezenkov-Canaan-Fall trio helped push the lead up to 20 points at the end of the first quarter (31-11). Giorgos Bartzokas "shuffled his deck", yet any player he threw on the court proved him right! Olympiacos continued to play excellent defense and this time managed to get a 29-point lead (50-21) at the 16th minute, with great offensive stretches by Peters and Larentzakis. Fenerbahce tried to trim the lead (50-29), however, our team responded by going on a 8-2 run and went into the half with a 27-point lead (58-31).
In the second half, the "red and whites" needed about four minutes to regain their success at the hoop. However, due to their good defense, they did not pay a big price for their offensive dry-spell, as Fener did not manage to take the lead below 21 points (58-37). Fall and Walkup took the lead back up to 27 (66-39), however, the Turkish team took advantage of the "red and whites'" turnovers, "struck" again from the permitter and trimmed the lead to 19 (70-51, 29'). It was Kostas Loukas turn to then take action and restore order (79-51, 32'). Although the game had been decided early and the "red and whites" maintained their powers -ahead of the game against Villeurbanne (15/12)- they did not slow down, taking the lead up to 31 points (89-58, 37') and getting the win with tremendous ease.
The quarters: 31-11, 58-31, 74-51, 94-67.
OLYMPIACOS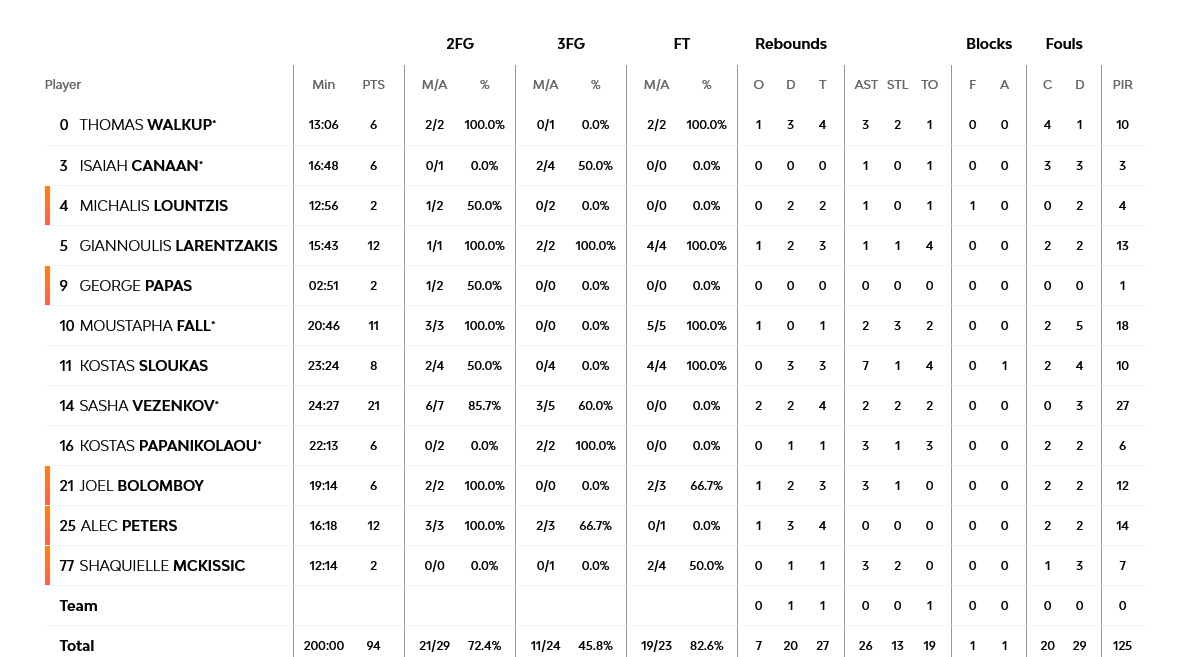 FENERBAHCE