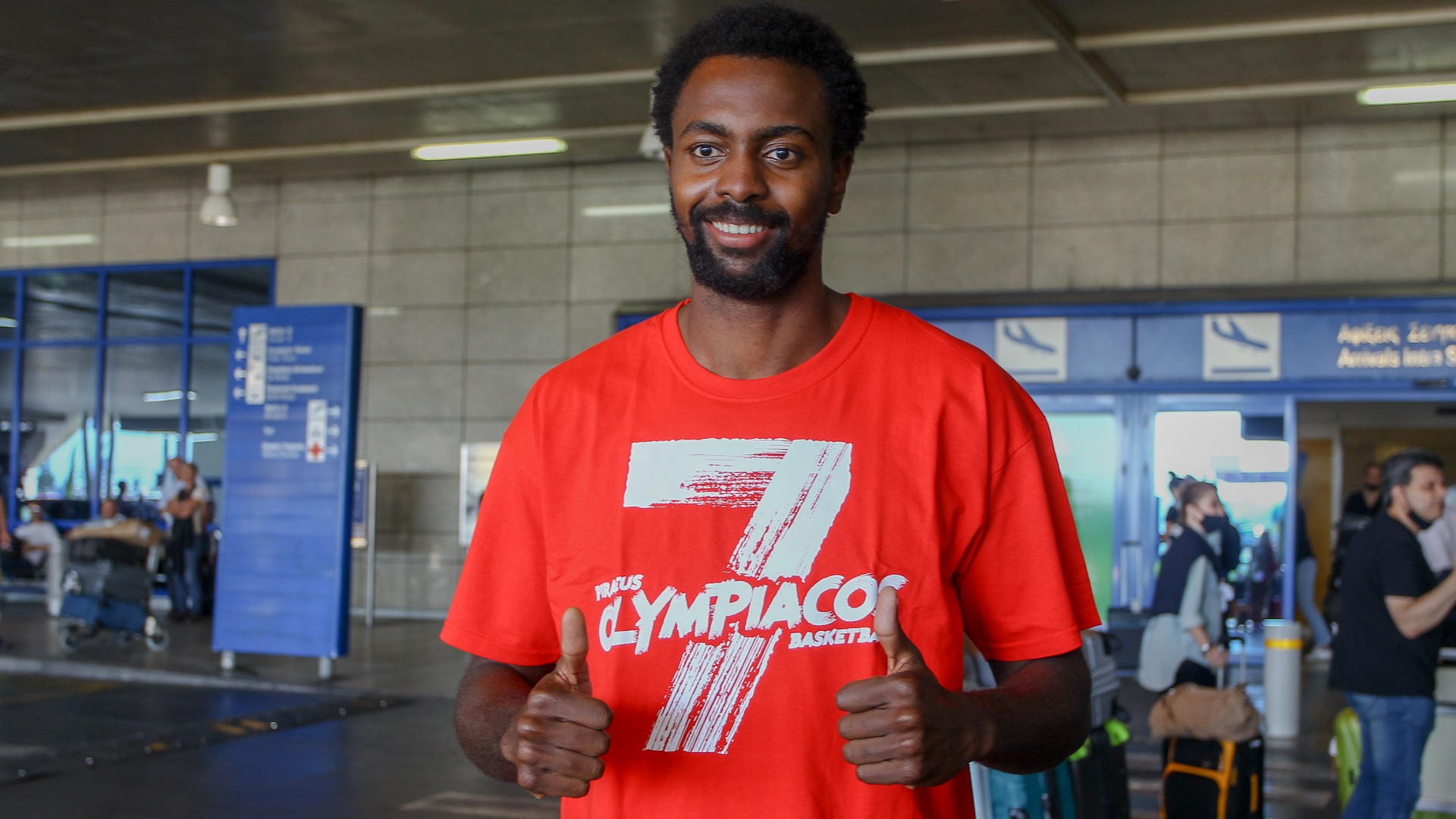 Jean-Charles: «I feel devotion!» (pics)
Excited as well as very well informed on history lessons, the new Olympiacos' signing, Livio Jean-Charles arrived in Greece Thursday afternoon (July 2).
"My initial feeling has to do with the fans! I got to see a lot of Olympiacos' fans on the plane that would ask me if I'm a new player for the team. We also got photos together. I certainly feel the devotion!", the French forward/center said, who had already gotten recommendations about the Piraeus team from former team mates that had already worn the 'reds' jersey in the past. "I haven't had the chance to talk to the coach, however, I have friends that have played for Olympiacos. Axel Toupane and Kim Tillie have played for the team and they both told me that it had been a great experience for them".
Asked whether he would have imagined being signed by Olympiacos, he replied: "I couldn't have. Olympiacos is a huge club, with a lot of history. They have been the European Champions three times in the past! So, no… I hadn't fathomed that".
When the reds were winning the "back to back" European Championship, Livio Jean-Charles had been about 17 or 18 years of age. However, said finals are burnt in his memory! "Everyone has watched the game when Printezis 'killed' CSKA at the buzzer. It was kind of weird because that's when I started getting acquainted with professional basketball and the Euroleague and I would be watching Olympiacos. Same thing next season with the threes by Spanoulis against Real Madrid. It was crazy! But it's Spanoulis! We all know very well what he can do and what he does. Nevertheless, it was crazy! I remember the whole team at my school was watching the game together and we were saying "He's going to take this shot too". And he would make it! So at some point I said: "OK, just give him the trophy!"
He then talked about having met Nikola Milutinov and being convinced about the excellent operations of Olympiacos as an organization. "San Antonio is one of the top organizations I have known in my career. From the GM to the last team employee, everyone would see towards the best outcome. If Olympiacos is the same, it's going to be insane! Truth is I got to know Milutinov at the Spurs and he would always tell me how much he's being taken care of while with Olympiacos. When we met, he has had some problems with his knee, however, he was calm because he knew that the people of Olympiacos would be doing what was the best for him".
Asked about what it is he would be offering to Olympiacos, he replied: "I feel a lot of pressure when I'm asked this question! So, what I can promise is that I'll be giving my 100% each time I'm on the floor. I feel there are too many people supporting us and I'm certain that they will be motivating us to playing great basketball. That's the greatest motivation for everyone who plays sports on a professional level. They want to be playing in this particular atmosphere and give everything they have to win. Olympiacos is a the perfect example for this!"
📸 https://www.facebook.com/pg/olympiacosbc/photos/?tab=album&album_id=10160276187678289