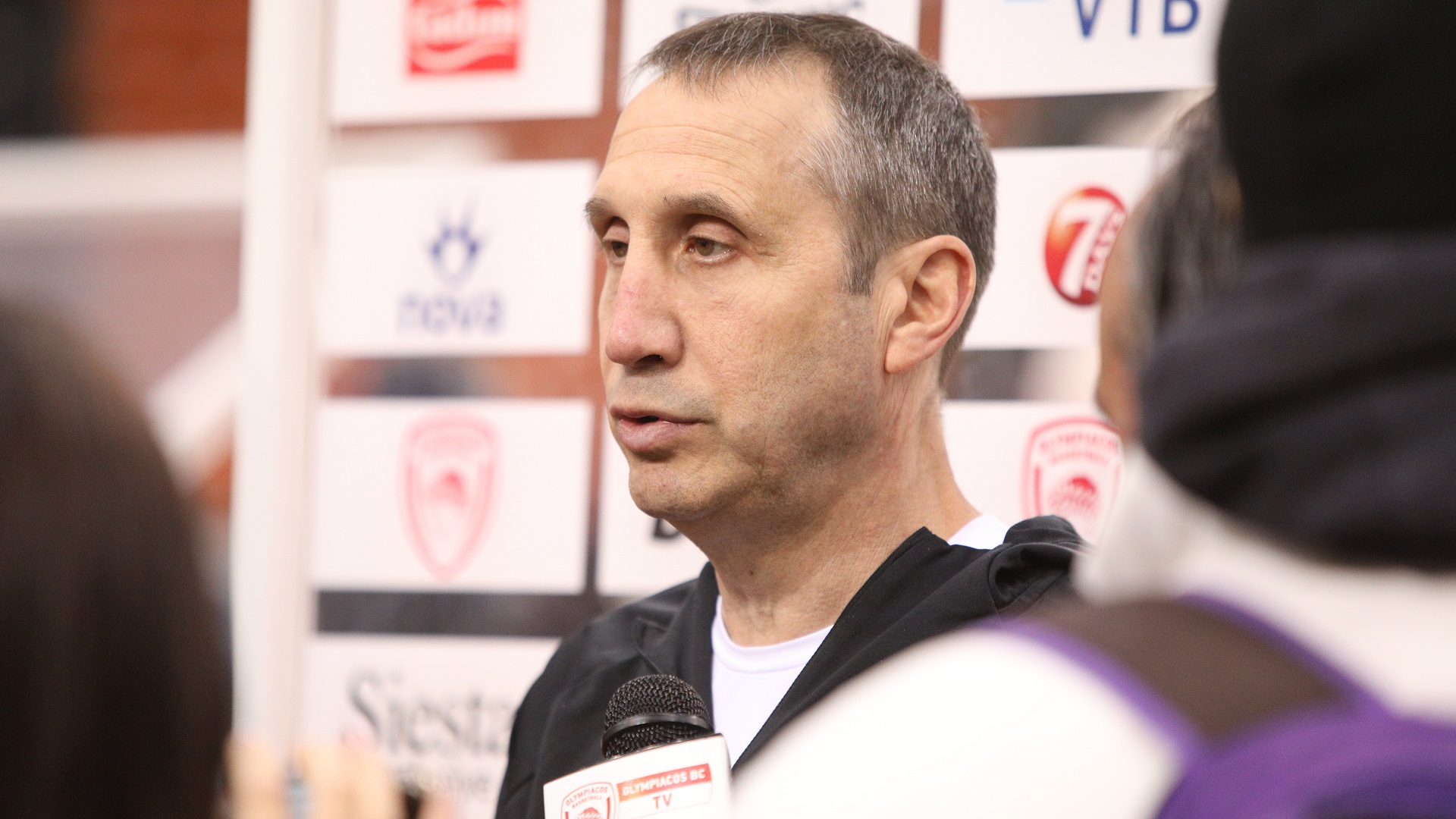 «We need to give our best» (pics+vid)
Olympiacos will be facing Zalgiris Kaunas at the SEF tomorrow (29/02, 20.30 CET), in a decisive game for the qualification to the Euroleague playoffs.
"Tomorrow's game is decisive", David Blatt stressed. "We play at home, in front of our fans and I hope we'll offer them a performance like the one of last week's against Bayern. Zalgiris is a very good team. They have had some difficulties in the season, but they have played some very good games also as of recently. They are definitely a team with many different talented players, they play together and they certainly demand that we play at our best to beat them".
Asked on whether he's going to have Vassilis Spanoulis at his disposal, he replied: "I don't expect that Vassilis is going to be able to play. Janis Strelnieks is off… It's something we need to come to terms with. It's unfortunate for us that this is the situation we have to deal with during these past few weeks, but we need to find a way to overcome this, regardless of who is available and who is not".
On whether Olympiacos can cover for the gap of these two very important players, he said: "We did that last week against Bayern. We played a great game. We did not succeed against Gran Canaria, but this is a given. It's not something that we could use as an excuse. Because that's where we are right now. We showed that we can play under these circumstances and we need to do that again".
What everyone is looking for during such critical games is the 'key' to winning. According to the 'reds' coach there's not just one, however, one is the most important. "The keys are many… But above all else, it's going to come down to our levels of readiness and competitiveness".
When asked to talk about his conclusions after the road loss to Gran Canaria, he stressed: "It was a particular game, especially given the fact that is was included in a double week. It's a tough place to be playing. Ask Zalgiris, they are going to be telling you the same. The conclusion is that given the circumstances, we wouldn't be able to come through at that game. But that's behind us. We should be looking ahead, tomorrow's game is extremely important. There is no room for conclusions. You have to focus on the next game and face it will courage and effort".
David Blatt did not omit to 'send' his message to our fans… "I hope they come and offer us their great support, just like always. We want the best result. Together we can make it".
Asked on whether he thinks the fact that some team s that have 'locked' the playoffs will be playing without core players during these last games, he replied: "It's their right to do so. If these teams are in such a good place where they can rest players or play with a less competitive roster than normal, it's something not worthy of commenting on. It's their right. They have brought themselves in a position that allows them to do so, so we need to accept it".
Finally, on whether he thinks that it the proper thing to do during the last two weeks of the Regular season would be for the jump-ball of all the games to be at the same time, he said: "It would be a good idea. However, there is traveling and time differences, which makes it hard. However, generally speaking, it would be a good idea".
«Α game of life and death»
The French forward, Axel Toupane, pointed out: "It is obviously a big game for both teams, , because we both have the chance to qualify. It's a life and death game for us».
Asked on whether there is anxiety in the locker rooms, he replied: "No. We have a group of experienced players. We have played big games in our careers and tomorrow's game will be definitely one of those. I think we have the right approach, we have worked hard to be ready and I think that everything is going to be OK".
On his feelings about playing for the first time against his former team, he said: "I feel good. I wasn't able to play in the first round game, but this game is going to be special, it's going to be like a final. It's going to be a great game and a great moment".
His message to the 'red's' fans is this: "They should come and support us as passionately as they can. I hope to see a packed SEF and a great atmosphere".
Finally, when asked to make a comment on the ups and downs in the team's performance during past recent months, he said: "It has been a difficult period for us. We weren't playing good basketball, however, we still got a chance to qualify. The season is not over. So, we need to stay focused. We have done amazing job at practices this past week and we are going to be ready. Obviously, if everything goes well in the next two games, we are going to be able and forget about the difficult times we went through these past few weeks"
Look at the photos here...