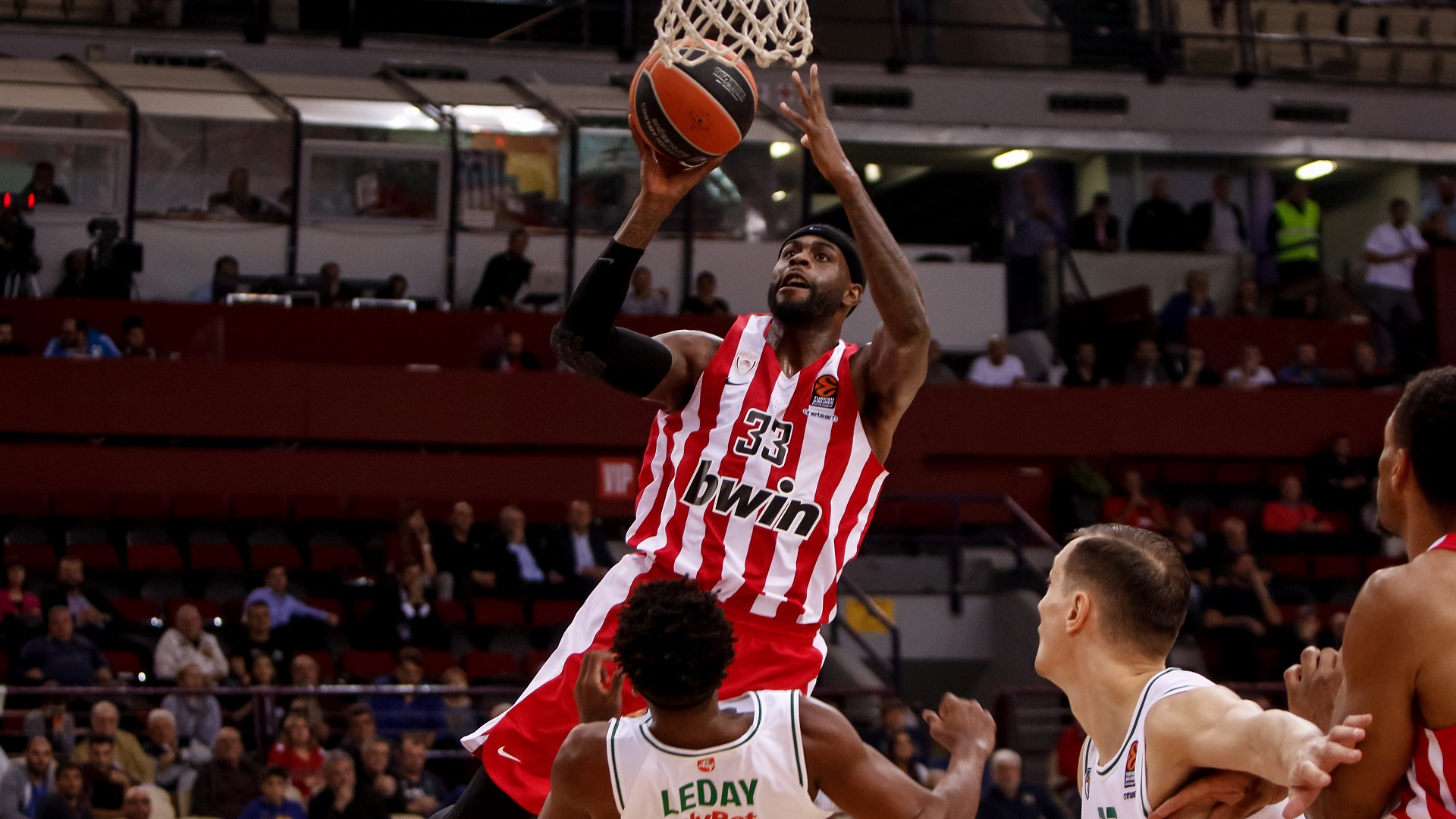 A victory over Zalgiris, with a personal record for Printezis!
Olympiacos bested Zalgiris Kaunas 83-74 at the SEF (for an 8th day game) hence returning to victories. The game was of historic significance, since Giorgos Printezis got to break the 3,000 point barrier with the Euroleague!
The basic characteristic of the first quarter, when defenses were playing the leading role, was balance. The 'reds' weren't shooting on target from the perimeter (they had 0 threes for 4 attempts), however, they got to move the ball well (their 5 assists during that time is proof enough) and closed the first quarter with a slight lead (19-18). On the contrary, the Lithuanians were scoring from the 6.75m. arc and succeeded in getting a +6 lead (25-31 at 16'). Olympiacos' reaction was immediate, the team 'struck' in the low post with Printezis and Reed and running a partial 10-2 got to lead 35-33 at 19'. However, Zalgiris played on some problems our defense was having and closed the first half with a two point lead (37-39).
Kestutis Kemzura's players made a strong beginning into the second half. With two back to back threes by Printezis and Koniaris and a bucket by Milutinov, Olympiacos got to lead by 6 for the first time at 25' (45-39). Zalgiris tried to once again turn the game (52-49), however, relying on good perimeter percentages as well as the good job Willie Reed and Nikola Milutinov were doing inside the post, our team sent the difference to +13 (74-61 at 35'). Captain Vassilis Spanoulis saw that the distance was maintained (81-68 at 39') and Olympiacos won the game without facing particular obstacles.
The quarters: 19-18, 37-39, 60-55, 83-74.
Οlympiacos (Κemzura): Punter, Rochestie 8, Baldwin, Paul 14, Koniaris 3, Spanoulis 16 (7 as.), Milutinov 14 (8 reb.), Vezenkov 2, Printezis 10, Papanikolaou 2 (4 reb., 3 as., 1 bl.), Rubit 4, Reed 10
Ζalgiris Kaunas (Jasikevicus): Walkup 10, Perez 5, Lekavicius 14, Hayes 3, Jankunas 2, Μilaknis 1, Geben 5, Jokubaitis, LeDay 4, Landale 23, Grigonis 5, Ulanovas 2.
"A big thank you to the fans"
Olympiacos' coach, Kestutis Kemzura, commented following the victory against the Kaunas team: "First of all, I would like to thank our fans, for showing devotion, came, cheered for our players and gave us energy. A big thank you for them. I would also like to congratulate the two legendary players of our team, Spanoulis and Printezis, who are the second and third Euroleague scorers. We are very proud that they play for us, fight together and I wish them the best. I wish and hope to have many more good years with them ahead of us. I would like to congratulate all the players because the situation had not been easy following the defeats we had suffered, but they showed character. We deserved to win because we played as a team throughout the game. We made some mistakes in the fist half and some offensive rebounds Zalgiris got hurt us. At the end of the game, we had won the battle for the rebounds with one more than the opponent. Also, in the second half we were more aggressive on both ends of the floor; we scored some big threes, got the lead and controlled the game. I would also like to mention the players that came off the bench and helped. It was very important. The newcomers, Reed stepped up and gave us some very good minutes and the same goes for Rochestie ".
About the return of Wade Baldwin to action, he said: "We had a serious discussion with him, we tried to explain him his role all over again, what it is we expect from him and gave him another chance. His athleticism is undisputable. He may not have scored tonight, but he helped us in many other ways".
Asked on whether the presence of the Greek players is an example for the rest of the team, he replied: "It doesn't have to do with the players' nationality. We made tactical choices. For example, Papanikolaou was a starter because Ulanovas also was one. Then we saw that Printezis and Milutinov were good together, we also saw that Spanoulis and Koniaris were a fit. We maybe see different things in upcoming games".
Finally, about what it is that prompted Olympiacos improvement, especially in the last quarter, compared to the two previous games that were lost, he replied: "We had seen that Zalgiris always plays its best quarter at the end of the games and that's why we needed to remain focused for forty minutes. They are a team that never gives up. We had to remain good throughout the game. We used a bigger rotation in the first half, so as to keep the team fresh for the second one. We wanted to play with great intensity for the longest possible time. That's what we want to be doing in general".
On his part, Zalgiris' coach, Sarunas Jasikevicius, pointed out: "Congrats to Olympiacos. We did not play as hard as we had agreed we should have. Olympiacos had been under pressure and I expected that big players would be stepping up. If you take a look at the stats, that's exactly what happened. I'm only disappointed by our aggressiveness; it's the only way you can win this way in this gym. We only made three fouls in the first half and received 15 before even they had foul bonus. We only survived because Olympiacos wasn't shooting well from the perimeter. And they beat us in the second half by making their shots". Asked about more surprise results in the Euroleague, he answered: "I don't think there are surprises. I don't know what can be considered a surprise in the Euroleague. I don't think it's a surprise for any team to beat any other one. Teams with more talent have more chances to improve as time goes by. Nothing surprises me anymore, we are talking about the toughest league in the world".