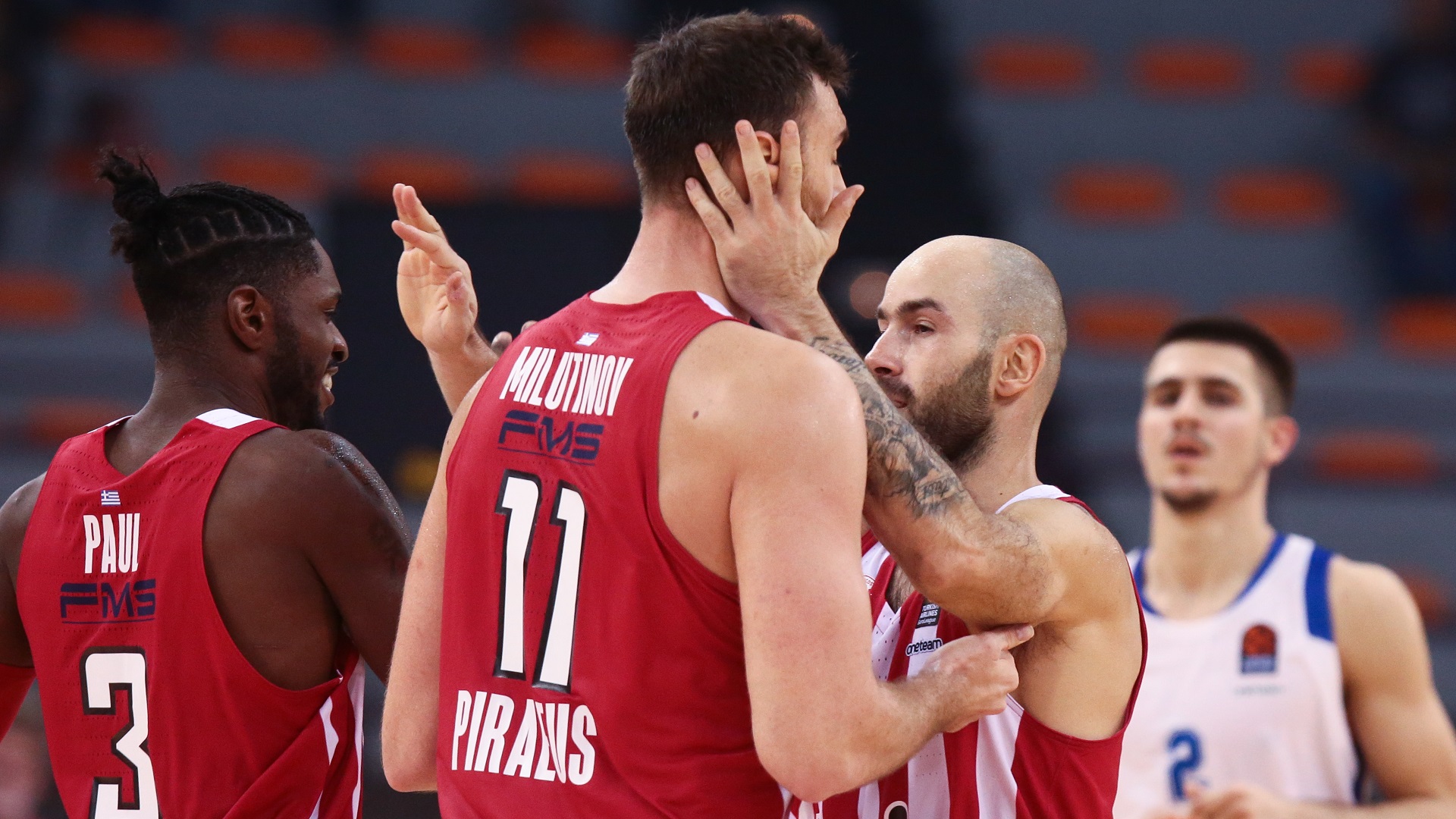 "Dismantled" Valencia!
Olympiacos BC won Valencia at SEF (89-63).
Weaponizing his superiority inside the post, Olympiacos made a strong beginning running a partial 11-0 (at 2').The Spaniards 'struck' from behind the 6.75m and with four back to back threes closed in at 3p. (15-12 at 6'). The 'reds' however quickly regained full control (31-22 at 10'). Vassilis Spanoulis was scoring or passing to Milutinov and Kuzminskas, when at the same time it was the Serbian center that was making all the difference in rebounding (he grabbed 9 in the first half from a total 18 of the 'reds' against the 'Taronjas'). At the same time, everyone was doing a top notch job defense wise, which was apparent in the 24p. margin (54-30) that marked the end of the first half.
It took four minutes for out team though to find target in the beginning of the second one. Papanikolaou was the one to put an end to his team's scoring draught with a three. Nevertheless, this did not have the slightest impact on the game's outlook, since thanks to good defense, the 'reds' only received 3p. during that time (57-33 at 24'). Olympiacos found offensive rhythm afterwards, sending the difference to sky high levels (+33, 77-44 at 31'). It was somewhere at that point that the game was prematurely decided in favor our team that won the game without struggling at any given moment.
The quarters: 31-22, 54-30, 72-44, 89-63.
Οlympiacos (Κemzura): Punter 11 (2), Baldwin 4, Paul 2, Κoniaris, Spanoulis 17 (3 3p., 6 as.), Μilutinov 17 (14 reb.), Vezenkov, Printezis 13, Papanikolaou 12 (3 3p., 5 st), Κuzminskas 13 (1), Rubit.
Valencia (Ponsarnau): Colom 5 (1), Μarinkovic 3 (1), Loyd 12 (3), Ndour 8, Abalde 2, Van Rossom 3 (1), Tobey 6, Motum 11 (1), Dubljevic 4, Vives 5, Sastre 3 (1), Doornekamp 1.
"A win dedicated to coach Blatt"
The coach of Olympiacos, Kestutis Kemzura, commented: "Congratulations to my players. They did an excellent job and not only tonight, but during the whole past week, during preparing the game. In the first half, they got to play excellent basketball on both ends of the floor. I'm certainly happy for the win, but there are a few things we need to improve. In the second half, I think we lost our way and allowed them to play their game. Maybe in case it was a different team on the floor, we would have allowed them to get back in the game. A basketball game is not 20 minutes, but forty. All the guys played well tonight, but the fact we had six players scoring double digits shows we played together. However, all the guys helped. Spanoulis did an amaing job and Milutinov is dominant. But such performances are usual for them. I would like to talk about Koniaris, who made his debut with the Euroleague and helped us a lot. He gave us a lot of energy, he helped defense a lot, as well as the way he ran the team in the offense. I would also like to take the opportunity and say that this victory is dedicated to a special human being and coach, my friend, David Blatt".
On how much his philosophy is different to that of his predecessor, he said: "I learned a lot next to coach Blatt. He has helped me tremendously and all coaches take things from their associates and piece by piece they get to build their own philosophy. I can't tell you what the difference between my philosophy and that of coach Blatt is, what I can tell you is that in my career I have coached teams that weren't as talented and I was trying to find solutions to make things happen. Coach Blatt, being a great coach, had been lucky enough to have great teams. The philosophy and coping mechanisms in these situations need a different philosophy, that is, when there is not much talent and when there is. What I tried to do, was motivate the players to give something more".
Finally, he did not omit to thank the 'reds' fans. "I wish to thank the fans for the support. Hopefully they come as many and even more at all games".