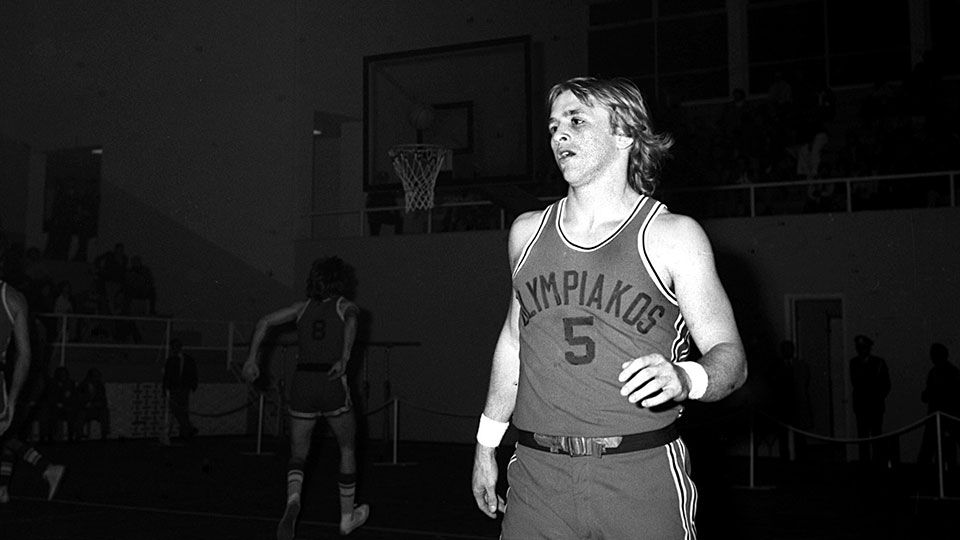 Steve Giatzoglou
The "lion" of Greek Basketball was born in the U.S. on December 11, 1949 and came to Greece to live permanently in the beginning of the '70ies. It was the time that Olympiacos, with Gouladris as the President and Fedona Mathaiou as the head coach, had returned from A2 and was trying to build a great team that would make it to the top. Greek player transfers were not allowed at the time so the "red and whites" brought four Greek-Americans to Piraeus.
Steve Giatzoglou had been one of them (together came Kastrinakis, Diakoulas and Meline).
The future "red and white" captain led the team to winning two championships (1975-76 and 1977-78), four cups (1976, 1977, 1978, 1980) and a spot among the best six of Europe for the 1978-79 season.
Apart from Olympiacos, Steve Giatzoglou played also for PAOK, while he started his coaching career from Olympiacos.
The words of the great Kostas Mourouzis can make you understand who Steve Giatzoglou has really been... "An example of a professional basketball player to follow. He would come first to practice and he would leave an hour after it ended. And this example was followed by the other guys. When you have a personality like Steve's, you create all necessary requisites. He was a captain in the full extent of the word".
Besides Olympiaocs and PAOK, Giatzoglou also played for the Greek National team. He played on May 6, 1973 for the first time, at the European Championship's semi finals against Germany (Greece won 81-77 with 6 points by Giatzoglou), while his last National team game was on February 18, 1981 at a friendly game against Bulgaria where the Greek team lost 76-91, again with him scoring 6 points. He played a total of 115 games with the Greek National team scoring 1469 points (12,77 av.).